Old Dogs with New Tricks: Antiparasitic Potential of Structurally Diverse 5-Nitrofuran and 5-Nitrothiophene Imines and Acyl Hydrazones
Abstract
Miscellaneous imines and acyl hydrazones were prepared from 5-nitrofuraldehyde and 5-nitrothiophene-2-carboxaldehyde. Their activities against
Toxoplasma gondii
and
Leishmania major
parasites were evaluated. Promising antiparasitic effects and selectivities were observed for certain acyl hydrazones and imines. Cobalt(II) and copper(II) complexes conserved the high anti-
Toxoplasma
activities
[...] Read more.
Miscellaneous imines and acyl hydrazones were prepared from 5-nitrofuraldehyde and 5-nitrothiophene-2-carboxaldehyde. Their activities against
Toxoplasma gondii
and
Leishmania major
parasites were evaluated. Promising antiparasitic effects and selectivities were observed for certain acyl hydrazones and imines. Cobalt(II) and copper(II) complexes conserved the high anti-
Toxoplasma
activities of 3-hydroxy-2-naphthoic carboxyl hydrazone (
2a
). In addition, sound activities against
L. major
promastigotes were observed for various analogs of
2a
(
2b
and
2i
) and pyrid-2-ylpyrazole-based imines (
3g
and
3h
). Relatively low toxicities to kidney cells and macrophages indicate promising selectivity profiles for these compounds.
Full article
►

▼

Show Figures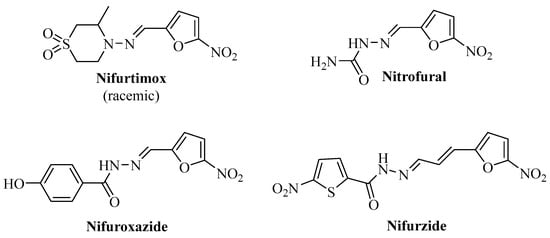 Figure 1