Conferences
Upcoming MDPI Conferences (3)

8 February 2023
Pharmaceutics Webinar | 3D and 4D Printing in Pharmaceutics
Online
The 3D printing process patented in 1986; however, only in the last decade has it been used for medical applications, as well as being utilised in the fields of biofabrication and pharmaceutical printing. The additive manufacturing term involves many processes, which use different types of printing technologies, hundreds of materials, and various resolutions and speeds. 3D printing and 4D printing techniques allow for a patient-center approach. 3D printing allows the manufacturing of complex drug delivery devices, and with innovations in pharmaceutical development and an interdisciplinary approach to finding newer drug-delivery systems, can usher in a new era of treatments to various diseases. The introduction of the fourth dimension (4D Printing) has led to an increase in the degree of complexity and customization possibilities. This Webinar will present some new development in 3D & 4D Printing for pharmaceutical applications, including some regulatory considerations in the design and manufacturing of pharmaceutical products.
The following experts will be present and talk:
Prof. Dr. Dimitrios A. Lamprou, School of Pharmacy, Queen's University Belfast, UK
Dr. Dolores R. Serrano, Pharmaceutics and Food Technology Department, School of Pharmacy, Universidad Complutense de Madrid, Spain
Dr. Lucia Zema, Sezione di Tecnologia e Legislazione Farmaceutiche "Maria Edvige Sangalli", Dipartimento di Scienze Farmaceutiche, Università degli Studi di Milano, Italy
Dr. João F. Pinto, iMed.ULisboa—Research Institute for Medicines, Faculdade de Farmácia, Universidade de Lisboa, Portugal
When? 8 February 2023 at 10:00 am CET | 4:00 am EST | 5:00 pm CST Asia
Register now for free!
You can find the Special Issue and Topical Collection linked to this topic by clicking here.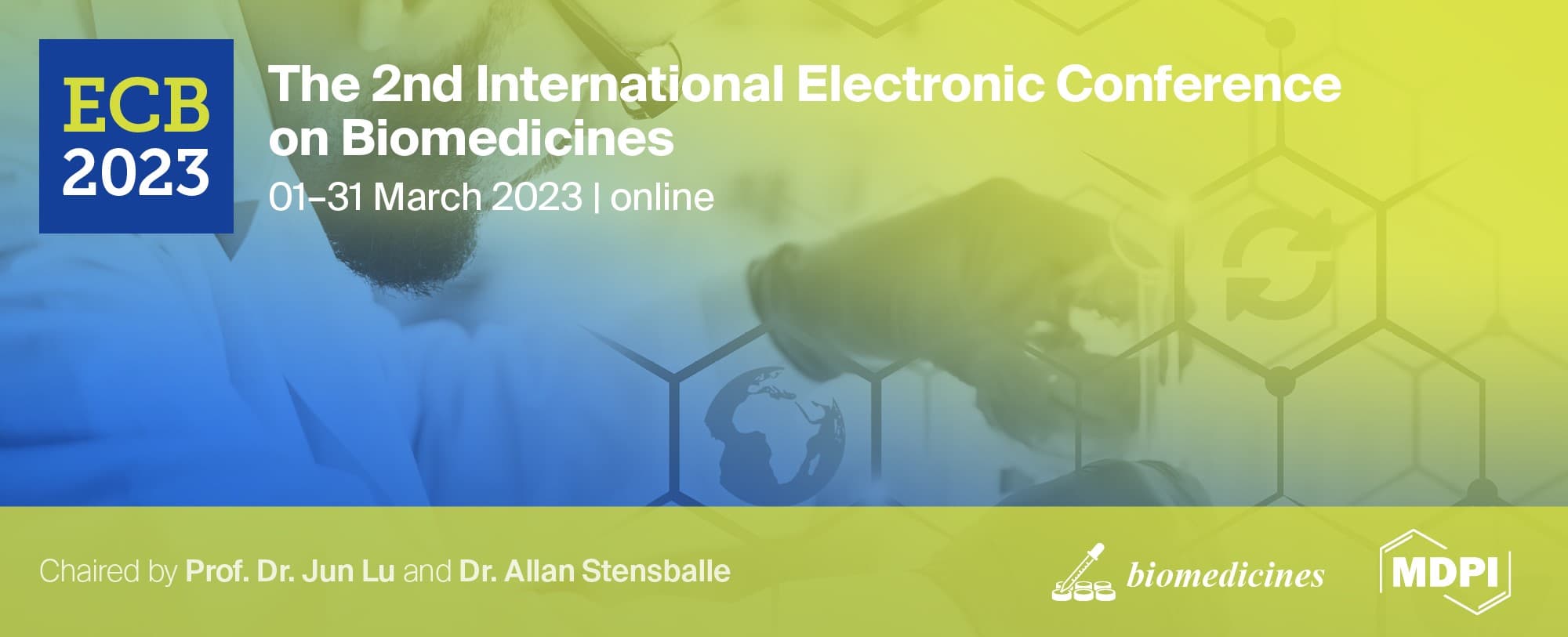 1–31 March 2023
ECB 2023: The 2nd International Electronic Conference on Biomedicines
Online
Biomedicines (ISSN: 2227-9059) is pleased to announce this call for participation in the 2nd International Electronic Conference on Biomedicines. ECB 2023 seeks to fulfill the need of academics to gather to share results and ideas by offering a completely digital (online) method of running this scientific conference. Researchers currently working on biomedicines are encouraged to join this event and share their findings with colleagues from all over the world.
The conference will cover but not be limited to the following general and related themes:
Frontiers of biomedicine in SARS-CoV-2;
RNA processing and human diseases;
Extracellular vesicles for biomarker discovery;
Medicinally active plants and phytochemicals;
Molecular mechanisms of neurodegeneration;
Immune system, tumor immunology, and autoimmune disease;
Obesity and metabolic diseases;
Nutraceuticals as adjuvant therapeutics;
Musculoskeletal tissue regeneration;
Wound healing;
Peptide-based piezoelectric materials;
Nanomedicine, combination cancer therapy, and immunotherapy.
All submitted abstracts will be evaluated by the conference peer review committee. Upon acceptance, authors will contribute an extended abstract for the conference proceedings and a slide presentation of their work. The authors with outstanding contributions will be invited to submit full manuscripts for potential publication in Biomedicines (https://www.mdpi.com/journal/biomedicines).
Important Dates:
Abstract Submission: 5 January 2023;
Acceptance Notification: 16 January 2023;
Full Paper Submission: 6 February 2023;
Final Paper Notification: 17 February 2023.
The Scientific Committee looks forward to receiving contributions in response to this call and will be happy to provide any further information to interested parties. Any questions may be addressed to the conference secretariat ([email protected]).
We thank you in advance for attending this conference, and we look forward to a stimulating exchange.
To find out more about the conference, please visit the following link: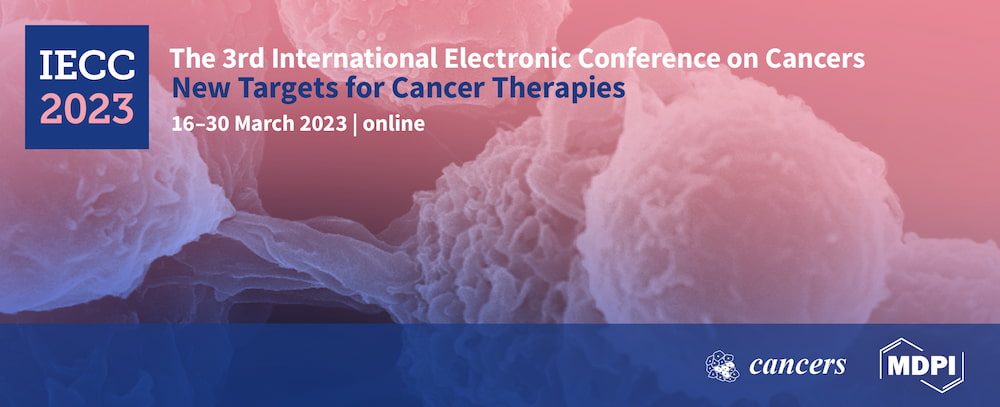 16–30 March 2023
3rd International Electronic Conference on Cancers: New Targets for Cancer Therapies (IECC 2023)
Online
Dear Researchers,
We are pleased to announce the 3rd International Electronic Conference on Cancers: New Targets for Cancer Therapies (IECC 2023). The conference is organized by the MDPI open-access journal Cancers ( IF 6.575) and will be held online from 16–30 March 2023.
Time Schedule
Abstract Submission Deadline: 5th January 2023
Notification of Acceptance Deadline: 31st January 2023
Full Paper Submission Deadline: 13th February 2023
Conference Open: 16–30 March 2023
Opportunities for new therapeutic targets have expanded tremendously. In recent years, cancer genomics has expanded our view of cancer vulnerabilities, new technologies have changed the paradigm of what can be successfully targeted, and new immunotherapy targets continue to emerge at a rapid pace. This conference aims to promote and advance the coordinated progress in oncology research to foster the development of innovative therapeutic strategies. It will bring together experts in basic, translational, and clinical research to discuss the current research and opportunities as well as the obstacles that lie ahead in the field.
The focus of this conference is the translation of recent discoveries into new therapeutic targets for cancer therapies. Topics of interest include but are not limited to the following:
Translational cancer genomics and epigenomics;
Emerging immunotherapy targets;
Overcoming therapeutic hurdles in resistance and undruggable proteins.
There will be five specific sessions:
Session 1: Genome-Wide Approaches for Target Identification;
Session 2: Targeting Metastasis;
Session 3: Novel Immunotherapy Targets;
Session 4: Novel Approaches for 'Undruggable' Targets;
Session 5: Overcoming Therapeutic Resistance.
Participants will have the opportunity to examine, explore, and critically engage with issues and advances in these areas. We hope to facilitate discussions and exchange within the community.
This event will be a solely online proceeding, which allows for participation from around the world with no concerns regarding travel and related expenditures. This type of conference is particularly appropriate and useful, as cancer-related research is progressing rapidly. An electronic conference provides a platform for rapid and direct exchanges about the latest research findings and novel ideas. Attendance and participation in this online conference is completely free.
The accepted conference proceedings papers and presentations will be available online for discussion on 16–30 March 2023 and will be published in the journal Medical Sciences Forum. All participants are encouraged to submit an extended full manuscript to the Cancers conference Special Issue "IECC2023: New Targets for Cancer Therapies" with a 20% discount on the APC. Cancers (ISSN 2072-6694; IF 6.575) is a peer-reviewed and open access journal of oncology that is published semimonthly online by MDPI.
We hope that the community will share our enthusiasm and help to make this conference a success.
Kind regards,
Dr. Carlos S. Moreno
The Chair of the 3rd International Electronic Conference on Cancers: New Targets for Cancer Therapies
Pharmaceutics announces selected third-party conferences. In case you would like to announce your own event on the Pharmaceutics website, please fill out the following form to apply for the announcement of a conference or other academic event (seminar, workshop).
Upcoming Partner Conferences (1)

20–21 March 2023
4th European Conference on Pharmaceutics
Marseille, France
The conference will be a perfect occasion for young as well as for established scientists from academia and industry from all over the world to present their work, network, discuss latest scientific findings and to share their experience with colleagues.
Leading experts will give lectures on hot topics. They will give overviews on the current status in the respective domains and outlooks on future perspectives. Moreover, latest research findings will be presented as short talks, selected from submitted abstracts. Furthermore, poster presentations will give the opportunity to get an update on the most recent research in pharmaceutics and to personally exchange with the authors. An industrial exhibition will accompany the conference and allow learning about the latest trends and products in the area of pharmaceutical ingredients, developing & processing equipment, analytical technologies, medicinal products, medical devices, contract manufacturing and many other fields.