Indocyanine Green Loaded Modified Mesoporous Silica Nanoparticles as an Effective Photothermal Nanoplatform
Abstract
Photothermal therapy possesses great advantages for the treatment of drug-resistant tumors. Herein, Near Infrared (NIR)-triggered photothermal nanoparticles were developed through loading indocyanine green (ICG), a kind of NIR dye, into amino group-modified silica nanoparticles (SiO
2
-NH
2
NPs). SiO
2
-NH
2
[...] Read more.
Photothermal therapy possesses great advantages for the treatment of drug-resistant tumors. Herein, Near Infrared (NIR)-triggered photothermal nanoparticles were developed through loading indocyanine green (ICG), a kind of NIR dye, into amino group-modified silica nanoparticles (SiO
2
-NH
2
NPs). SiO
2
-NH
2
NPs were prepared with immobilization of the amino groups into the framework of silica nanoparticles (SiO
2
NPs) by employing (3-aminopropyl)-triethoxysilane (APTES). Before and after the modification of the amino group, the particle sizes of SiO
2
NPs showed similar value, around 100 nm. ICG was further adsorbed into SiO
2
-NH
2
NPs by electrostatic attraction to enable SiO
2
-NH
2
@ICG NPs as a kind of photothermal agent. The loading rate of ICG to SiO
2
-NH
2
was greatly increased compared to unmodified SiO
2
, and the stability of ICG was also improved. Moreover, the SiO
2
-NH
2
@ICG NPs exhibited efficient photothermal effects due to ICG transforming laser power into local heat through the connected ICG, when NIR laser irradiation turned on for a couple of minutes. Finally, the in vitro antitumor efficacy of SiO
2
-NH
2
@ICG NPs was investigated by recording cell proliferation rate and further chronicled the apoptotic morphology evidence by a Calcein-AM/PI fluorescent staining assay, indicating the efficient photothermal targeted therapy for the HepG2 tumor cells.
Full article
►

▼

Show Figures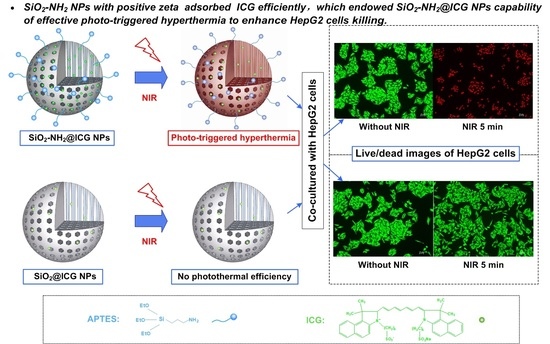 Graphical abstract