Self-Assembled Polymeric Micelles Based on Hyaluronic Acid-
g

-Poly(d,l-lactide-co-glycolide) Copolymer for Tumor Targeting

1

Department of Surgery, National Research & Development Center for Hepatobiliary Cancer, Pusan National University Yangsan Hospital, Gyeongnam 626-770, Korea

2

Biomedical Research Institute, Pusan National University Hospital, Pusan 602-739, Korea

3

Department of Gastroenterology, Pusan National University Hospital, Pusan 602-739, Korea

4

Department of Internal Medicine, Pusan National University Yangsan Hospital, Gyeongnam 626-770, Korea

*

Author to whom correspondence should be addressed.

Received: 30 June 2014 / Revised: 5 September 2014 / Accepted: 5 September 2014 / Published: 11 September 2014
Abstract
Graft copolymer composed hyaluronic acid (HA) and poly(d,l-lactide-co-glycolide) (PLGA) (HAgLG) was synthesized for antitumor targeting via CD44 receptor of tumor cells. The carboxylic end of PLGA was conjugated with hexamethylenediamine (HMDA) to have amine end group in the end of chain (PLGA-amine). PLGA-amine was coupled with carboxylic acid of HA. Self-assembled polymeric micelles of HAgLG have spherical morphologies and their sizes were around 50–200 nm. Doxorubicin (DOX)-incorporated polymeric micelles were prepared by dialysis procedure. DOX was released over 4 days and its release rate was accelerated by the tumoric enzyme hyaluronidase. To assess targetability of polymeric micelles, CD44-positive HepG2 cells were employed treated with fluorescein isothiocyanate (FITC)-labeled polymeric micelles. HepG2 cells strongly expressed green fluorescence at the cell membrane and cytosol. However, internalization of polymeric micelles were significantly decreased when free HA was pretreated to block the CD44 receptor. Furthermore, the CD44-specific anticancer activity of HAgLG polymeric micelles was confirmed using CD44-negative CT26 cells and CD44-positive HepG2 cells. These results indicated that polymeric micelles of HaLG polymeric micelles have targetability against CD44 receptor of tumor cells. We suggest HAgLG polymeric micelles as a promising candidate for specific drug targeting.
View Full-Text
►

▼

Figures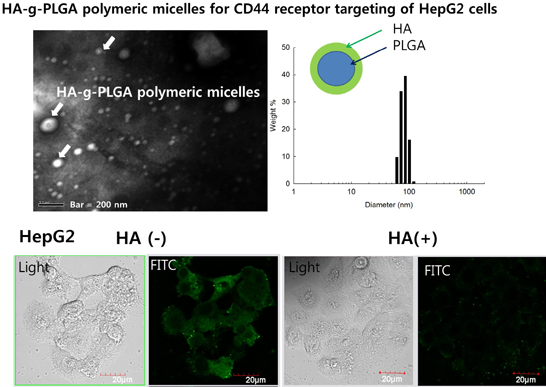 Graphical abstract

Share & Cite This Article
MDPI and ACS Style
Son, G.M.; Kim, H.Y.; Ryu, J.H.; Chu, C.W.; Kang, D.H.; Park, S.B.; Jeong, Y.-I. Self-Assembled Polymeric Micelles Based on Hyaluronic Acid-g-Poly(d,l-lactide-co-glycolide) Copolymer for Tumor Targeting. Int. J. Mol. Sci. 2014, 15, 16057-16068.
Related Articles
Comments
[Return to top]