Ocellatuperoxides A–F, Uncommon Anti-Tumoral γ-Pyrone Peroxides from a Photosynthetic Mollusk Placobranchus ocellatus
Cited by 1
| Viewed by 1645
Abstract
Six new pairs of
γ
-pyrone polypropionate enantiomers with an unusual peroxyl bridge at the side chain, namely (±)-ocellatuperoxides A–F (
1
–
6
), were isolated and characterized from the South China Sea photosynthetic mollusk
Placobranchus ocellatus
. Extensive spectroscopic analysis, single
[...] Read more.
Six new pairs of
γ
-pyrone polypropionate enantiomers with an unusual peroxyl bridge at the side chain, namely (±)-ocellatuperoxides A–F (
1
–
6
), were isolated and characterized from the South China Sea photosynthetic mollusk
Placobranchus ocellatus
. Extensive spectroscopic analysis, single crystal X-ray diffraction analysis, ECD- (electronic circular dichroism) comparison, and TDDFT (time-dependent density functional theory) ECD computation were used to determine the structures and absolute configurations of new compounds. In a cell viability assay, several compounds showed considerable anti-tumoral effects on human non-small cell lung cancer cells A549 with Gefitinib (7.4 μM) and Erlotinib (2.1 μM) as positive controls. Further RNA-sequencing analysis and gene expression evaluation indicated that the anti-tumoral activity of the most effective compound
3
was associated with the regulation of several important genes, such as FGFR1 and HDAC5.
Full article
►

▼

Show Figures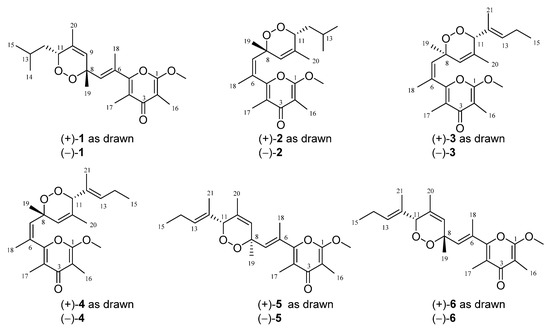 Figure 1