Variegatusides: New Non-Sulphated Triterpene Glycosides from the Sea Cucumber
Stichopus variegates

Semper

1

Research Center for Marine Drugs, School of Pharmacy, Second Military Medical University, 325 Guohe Road, Shanghai 200433, China

2

Department of Pharmacy, 202th Hospital of PLA, 5 Guangrong Street, Shenyang 110003, China

3

College of Life Science, Jiangxi Normal University, 99 Ziyang Road, Nanchang 330022, China

4

School of Medicine, Tongji University, 1239 Siping Road, Shanghai 200092, China

5

Department of Pharmacy, 306th Hospital of PLA, 9 Anxiang North Road, Beijing 100101, China

*

Authors to whom correspondence should be addressed.

†

These authors contributed equally to this work.

Received: 11 December 2013 / Revised: 29 January 2014 / Accepted: 7 February 2014 / Published: 2 April 2014
Abstract
Four new triterpene glycosides, variegatusides C–F (
1
–
4
), together with three structurally known triterpene glycosides, variegatusides A and B (
5
,
6
), and holothurin B (
7
), were isolated from the sea cucumber
Stichopus variegates
Semper (Holothuriidae), collected from the South China Sea. Their structures were elucidated on the basis of extensive spectral analysis (nuclear magnetic resonance (NMR) and electrospray ionization mass spectrometry (ESIMS)) and chemical evidence. Variegatusides C–F exhibit the same structural feature consisting of the presence of a 23-hydroxyl group at the holostane-type triterpene aglycone side chain. Variegatuside C (
1
) has a double bond (24, 25) in this same chain, while variegatuside D (
2
) exhibits a 8(9)-ene bond in the holostane-type triterpene aglycone, which has not been extracted from other sea cucumber species. Compound
4
is a native compound from the sea cucumber
S. variegates
Semper, which has been reported to be desacetylstichloroside B
1
. Except for holothurin B, these glycosides have no sulfate group in their sugar chain and show potent antifungal activities
in
vitro
biotests.
View Full-Text
►

▼

Figures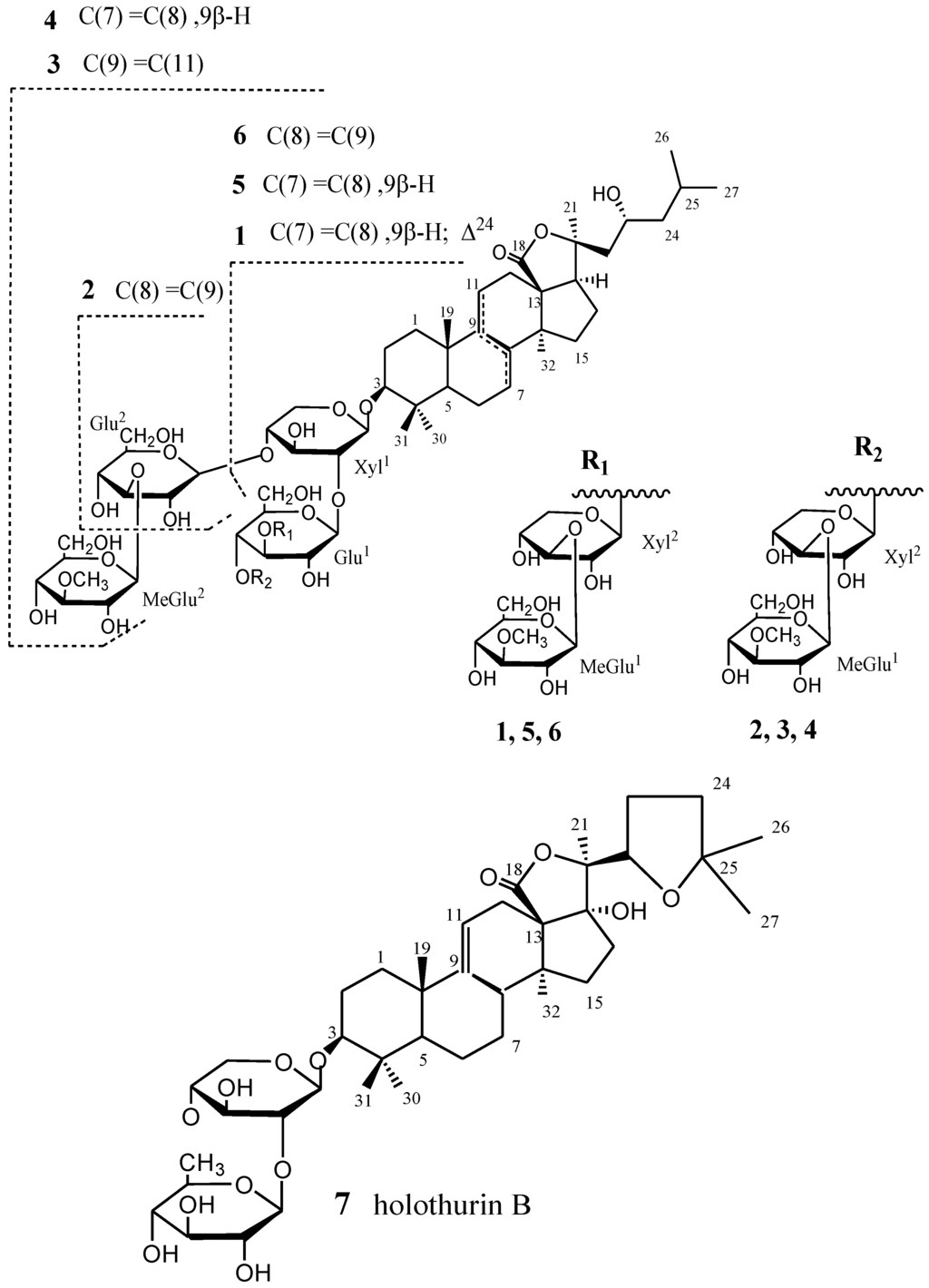 Figure 1

Share & Cite This Article
MDPI and ACS Style
Wang, X.-H.; Zou, Z.-R.; Yi, Y.-H.; Han, H.; Li, L.; Pan, M.-X. Variegatusides: New Non-Sulphated Triterpene Glycosides from the Sea Cucumber Stichopus variegates Semper. Mar. Drugs 2014, 12, 2004-2018.
Related Articles
Comments
[Return to top]