d

-Amino Acid Substitution of α-Conotoxin RgIA Identifies its Critical Residues and Improves the Enzymatic Stability

Key Laboratory of Tropical Biological Resources, Ministry of Education, Key Lab for Marine Drugs of Haikou, Hainan University, Haikou 570228, China

*

Authors to whom correspondence should be addressed.

Received: 29 December 2018 / Revised: 17 February 2019 / Accepted: 22 February 2019 / Published: 28 February 2019
Abstract
α-Conotoxin RgIA is a selective and potent competitive antagonist of rat α9α10 nicotinic acetylcholine receptors (nAChR), but it is much less potent towards human α9α10 nAChR. Furthermore, RgIA is susceptible to proteolytic degradation due to containing four arginine residues. These disadvantages greatly limit its use for clinical applications. The purpose of this research was to identify critical stereocenters of RgIA and discover more stable analogues, enhancing its bioavailability by using the
d
-amino acid scan method. The activity of each variant was investigated against rat and human α9α10 nAChRs, which were expressed in
Xenopus oocytes
. Experimental assays showed that 14 out of 15 analogues had a substantial reduction in potency towards rat α9α10 nAChR. Noticeably, analogue
13
retained full biological activity compared with RgIA. Meanwhile, two other analogues,
14
and
15
, of which
l
-Args were substituted with
d
-Args, exhibited a significantly increased potency towards human α9α10 nAChR, although these analogues showed decreased activities against rat α9α10 nAChR. Additionally, these three analogues exhibited a high resistance against enzymatic degradation in human serum and simulated intestinal fluid (SIF). Collectively, our findings suggest that a
d
-amino acid scan is a useful strategy for investigating how the side-chain chirality of amino acids affects the structure and function of peptides and may facilitate the development of more stable analogues to increase therapeutic potential.
View Full-Text
►

▼

Figures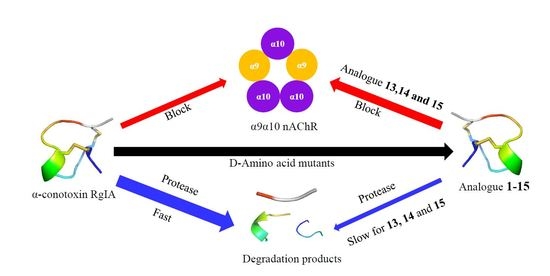 Graphical abstract
This is an open access article distributed under the
Creative Commons Attribution License
which permits unrestricted use, distribution, and reproduction in any medium, provided the original work is properly cited (CC BY 4.0).

Share & Cite This Article
MDPI and ACS Style
Ren, J.; Zhu, X.; Xu, P.; Li, R.; Fu, Y.; Dong, S.; Zhangsun, D.; Wu, Y.; Luo, S. d-Amino Acid Substitution of α-Conotoxin RgIA Identifies its Critical Residues and Improves the Enzymatic Stability. Mar. Drugs 2019, 17, 142.
Note that from the first issue of 2016, MDPI journals use article numbers instead of page numbers. See further details here.
Related Articles
Comments
[Return to top]