Cytotoxic Compounds from the Saudi Red Sea Sponge
Xestospongia testudinaria
1
Department of Pharmacognosy, College of Pharmacy, King Saud University, P.O. Box 2457, Riyadh 11451, Saudi Arabia
2
Department of Pharmacognosy, Faculty of Pharmacy, Mansoura University, El-Mansoura 35516, Egypt
3
Natural Products Unit, King Fahd Medical Research Center, King Abdulaziz University, Jeddah 21589, Saudi Arabia
4
Suez Canal University Hospital, Suez Canal University, Ismailia 41522, Egypt
5
Department of Clinical Pharmacy, Faculty of Pharmacy, King Abdulaziz University, Jeddah 21589, Saudi Arabia
6
Department of Pharmacology and Toxicology, College of Pharmacy, King Saud University, P.O. Box 2457, Riyadh 11451, Saudi Arabia
7
Vitiligo Research Chair, College of Medicine, King Saud University, Riyadh 11451, Saudi Arabia
8
Department of Pharmacognosy, College of Pharmacy, Sattam Bin Abdulaziz University, Al-kharj 11942, Saudi Arabia
9
Department of Pharmacognosy, Faculty of Pharmacy, Assiut University, Assiut 71526, Egypt
10
Department of Natural Products, Faculty of Pharmacy, King Abdulaziz University, Jeddah 21589, Saudi Arabia
*
Author to whom correspondence should be addressed.
Academic Editor: Kirsten Benkendorff
Received: 4 April 2016 / Revised: 20 April 2016 / Accepted: 21 April 2016 / Published: 26 April 2016
Abstract
Bioassay-guided fractionation of the organic extract of the Red Sea sponge
Xestospongia testudinaria
led to the isolation of 13 compounds including two new sterol esters, xestosterol palmitate (2) and xestosterol ester of l6′-bromo-(7′
E
,11′
E
,l5′
E
)-hexadeca-7′,11′,l5′-triene-5′,13′-diynoic acid (4), together with eleven known compounds: xestosterol (1), xestosterol ester of 18′-bromooctadeca-7′
E
,9′
E
-diene-7′,15′-diynoic acid (3), and the brominated acetylenic fatty acid derivatives, (5
E
,11
E
,15
E
,19
E
)-20-bromoeicosa-5,11,15,19-tetraene-9,17-diynoic acid (5), 18,18-dibromo-(9
E
)-octadeca-9,17-diene-5,7-diynoic acid (6), 18-bromooctadeca-(9
E
,17
E
)-diene-7,15-diynoic acid (7), 18-bromooctadeca-(9
E
,13
E
,17
E
)-triene-7,15-diynoic acid (8), l6-bromo (7
E
,11
E
,l5
E
)hexadeca-7,11,l5-triene-5,13-diynoic acid (9), 2-methylmaleimide-5-oxime (10), maleimide-5-oxime (11), tetillapyrone (12), and nortetillapyrone (13). The chemical structures of the isolated compounds were accomplished using one- and two-dimensional NMR, infrared and high-resolution electron impact mass spectroscopy (1D, 2D NMR, IR and HREIMS), and by comparison with the data of the known compounds. The total alcoholic and
n
-hexane extracts showed remarkable cytotoxic activity against human cervical cancer (HeLa), human hepatocellular carcinoma (HepG-2), and human medulloblastoma (Daoy) cancer cell lines. Interestingly, the dibrominated C
18
-acetylenic fatty acid (6) exhibited the most potent growth inhibitory activity against these cancer cell lines followed by Compounds 7 and 9. Apparently, the dibromination of the terminal olefinic moiety has an enhanced effect on the cytotoxic activity.
View Full-Text
►

▼

Figures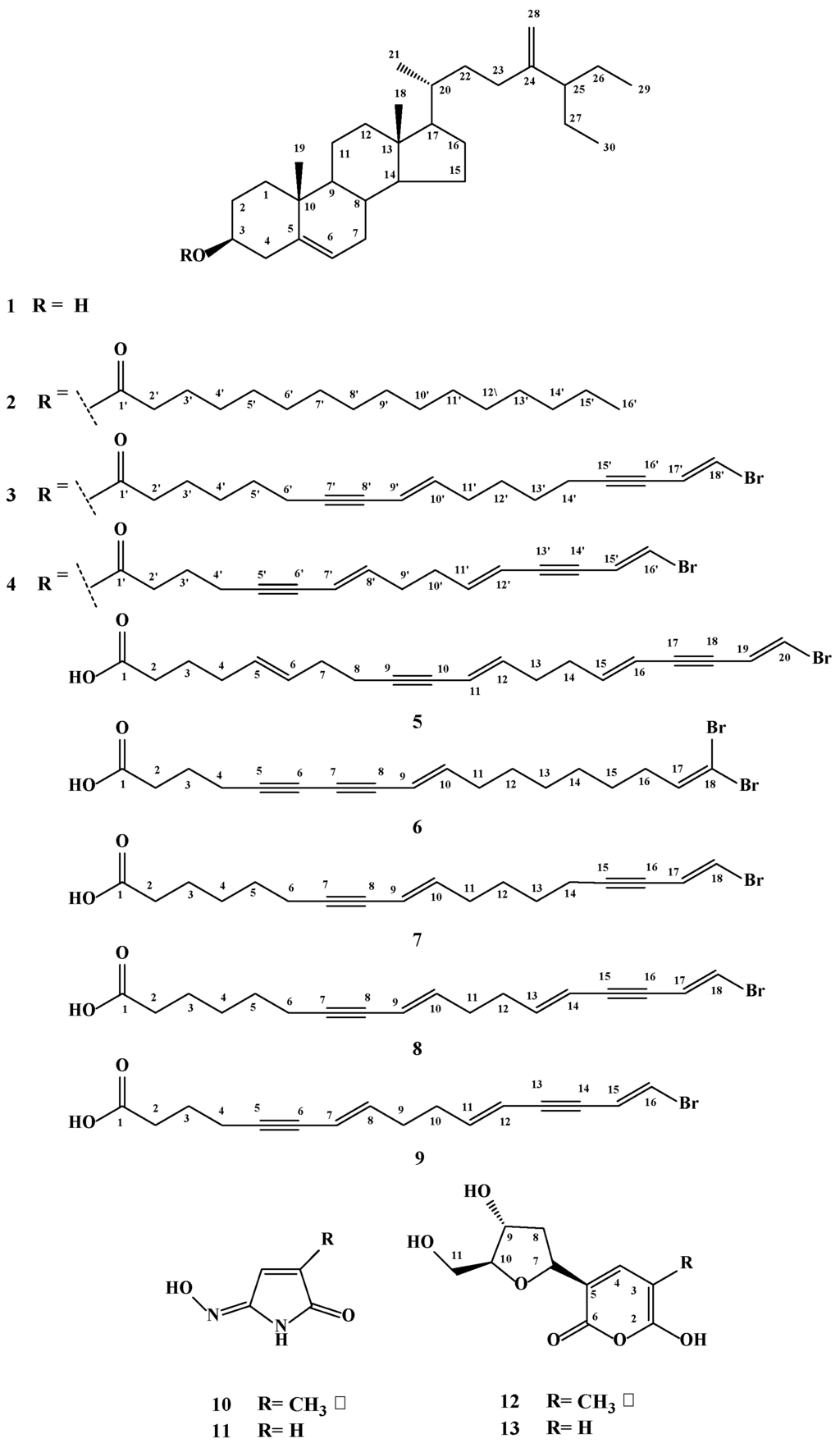 Figure 1
This is an open access article distributed under the
Creative Commons Attribution License
which permits unrestricted use, distribution, and reproduction in any medium, provided the original work is properly cited (CC BY 4.0).

Share & Cite This Article
MDPI and ACS Style
El-Gamal, A.A.; Al-Massarani, S.M.; Shaala, L.A.; Alahdald, A.M.; Al-Said, M.S.; Ashour, A.E.; Kumar, A.; Abdel-Kader, M.S.; Abdel-Mageed, W.M.; Youssef, D.T.A. Cytotoxic Compounds from the Saudi Red Sea Sponge Xestospongia testudinaria. Mar. Drugs 2016, 14, 82.
Note that from the first issue of 2016, MDPI journals use article numbers instead of page numbers. See further details here.
Related Articles
Comments
[Return to top]