Excavatolide B Attenuates Rheumatoid Arthritis through the Inhibition of Osteoclastogenesis
1
Department of Marine Biotechnology and Resources, National Sun Yat-sen University, No.70, Lianhai Road, Gushan District, Kaohsiung 80424, Taiwan
2
Department of Orthopaedic Surgery, Ping-Tung Christian Hospital, No.60, Dalian Road, Pingtung 90059, Taiwan
3
Department and Graduate Institute of Aquaculture, National Kaohsiung Marine University, No.142, Haizhuan Road, Nanzi District, Kaohsiung 81157, Taiwan
4
Department of Neurosurgery, Chang Gung Memorial Hospital-Kaohsiung Medical Center and Chang Gung University College of Medicine, No.123, Dapi Road, Niaosong District, Kaohsiung 83301, Taiwan
5
Department of Neurosurgery, Xiamen Chang Gung Memorial Hospital, No.123, Xiafei Road, Haicang District, Xiamen 361000, China
6
Department of Life Science, Institute of Molecular Biology, National Chung-Cheng University, No.168, Sec. 1, University Road, Min-Hsiung, Chia-yi 62102, Taiwan
7
Taiwan Coral Research Center, National Museum of Marine Biology & Aquarium, No.2 Houwan Road, Checheng, Pingtung 94450, Taiwan
8
Graduate Institute of Marine Biotechnology, National Dong Hwa University, No.2 Houwan Road, Checheng, Pingtung 94450, Taiwan
9
Department of Obstetrics and Gynecology, Kaohsiung Veterans General Hospital, No.386, Dazhong 1st Road, Zuoying District, Kaohsiung 81362, Taiwan
10
Department of Obstetrics and Gynecology and Institute of Clinical Medicine, National Yang-Ming University, No.155, Sec. 2, Linong Street, Taipei 11221, Taiwan
11
Department of Pharmacy and Graduate Institute of Pharmaceutical Technology, Tajen University, No.20, Weixin Road, Yanpu, Pingtung 90741, Taiwan
12
Doctoral Degree Program in Marine Biotechnology, National Sun Yat-sen University and Academia Sinica, No.70, Lianhai Road, Gushan District, Kaohsiung 80424, Taiwan
*
Author to whom correspondence should be addressed.
†
These authors contributed equally to this work.
Academic Editor: Paul Long
Received: 4 October 2016 / Revised: 17 December 2016 / Accepted: 26 December 2016 / Published: 6 January 2017
Abstract
Osteoclasts are multinucleated giant cells of macrophage/monocyte lineage, and cell differentiation with the upregulation of osteoclast-related proteins is believed to play a major role in the destruction of the joints in the course of rheumatoid arthritis (RA). Pro-inflammatory cytokines, such as interleukin-17A (IL-17A) and macrophage colony-stimulating factor (M-CSF), can be overexpressed in RA and lead to osteoclastogenesis. In a previous study, we found that cultured-type soft coral-derived excavatolide B (Exc-B) exhibited anti-inflammatory properties. In the present study, we thus aimed to evaluate the anti-arthritic activity of Exc-B in in vitro and in vivo models. The results demonstrated that Exc-B inhibits LPS-induced multinucleated cell and actin ring formation, as well as TRAP, MMP-9, and cathepsin K expression. Additionally, Exc-B significantly attenuated the characteristics of RA in adjuvant (AIA) and type II collagen-induced arthritis (CIA) in rats. Moreover, Exc-B improved histopathological features, and reduced the number of TRAP-positive multinucleated cells in the in vivo AIA and CIA models. Immunohistochemical analysis showed that Exc-B attenuated the protein expression of cathepsin K, MMP-2, MMP-9, CD11b, and NFATc1 in ankle tissues of AIA and CIA rats. Level of interleukin-17A and macrophage colony-stimulating factor were also decreased by Exc-B. These findings strongly suggest that Exc-B could be of potential use as a therapeutic agent by inhibiting osteoclast differentiation in arthritis. Moreover, this study also illustrates the use of the anti-inflammatory marine compound, Exc-B, as a potential therapeutic strategy for RA.
View Full-Text
►

▼

Figures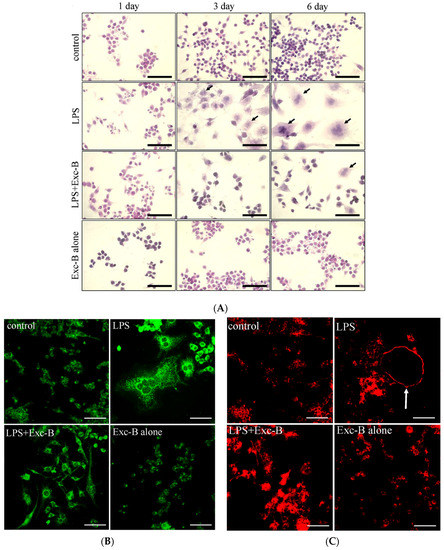 Figure 1
This is an open access article distributed under the
Creative Commons Attribution License
which permits unrestricted use, distribution, and reproduction in any medium, provided the original work is properly cited (CC BY 4.0).

Share & Cite This Article
MDPI and ACS Style
Lin, Y.-Y.; Jean, Y.-H.; Lee, H.-P.; Lin, S.-C.; Pan, C.-Y.; Chen, W.-F.; Wu, S.-F.; Su, J.-H.; Tsui, K.-H.; Sheu, J.-H.; Sung, P.-J.; Wen, Z.-H. Excavatolide B Attenuates Rheumatoid Arthritis through the Inhibition of Osteoclastogenesis. Mar. Drugs 2017, 15, 9.
Note that from the first issue of 2016, MDPI journals use article numbers instead of page numbers. See further details here.
Related Articles
Comments
[Return to top]