Surface Recovery Investigation of Silicone Rubber Composites for Outdoor Electrical Insulation under Accelerated Temperature and Humidity
Viewed by 308
Abstract
Degradation of silicon rubber due to heat and humidity affect its performance in outdoor applications. To analyze the effects of high temperature and humidity on room temperature vulcanized (RTV) silicone rubber (SiR) and its composites, this study was performed. Five different sample compositions
[...] Read more.
Degradation of silicon rubber due to heat and humidity affect its performance in outdoor applications. To analyze the effects of high temperature and humidity on room temperature vulcanized (RTV) silicone rubber (SiR) and its composites, this study was performed. Five different sample compositions including neat silicone rubber (nSiR), microcomposites (15 wt% silica(SMC 15% SiO
2
) and 15 wt% ATH(SMC 15% ATH), nanocomposite (2.5 wt% silica(SNC 2.5% SiO
2
) and hybrid composite (10 wt% micro alumina trihydrate with 2 wt% nano silica(SMNC 10% ATH 2% SiO
2
) were prepared and subjected to 70 ˚C temperature and 80% relative humidity in an environmental chamber for 120 h. Contact angle, optical microscopy and Fourier transform infrared (FTIR) spectroscopy were employed to analyze the recovery properties before and after applying stresses. Different trends of degradation and recovery were observed for different concentrations of composites. Addition of fillers improved the overall performance of composites and SMC 15% ATH composite performed better than other composites. For high temperature and humidity, the ATH-based microcomposite was recommended over silica due to its superior thermal retardation properties of ATH. It has been proved that ATH filler is able to withstand high temperature and humidity.
Full article
►

▼

Show Figures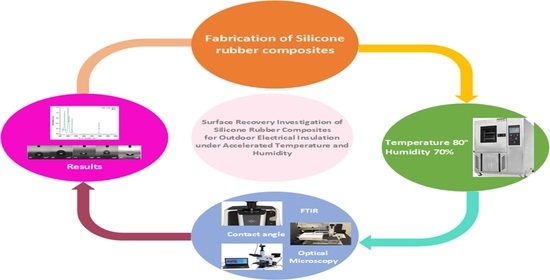 Graphical abstract