Conferences
Upcoming MDPI Conferences (2)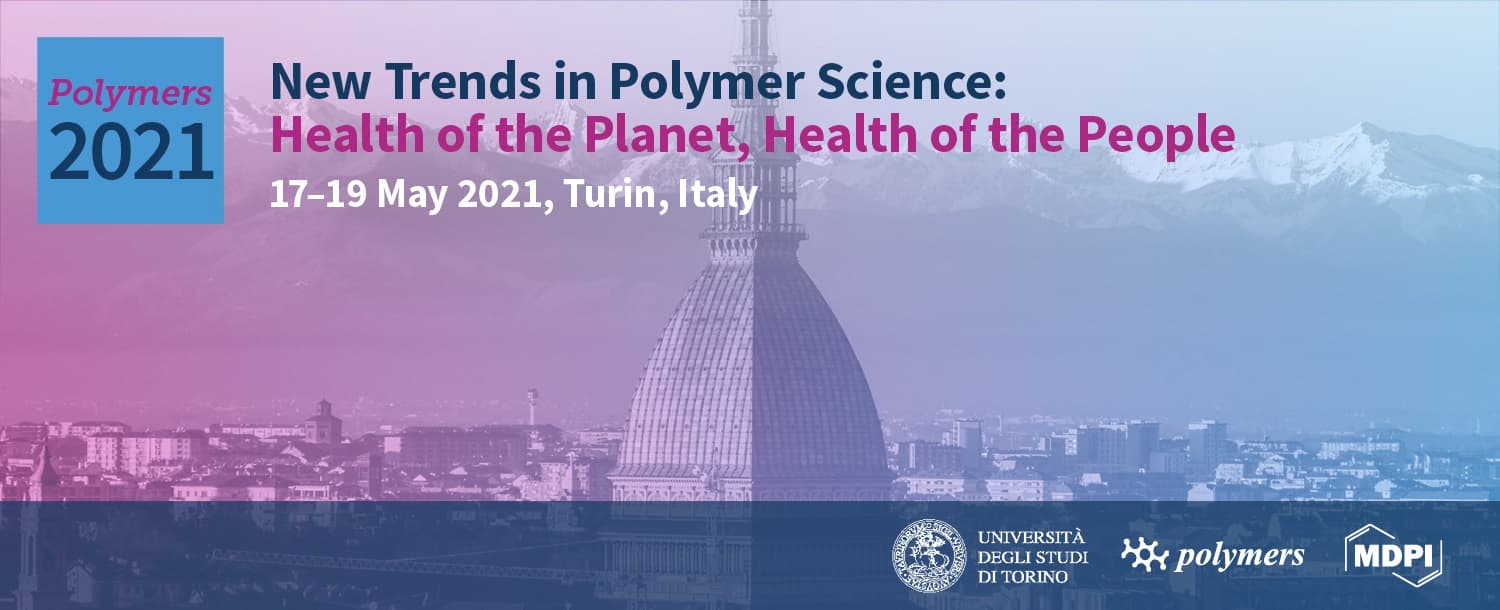 17–19 May 2021
Polymers 2021 -New Trends in Polymer Science: Health of the Planet, Health of the People
Turin, Italy
We are very proud and honored to announce the international conference Polymers 2021 - New Trends in Polymers Science: Health of the Planet, Health of the People, organized in collaboration with the MDPI open access journal Polymers. The conference will be held in Turin, Italy, on May 17–19, 2021.
The purpose of the meeting is to bring together scientists from academia and industry to present leading-edge research on the advancements in polymer science and technology in all its main aspects, with a particular emphasis on those aiming to preserve and improve the health of the planet and of people, as per title. Both oral and poster contributions are welcome. The broad themes that will be addressed during the conference include synthesis, modification, and characterization of synthetic and natural polymers, polymers from green chemistry, polymer hybrids, nanocomposites, polymer biomaterials, polymers in drug delivery and tissue engineering, polymers for human health, bio-based and biodegradable polymers, polymer recycling and re-use, polymers for the environment, functional polymers, and polymers in energy, among others.
24–26 November 2021
3rd Coatings and Interfaces Conference
Florence, Italy
It is our pleasure to invite you to the 3rd Coatings and Interfaces Conference (CIC2021). Following the two very successful electronic editions of this conference series, we are pleased to announce that CIC2021 will hold its 3rd edition on a face-to-face format, allowing attendees to actively engage in discussions about the latest findings in the field. The conference will be held in Florence, Italy, a renowned heritage site and home to thousands of surface finishing companies. The event will take place on 24–26 November 2021.
The impact of coatings and interfaces in technology is growing at an unprecedented pace. Energy, sustainable mobility, pollution control, critical raw materials, preservation of cultural heritage, control of materials degradation, food safety, and health science are all challenges that critically depend on our capability to engineer surfaces. The aim of the CIC2021 is to give scientists and professionals a unique opportunity to keep up with this quickly evolving field, by providing a comprehensive overview of the latest findings regarding the fundamentals and application of coatings and interfaces.
CIC2021 will bring together scientists and technologists from academia and industry, encouraging the involvement of excellent early-stage investigators. Participants will have the opportunity to share their most recent findings with a focus on the following areas of Coatings and Interface Science and Technology:
-Coatings for mitigation of corrosion, wear, and erosion;
-Bioactive coatings, surfaces, and interfaces;
-Advances in coating deposition and surface functionalization;
-Coatings for food packaging and preservation;
-Coatings and interfaces in cultural heritage preservation and restoration.
Presented papers will be published in the proceedings of the conference. In addition, a Coatings Special Issue dedicated to the conference will be open to the submission of selected outstanding contributions.
We look forward to meeting you in Florence!
Coatings announces selected third-party conferences. In case you would like to announce your own event on the Coatings website, please fill out the following form to apply for the announcement of a conference or other academic event (seminar, workshop).
Upcoming Partner Conferences (7)