Conferences
Upcoming MDPI Conferences (3)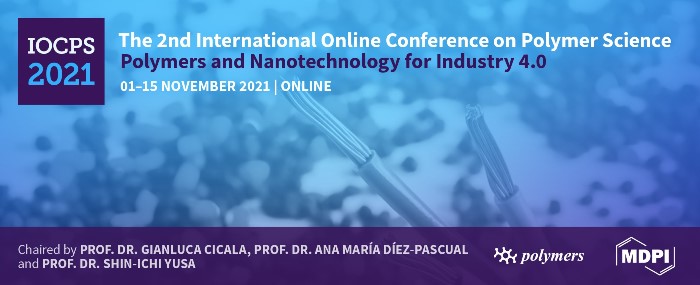 1–15 November 2021
The 2nd International Online Conference on Polymers Science - Polymers and Nanotechnology for Industry 4.0 (IOCPS 2021)
Online
You are cordially invited to participate in the 2nd International Online Conference on Polymers Science - Polymers and Nanotechnology for Industry 4.0 (IOCPS 2021), sponsored by the MDPI open access journal Polymers (ISSN 2073-4360; IF: 3.426). The meeting is an opportunity for researchers in the field of science of materials science and technology to present their research and exchange ideas with colleagues. This is an electronic conference, removing the need to travel and eliminating participation expenses while still maintaining a rigorous selection of scientific contributions and, at the same time, ensuring the possibility for visibility for your own research.
The conference will be organized around the following general topics, providing a forum for presenting and discussing new results. Topics of interest include but are not limited to:
Smart polymeric Synthesis and Modification for Industry 4.0
Polymer Development for Additive Manufacturing
Advanced Functional Testing of Polymeric Materials
Nanotechnologies in Polymer Science
Biotechnologies and Functional Biopolymers
Applications Polymers in the Industry 4.0
Polymer Recycling
This conference will be held from 1 to 15 November 2021.

14–17 November 2021
12th International Conference on High-Performance Ceramics (CICC-12)
Suzhou, China
The "12th International Conference on High-Performance Ceramics (CICC-12)" which will be held in Suzhou, China from 14-17 November 2021. The CICC series is sponsored by the Chinese Ceramic Society and aims to provide a biannually international forum for scientists, engineers, and entrepreneurs working on high-performance ceramics to disseminate and discuss their recent research and development outcomes. Since 1998, the CICC series have evolved into a flagship scholarly conference on ceramics held in China and gained considerable international impact, with the last conference seeing more than 1000 attendants worldwide.
The technical program of CICC-12 will consist of some 20 symposiums with topics covering, for example, advanced sintering techniques, ferro/piezo-electric ceramics, thermoelectric materials, and nanoscale characterization methods. Each symposium will include keynote/invited/regular oral presentations and poster presentations, in addition to ad hoc events. The conference not only welcomes renowned scholars, but will also promote the participation of young researchers and graduate students.
The year of 2020 was particularly difficult for academia due to the COVID-19 epidemic. With major international conferences moved online, in-person discussion becomes a sought-after in scientific communication. We are thus endeavoring to construct an invigorating atmosphere at CICC-12 under which latest perspectives will be exchanged and new ideas be stimulated. We are optimistic at this stage that the epidemic will come to an end by the time when barriers for international travels will be substantially eased. However, in the case of an unimproved situation, we do have contingency plans, including combined online/offline forms, to ensure an uncompromised efficacy.
The CICC-12's venue will be at Kempinski Hotel Suzhou, a well-appointed hotel located on beautiful Jinji Lake and conveniently reached from nearby international airports (Shanghai Pudong/Hongqiao and Wuxi Shuofang) and railway stations. More information regarding conference organization, abstract submission, registration, and accommodation, etc. can be found at the CICC-12 website: https:cicc2021.ceramsoc.com.
If you know of others who would be interested in participating, please kindly forward this announcement to them. We look forward to seeing you this fall in Suzhou China.
Sponsoring Journals:
Ceramics
Coatings
Electrochem
JFB
Materials
Metals
Nanomaterials
Sustainability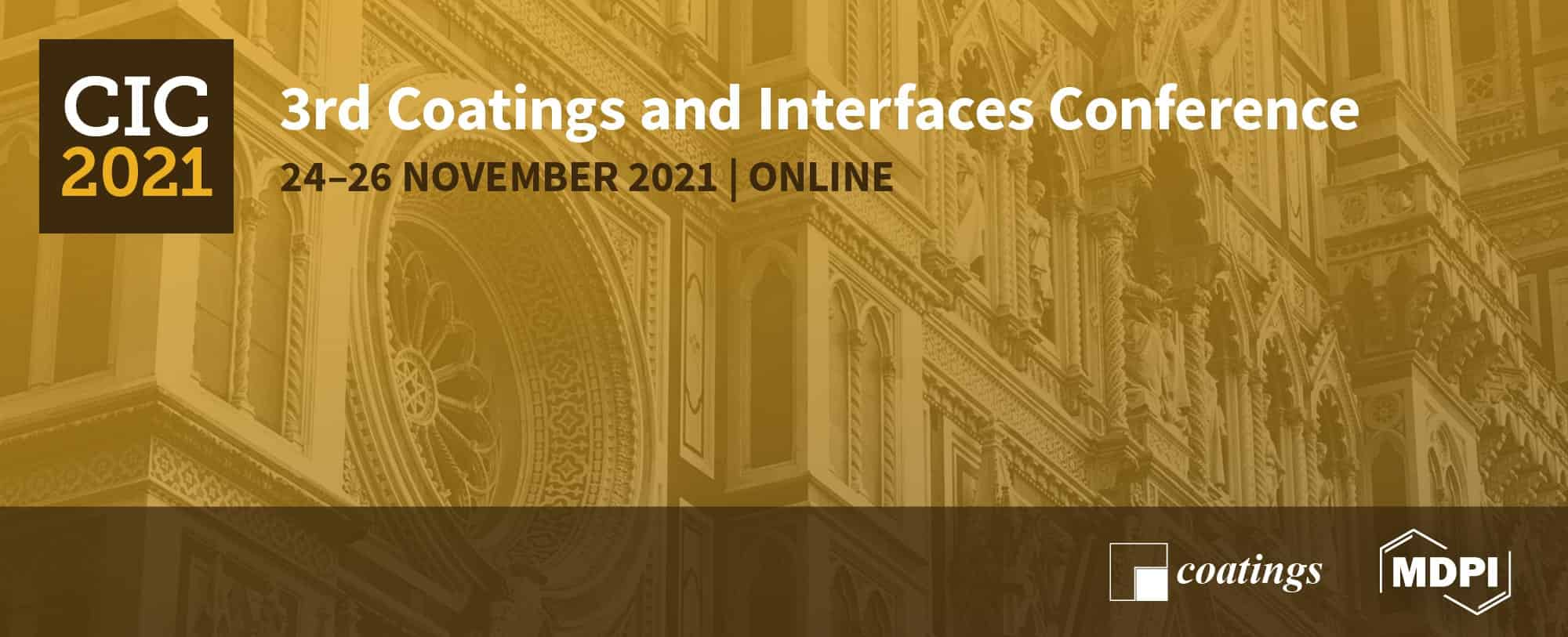 24–26 November 2021
3rd Coatings and Interfaces Conference
Online
It is our pleasure to invite you to the 3rd Coatings and Interfaces Conference (CIC2021). Following the two very successful electronic editions of this conference series, we are pleased to announce that CIC2021 will hold its 3rd edition virtually, allowing attendees to actively engage in discussions about the latest findings in the field. The event will take place on 24–26 November 2021.
The impact of coatings and interfaces in technology is growing at an unprecedented pace. Energy, sustainable mobility, pollution control, critical raw materials, preservation of cultural heritage, control of materials degradation, food safety, and health science are all challenges that critically depend on our capability to engineer surfaces. The aim of the CIC2021 is to give scientists and professionals a unique opportunity to keep up with this quickly evolving field, by providing a comprehensive overview of the latest findings regarding the fundamentals and application of coatings and interfaces.
CIC2021 will bring together scientists and technologists from academia and industry, encouraging the involvement of excellent early-stage investigators. Participants will have the opportunity to share their most recent findings with a focus on the following areas of Coatings and Interface Science and Technology:
Coatings for mitigation of corrosion, wear, and erosion;
Bioactive coatings, surfaces, and interfaces;
Advances in coating deposition and surface functionalization;
Coatings for food packaging and preservation;
Coatings and interfaces in cultural heritage preservation and restoration.
After the conference, the Scientific Committee will select abstracts for which extended papers may be included for publication in a Special Issue of the open access journal Coatings (the submission to the journal is independent from the conference proceedings and will follow the usual process of the journal, including peer review and an 20% discount on APC).
We look forward to your participation!
Coatings announces selected third-party conferences. In case you would like to announce your own event on the Coatings website, please fill out the following form to apply for the announcement of a conference or other academic event (seminar, workshop).
Upcoming Partner Conferences (2)

23–28 January 2022
46th International Conference & Exposition on Advanced Ceramics & Composites (ICACC'22)
Daytona Beach, FL, USA
The 46th International Conference & Exposition on Advanced Ceramics & Composites (ICACC'22) will be held from January 23–28, 2022 in Daytona Beach, Fla. An International Symposium, Emergent Materials and Sustainable Manufacturing Technologies in a Global Landscape, will be held in honor of Dr. Tatsuki Ohji to recognize his long term and outstanding contributions to science and technology of advanced ceramic materials and technologies and promoting global collaborations. Additionally, the program features 18 symposia, five focused sessions, one special focused session on diversity, entrepreneurship, and commercialization, and the 11th Global Young Investigator Forum. Register or learn more about the conference here.
https://ceramics.org/event/46th-international-conference-and-expo-on-advanced-ceramics-and-composites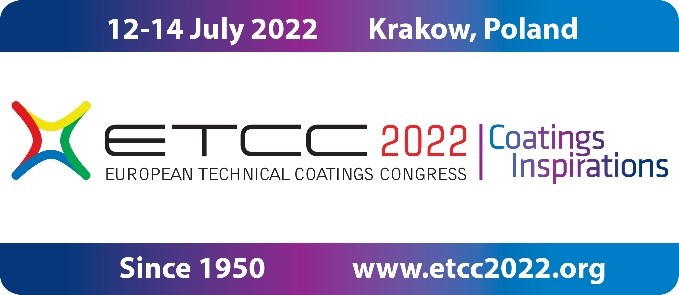 12–14 July 2022
CONGRESS ETCC2022
Krakow, Poland
Due to the social and legal limitations caused by the SARS CoV-2 pandemic
new date of the European Technical Coatings Congress ETCC2022
(before ETCC2020) is: 12 – 14 July 2022 in Krakow.
The ETCC2022 presentations refer to the latest scientific and technical achievements concerning: paints, coatings, raw materials, adhesives, construction materials, related processes and concepts.
New ABSTRACT SUBMISSION, deadline: 30 January 2022
For more detailed information please visit: www.etcc2022.org
Some ETCC2022 facts and figures:
During the three days of the event there will be plenary presentations, 6 parallel sessions, poster presentations, and an exhibition.
Speakers are representing the largest companies, institutes, and universities from many countries world-wide.
All conditions, including:
Registration for the congress
Congress fees already paid
Oral and poster presentations submitted
Registration to the exhibition
Registration to the "Summer School" session for young scientists
will be fully valid for the new congress date.
The ETCC2022 organisers of the are:
FATIPEC – Federation of Associations of Technicians for Industry of Paints in European Countries (www.fatipec.com )
and
SITPChem – Polish Association of Chemical Engineers (www.sitpchem.org.pl)
In case of questions please contact the Congress Organising Committee:
E-mail: [email protected]
Please follow us also in the social media:
ETCC2022 Congress Organising Committee