Conferences
Upcoming MDPI Conferences (2)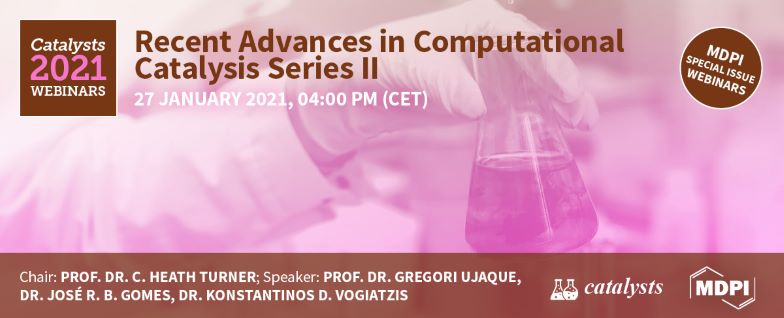 27 January 2021
Catalysts Webinar | Recent Advances in Computational Catalysis II
Online
Computational catalysis has been one of the most dynamic research fields over the last decade, and it now represents a critical tool for the analysis of chemical mechanisms and active sites. The growth in this area has been accelerated by steady improvements in computational speed and a maturation of robust software tools, providing opportunities for more realistic models and the application of powerful analysis techniques. As the field of computational catalysis continues to expand, the gap between model and reality is beginning to narrow. More effort is now focused on capturing secondary effects (structural defects, solvation environment, deactivation events, thermal distortions, etc.), extending the time scales, and incorporating machine learning and descriptor-based methods for catalyst screening.
The following experts will present and speak:
Prof. Dr. C. Heath Turner, University of Alabama, USA
Prof. Dr. Gregori Ujaque, Universitat Autónoma de Barcelona, Spain
Dr. José R. B. Gomes, University of Aveiro, Portugal

Prof. Dr. Konstantinos D. Vogiatzis, University of Tennessee, USA
When? 27 January 2021 at 4.00pm CET | 9.00am CST

18 February 2021
Catalysts Webinar | Methyltransferases, Understanding and Application
Online
The methylation of alcohols or amines is straightforward undergraduate chemistry. Yet at the same time, it is a prime example of everything that is wrong with chemistry. The reagents are toxic and often cancerogeneous, they have to be used in stoichiometric quantities and even in excess. Consequently, methylation is high on the list of reactions for which a catalytic and environmentally benign approach needs to be found. Methyltransferases are enzymes that will enable exactly this. Therefore, in recent year, much research has focussed on the application of methyltransferases. As they need a co-factor also the benign recycling of the co-factor needs to be addressed. In this webinar, all aspects of methylation catalysed by methyltransferases will be addressed by outstanding experts in the field.
The following experts will present and speak:
Prof. Dr. Ulf Hanefeld, Delft University of Technology, The Netherlands
Prof. Dr. Jennifer Andexer, University of Freiburg, Germany
Prof. Dr. Helen Hailes, University College London, UK
Prof. Dr. Glenn Burley, University of Strathclyde, UK
When? 18 February 2021 at 12.00pm CET
Catalysts announces selected third-party conferences. In case you would like to announce your own event on the Catalysts website, please fill out the following form to apply for the announcement of a conference or other academic event (seminar, workshop).
Upcoming Partner Conferences (4)