Conferences
Upcoming MDPI Conferences (2)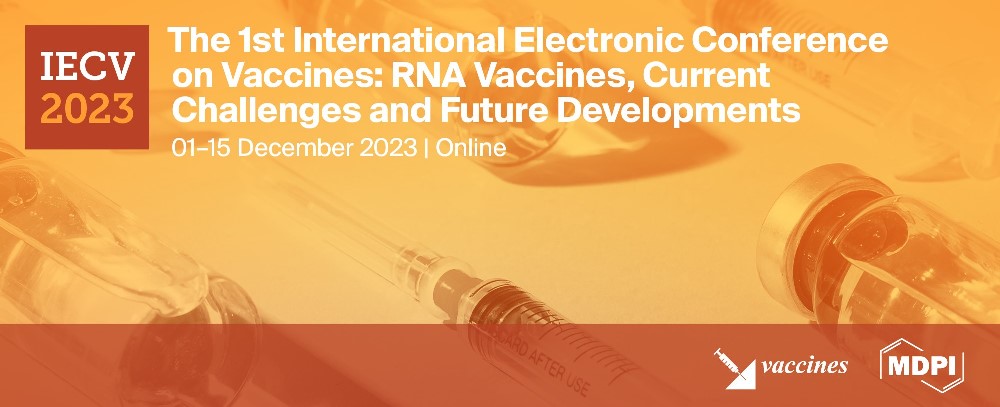 1–15 December 2023
The 1st International Electronic Conference on Vaccines: RNA Vaccines, Current Challenges and Future Developments (IECV 2023)
Online
Dear scientists, researchers, and authors,
We are pleased to announce that the 1st International Electronic Conference on Vaccines: RNA Vaccines, Current Challenges and Future Developments (IECV 2023), chaired by Prof. Dr. François Meurens and Dr. Fanny Renois, will be held from 1 to 15 December 2023.
This year, the sessions of interest for this event include, but are not limited to, the following:
S1. COVID-19 Vaccines and Vaccination.
S2. Vaccines against Infectious Diseases.
S3. Vaccines and Society.
We proudly invite you to join IECV 2023 to present your latest vaccine research and developments as well as share novel ideas on related topics.
You can participate in IECV 2023 free of charge in the following two ways:
- Submit Abstracts and Proceedings/Supplementary Files
Submit an abstract before 11th July 2023. After acceptance, you will be asked to submit a short proceedings paper (three–six pages), a poster, a slide presentation (in PDF form), and/or a short video presentation (max. three–five minutes) before 13th September 2023. Detailed information: Instructions for Authors.
- Attend Live Sessions
During the duration of the conference a number of live online sessions will be programmed. We are pleased to invite you to subscribe to IECV 2023 at https://iecv2023.sciforum.net/ so that you can receive email notifications when the live session program is online and open online discussion.
For more information about the procedures for the submission, peer review, revision, and acceptance of conference proceedings papers, please refer to the "Instructions for Authors" section at https://iecv2023.sciforum.net/#instructions.
- Conference Awards
Best Paper Award (CHF 500) and Best Presentation Award (CHF 500). For details, please refer to https://iecv2023.sciforum.net/#awards.
We will provide Accepted Submission Certificates to authors whose abstracts and conference proceedings or presentation files have been accepted and published. We also provide Participation Certificates to authors who attend live sessions.
Timeline
Abstract submission deadline: 11th July 2023.
Notification of acceptance deadline: 25th July 2023.
Proceedings paper submission deadline: 13th September 2023.
Conference: 1–15 December 2023.
We look forward to receiving your research papers and welcoming you to this e-conference.
Please do not hesitate to contact us if you have any questions.
Email: [email protected].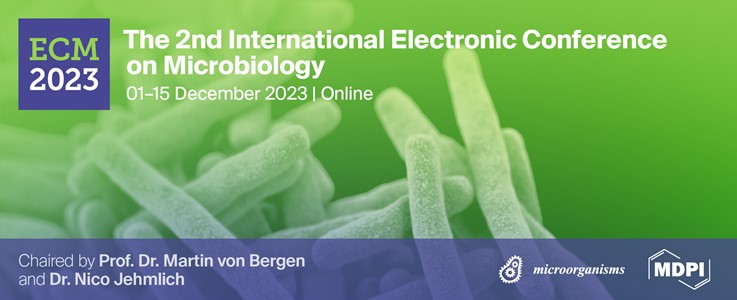 1–15 December 2023
The 2nd International Electronic Conference on Microbiology
Online
We are pleased to announce and invite you to join the 2nd International Electronic Conference on Microbiology (ECM 2023) that is hosted online by: ECM2023.sciforum.net. Participation is free of charge for both authors and attendees.
ECM 2023 will present the latest research related to microorganisms.
Topics of interest include but are not limited to:
S1. Gut Microbiota and Health Disease
S2. Foodborne Pathogens and Food Safety
S3. Antimicrobial Agents and Resistance
S4. Emerging Infectious Diseases
S5. Microbiome and Soil Science
S6. Microbial Characterization and Bioprocess
S7. Microbe–Plant Interactions
Important Dates:
Abstract Submission: 30th June 2023
Acceptance Notification: 20th July 2023
Full Paper Submission: 10 September 2023
Final Paper Notification: 20 September 2023
All submitted abstracts will be evaluated by the conference committee. Upon acceptance of their abstract, authors will contribute an extended abstract for the conference proceedings and a slide presentation of their work. The authors of the most outstanding contributions will be invited to submit a full manuscript for potential publication in the Special Issue "ECM 2023" in the journal Microorganisms (Impact Factor 4.926) (submission to the journal is independent of the conference proceedings and will follow the usual process of the journal, including peer review, APC, etc.).
We look forward to your participation in this exciting event.
To find out more about the conference, please visit the following link:
Pathogens announces selected third-party conferences. In case you would like to announce your own event on the Pathogens website, please fill out the following form to apply for the announcement of a conference or other academic event (seminar, workshop).
Upcoming Partner Conferences (2)

9–14 July 2023
IX European Congress of Protistology (ECOP) & Annual Congress of the International Society of Protistologists (ISOP) 2023
Vienna, Austria
Dear Colleagues and Friends,
It is a great pleasure to announce the IX European Congress of Protistology (ECOP), which will be held as a joint meeting with the annual Congress of the International Society of Protistologists (ISOP). The meeting will be organized as a Green Meeting by the University of Vienna together with the German Society for Protozoology (DGP) in Vienna, Austria, 9–14 July 2023.
The Congress of the European Societies is the most important event organized by FEPS and takes place every four years.
We are looking forward to welcoming you in Vienna!

22–23 July 2023
Tuberculosis Drug Discovery and Development (GRS)
Castelldefels, Spain
The Tuberculosis Drug Discovery and Development GRS provides a unique forum for graduate students and post-doctoral researchers to present their work, discuss new methods, cutting-edge ideas, and pre-published data, as well as to build collaborative relationships with their peers. Experienced mentors and trainee moderators will facilitate active participation in scientific discussion to allow all attendees to be engaged participants rather than spectators. This GRS will cover a wide range of cutting-edge research topics, from drug discovery to clinical applications, to combat tuberculosis.
https://www.grc.org/tuberculosis-drug-discovery-and-development-grs-conference/2023/