Prevalence of Escherichia coli Producing Extended Spectrum Beta-Lactamase (ESBL) Driven Septicaemia in Children Aged 0–2 Years in Two Districts Hospitals in Yaounde, Cameroon
Abstract
Septicaemia is public health problem worldwide with a high rate of mortality among children. Epidemiological data on this phenomenon in Cameroon are still scarce. This study aimed to determine the prevalence and associated factors to septicaemia due to
E. coli
strains producing extended
[...] Read more.
Septicaemia is public health problem worldwide with a high rate of mortality among children. Epidemiological data on this phenomenon in Cameroon are still scarce. This study aimed to determine the prevalence and associated factors to septicaemia due to
E. coli
strains producing extended spectrum beta-lactamase (ESBL) in two hospitals in Yaoundé, Cameroon. A prospective, cross-sectional study was conducted on infants aged 0 to 2 years old at the consultation and neonatology care unit of two district hospitals of Yaoundé (UTHY and YGOPH) during a period of seven months (from August 2019 to March 2020). Each blood sample collected per infant was cultured in hemoline performance vials, and bacterial strains were identified using the Api-20 E system. In addition, an antibiotic resistant profile of isolates as well as the ESBL production were performed in accordance with the recommendations of the Antibiogram committee of the French Society of Microbiology 2019. Data were analysed in Epi-Info7.0 and for
p
less than 0.05, the difference was statistically significant. Of the 300 children enrolled, 130 (43.33%) were blood culture positive, and
E. coli
. was the most prevalent (69.23% (90/130)). Then antibiotic susceptibility test revealed that 77 over 90
E. coli
strains were resistant to penicillin (with 85.55% to amoxicillin), and 34.44% were producing ESBL. Factors such as immunodeficiency, being on antibiotics, and particularly taking β-lactam were significantly associated with
E. coli
ESBL production ([aOR = 19.93;
p
= 0.0001], [aOR = 1.97;
p
= 0.04], and [aOR = 3.54;
p
= 0.01], respectively). Moreover, co-resistance to aminoglycosides, quinolones, fluoroquinolones, and cotrimoxazole were also found. This study highlighted a high prevalence of
E. coli
ESBL in blood samples of children aged 0–2 years in Yaoundé and prompts the development of more efficient strategies against
E. coli
ESBL associated mortality in infants in Cameroon.
Full article
►

▼

Show Figures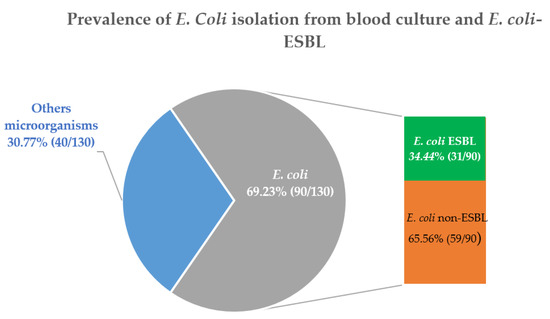 Figure 1