The Effect of Cell-Free Nontuberculous Mycobacterium Supernatants on Antibiotic Resistance and Biofilm Formation of Opportunistic Pathogens
Abstract
The presence of nontuberculous mycobacteria in biofilms on the surface of medical devices may affect the opportunistic pathogens that are common inhabitants of such biofilms. This study assessed the effect of
Mycolicibacterium iranicum
cell-free supernatants on biofilm formation and antibiotic susceptibility of
Escherichia
[...] Read more.
The presence of nontuberculous mycobacteria in biofilms on the surface of medical devices may affect the opportunistic pathogens that are common inhabitants of such biofilms. This study assessed the effect of
Mycolicibacterium iranicum
cell-free supernatants on biofilm formation and antibiotic susceptibility of
Escherichia coli
and
Staphylococcus epidermidis
differing in the anti-hemoglobin activity level. The cell-free supernatants have been shown to stimulate biofilm formation and also help reduce susceptibility of opportunistic pathogens to a number of antibiotics.
Full article
►

▼

Show Figures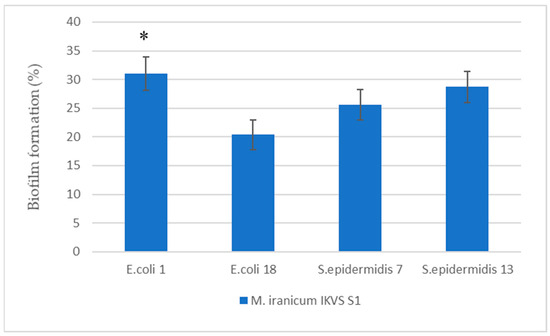 Figure 1