Conferences
Upcoming MDPI Conferences (2)

26–28 October 2022
The 2nd International Electronic Conference on Agronomy
Online
Dear colleagues,
We are pleased to announce the 2nd International Electronic Conference on Agronomy, which will take place from 26 to 28 October 2022. The e-conference format is designed to facilitate the dissemination and discussion of advances in agronomy research and innovation in a post-pandemic environment, where travelling is likely to remain a challenge for many of us.


The overarching aim is to contribute to achieving the UN Sustainable Development Goals and developing game-changing solutions that can transform the global food system, as demanded by the UN Food Systems Summit in 2021.


In the context of (1) global population growth and climate change; (2) rapidly rising costs and/or the scarcity of inputs such as water, seed, fertilisers, crop protection products; and (3) stagnating or decreasing crop yields in many world regions, the main challenges for the world's agricultural systems remain the same as those outlined in the Welcome from the Chairs of the
1st International Electronic Conference on Agronomy
in 2021. Specifically, agricultural production systems need to simultaneously
(i)
increase their resource use efficiency to reduce their reliance on limited, non-renewable, and strategic resources (soil, water, nutrients, and energy);
(ii)
maintain or increase crop yields, quality, and safety;
(iii)
reduce agriculture's impact on the environment and biodiversity; and
(iv)
maintain or improve economic returns for farming communities.
The programme of the 2nd International Electronic Conference on Agronomy will include eight special sessions, which focus on important area of agronomy where research and innovation is essential to address the challenges described above (see list of sessions below). In addition to lectures/presentations, we will organize a moderated panel discussions in each session to allow results to be presented and future challenges and research needs to be discussed:
Breeding/Selection Technologies and Strategies (including participatory breeding). Focused on yield, yield stability, resource use efficiency, weed competitiveness, and disease and pest resistance.


Sustainable Soil Management (including recycling organic animal and human waste as fertiliser/soil improvers).
Sustainable Resilient Horticultural Production Systems.
Sustainable and Resilient Arable Farming Systems.
Sustainable Management of Permanent and Rotational Grassland (including semi-natural and natural environments used for grazing).
Sustainable Weed Management.
Precision and Digital Agriculture.
Organic and Regenerative Farming Systems.
While our virtual conference will be a different experience from traditional in-person meetings, it will ensure that we (1) can meet irrespective of the COVID situation, (2) allow access for those who for other reasons are unable to travel, and (3) enable us to have a carbon-neutral event. Your presentation will be accessible to researchers around the world and will be a more inclusive because of the absence of registration fees and travel costs.


We warmly invite our colleagues from across the world to be part of this exciting event.


Carlo Leifert
Chair of the 2nd International Electronic Conference on Agronomy
Important Dates:

Abstract submission: 1 July 2022
Acceptance notification: 29 July 2022
Early bird registration: 2 September 2022
Covering author registration: 23 September 2022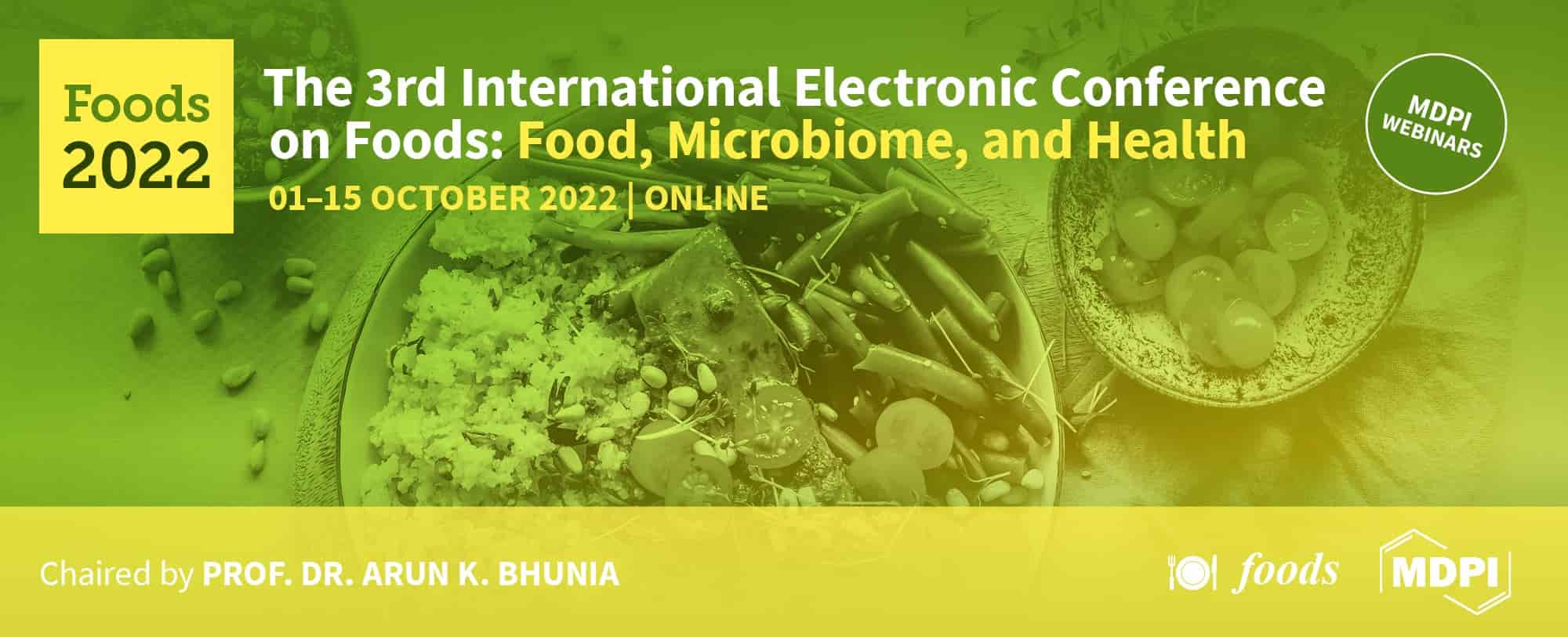 1–15 October 2022
The 3rd International Electronic Conference on Foods: Food, Microbiome, and Health—A Celebration of the 10th Anniversary of Food's Impact on Our Wellbeing
Online
Dear researchers,
Following the success of our first two Electronic Conferences on Food Science, I am delighted to invite you to join The 3rd International Electronic Conference on Foods 2022 - "Food, Microbiome, and Health—A celebration of the 10th anniversary of Food's impact on our wellbeing". I hope you will participate in this free E-conference, which will enable you to share and discuss your most recent research findings with the vibrant worldwide community of food scientists and technologists.
Food science and technology are gaining importance in response to the global need to carefully manage resources whilst providing wholesome and nutritious diets for the burgeoning world population. It is through collaboration, communication, and community that food scientists can help to ensure that a safe and healthy diet is available to all, thus eliminating starvation and food wastage.
Due to ongoing restrictions on travel and personal contact, it is a pleasure to still be able to collaborate electronically via Foods 2022 (3rd International Electronic Conference). This internet conference is designed to allow you to present your research to colleagues and interact as fully as possible with all those involved. For this, I thank the fantastic team at MDPI, who have set up and managed the complex arrangements required to allow us the opportunity to hold this virtual conference. l hope that you will meet old friends and make new ones. There will be many fascinating papers to spark everyone's interest.
Foods 2022 is a new and exciting experience for me; I believe that it is a taste of the future. Foods 2022 will revolutionize dissemination in the field with a brand-new tool for sharing research in an online forum that will preserve the same high standards and structure as expected of traditional in-person conferences, but will be more inclusive by removing the cost and time barriers that prevent many from participating in international conferences.
Foods 2022 will make your presentation accessible to hundreds of researchers worldwide, with the active engagement of the audience in question and answer sessions and discussion groups that will take place online to enhance the experience. I hope you will join us in presenting your work at Foods 2022 and taking part in this thriving online experience.
Submitted abstracts will be reviewed by the conference committee. The authors of accepted contributions will be invited to produce an extended abstract for the conference proceedings, along with a slide presentation of their work. Following the conference, outstanding contributions will be invited to submit their work for publication in the Foods journal.
The conference has been divided into 12 sessions, but there will be a large amount of overlap between these sessions. Please submit your articles as soon as possible, indicating which session you believe best suits your submission.
Session 1: Food Formulations —Novel Ingredients and Food Additives;
Session 2: Innovative Processing Techniques;
Session 3: Food Analytical Methods and Components;
Session 4: Food Microbiology, Microbiome and Food Biotechnology;
Session 5: Food Nutrition, Microbiome and Human Health;
Session 6: Nutraceuticals and Functional Foods;
Session 7: Foods Quality and Safety;
Session 8: Food Security and Sustainability;
Session 9: Plant Foods;
Session 10: Foods of Marine Origin;
Session 11: Food Toxicology;
Session 12: Drinks and Liquid Nutrition.
The future of humanity depends on managing the Earth's resources and, importantly, providing a healthy, sustaining diet for a burgeoning population. Food Science and Technology are the key areas that are needed to achieve this.
Best regards,
Prof. Dr. Arun K. Bhunia
Chair of Foods 2022
Conference Secretariats
Ms. Joie Wu
Ms. Stacy Luo
Mr. Paul Qi
Email: [email protected]
Foods announces selected third-party conferences. In case you would like to announce your own event on the Foods website, please fill out the following form to apply for the announcement of a conference or other academic event (seminar, workshop).
Upcoming Partner Conferences (0)
No conferences found for the selection.