Conferences
Upcoming MDPI Conferences (1)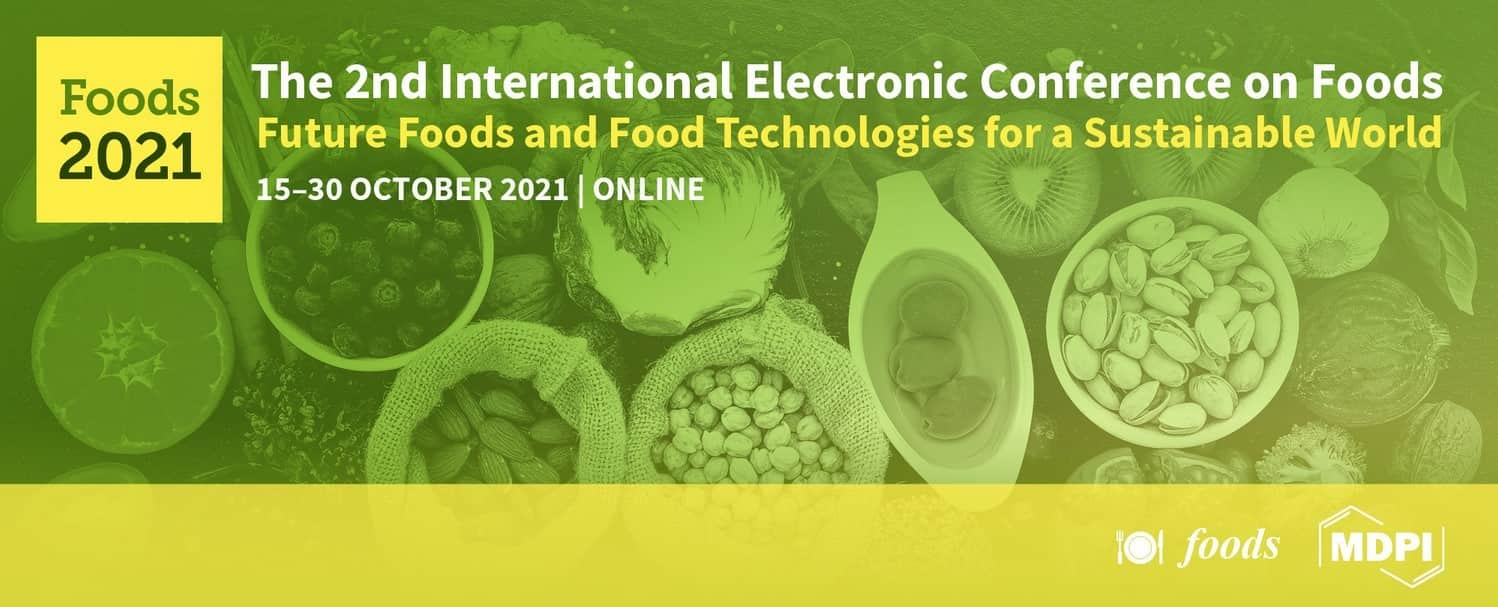 15–30 October 2021
The 2nd International Electronic Conference on Foods 2021 — Future Foods and Food Technologies for a Sustainable World
online
Following the considerable success of the First Electronic Conference on Food Science, I am delighted to invite you to join the Second International Electronic Conference on Foods 2021: Future Foods and Food Technologies for a Sustainable World in Food Science. I hope that you will agree to take part in this free conference, which will enable you to share and discuss your most recent research findings with the vibrant worldwide community of food scientists and technologists.
Food science and technology are gaining importance in response to the global need to carefully manage resources whilst providing a nutritious diet for the burgeoning world population. It is through collaboration, communication, and community that food scientists can help to ensure that a safe and healthy diet is available to all and thus eliminate starvation and food wastage.
At this point of restricted travel and personal contact, it is a pleasure to still be able to collaborate electronically via Foods 2021 (Second International Electronic Conference on Food Science). This internet conference is designed to allow you to present your research to colleagues and interact as fully as possible with all those involved in this conference. For this, I thank the fantastic team at MDPI, who have set up and managed the complex arrangements required to allow us the opportunity to hold this virtual conference. l hope that you will meet old friends and make new ones. There will be many fascinating papers to spark everyone's interest.
Foods 2021 will make your presentation accessible to hundreds of researchers worldwide, with the active engagement of the audience in question and answer sessions and discussion groups that will take place online to enhance the experience. I hope you will join us in presenting your work at Foods 2021 and taking part in this thriving online experience.
Submitted abstracts will be reviewed by the conference committee. The authors of accepted contributions will be invited to produce an extended abstract for the conference proceedings, along with a slide presentation of their work. Following the conference, outstanding contributions will be invited to be submitted for publication in Foods.
The conference has been divided into nine themes, but there will be a large amount of overlap between these themes. Please submit your articles as soon as possible, indicating which theme you think best suits your submission.
Session 1: COVID-19 Risks to Global Food Security and Sustainability
Session 2: Novel Technologies and Future Food
Session 3: Food Nutrition and Human Health
Session 4: Food Analysis and Foodomics
Session 5: Food Chemistry and Biochemistry
Session 6: Consumers' Preferences and Food Choices
Session 7: Food Microbiology and Fermentation
Session 8: Food Packaging and Preservation
Session 9: Innovative Food Additives and Ingredients
The future of humanity depends on managing the Earth's resources and, importantly, providing a healthy sustaining diet for a burgeoning population. Food science and technology are the key areas which are needed to achieve this.
Foods announces selected third-party conferences. In case you would like to announce your own event on the Foods website, please fill out the following form to apply for the announcement of a conference or other academic event (seminar, workshop).
Upcoming Partner Conferences (4)