Conferences
Upcoming MDPI Conferences (1)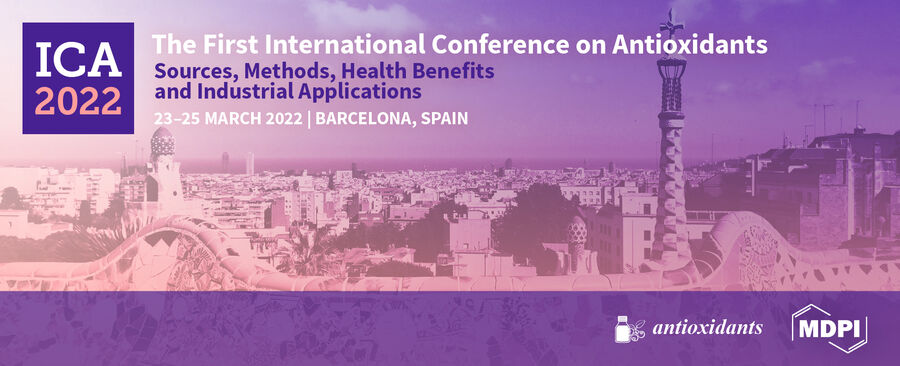 23–25 March 2022
The first International Conference on Antioxidants: Sources, Methods, Health Benefits, and Industrial Applications—ICA 2022
Barcelona, Spain
Dear Colleagues,
We are pleased to announce the first International Conference on Antioxidants: Sources, Methods, Health Benefits, and Industrial Applications.
The conference is organized by the MDPI open access journal Antioxidants (Impact Factor 5.014) and will be held as a three-day event in Barcelona, Spain, 23–25 March 2022.
Antioxidants represent a huge area of investigation for researchers from many disciplines, and their importance in a variety of fields from health to food to innovative materials is increasingly appreciated.
Despite the enormous amount of research work related to this issue, our knowledge needs to be improved on the mechanism of action, the bioaccesibility and bioavailability of dietary antioxidants, oxidative stress and antioxidant defence systems, antioxidant-based therapeutic strategies, antioxidant functional food, and the design of biomaterials with antioxidant properties for use in biomedical applications or functional packaging. We have to continue pursuing the search for new natural sources of antioxidants while shifting toward sustainable methodologies for their extraction, and, finally, we need to standardize and validate the methods for their analysis and for evaluating and ranking the antioxidant power.
The main topics and sessions of the conference will cover:
Health Outcomes of Antioxidants and Oxidative Stress with special emphasis on: cancer, cardiovascular diseases, microbiome and gut health, metabolic disorders, neurodegenerative pathologies, cognitive function and sports
Antioxidant Enzyme Systems with special emphasis on: ROS, RNS, and RSS; mitochondria; redox signaling; photooxidative stress
Natural and Synthetic Antioxidants with special emphasis on: occurrence, preparation methods, mechanisms of action, evaluation/measurement methodologies, green extraction procedures
Industrial Applications with special emphasis on: biomaterials, functional packaging, biomedical devices
The conference will host a number of internationally renowned speakers and invites submissions for oral presentations and posters. We wish the meeting may offer a unique opportunity for direct communication between scholars, favoring personal contacts between younger and experienced researchers on advanced research topics and technological issues.
We look forward to seeing you at this exciting meeting in Barcelona.
Biomolecules announces selected third-party conferences. In case you would like to announce your own event on the Biomolecules website, please fill out the following form to apply for the announcement of a conference or other academic event (seminar, workshop).
Upcoming Partner Conferences (0)
No conferences found for the selection.