Open Access
Feature Paper
Article
Effect of Lachancea thermotolerans on the Formation of Polymeric Pigments during Sequential Fermentation with Schizosaccharosmyces pombe and Saccharomyces cerevisiae
Received: 30 July 2018 / Revised: 6 September 2018 / Accepted: 12 September 2018 / Published: 14 September 2018
PDF Full-text (945 KB) | HTML Full-text | XML Full-text
Abstract
Anthocyanins in red grape musts may evolve during the winemaking process and wine aging for several different reasons; colour stability and evolution is a complex process that may depend on grape variety, winemaking technology, fermentative yeast selection, co-pigmentation phenomena and polymerization. The condensation
[...] Read more.
Anthocyanins in red grape musts may evolve during the winemaking process and wine aging for several different reasons; colour stability and evolution is a complex process that may depend on grape variety, winemaking technology, fermentative yeast selection, co-pigmentation phenomena and polymerization. The condensation of flavanols with anthocyanins may occur either with the flavylium ion or with the hemiacetal formation in order to produce oligomers and polymers. The kinetics of the reaction are enhanced by the presence of metabolic acetaldehyde, promoting the formation of pyranoanthocyanin-type dimers or flavanol-ethyl-anthocyanin structures. The experimental design carried out using white must corrected with the addition of malvidin-3-
O
-glucoside and flavanols, suggests that non-
Saccharomyces
yeasts are able to provide increased levels of colour intensity and larger polymeric pigment ratios and polymerization indexes. The selection of non-
Saccharomyces
genera, in particular
Lachancea thermotolerans
and
Schizosaccharomyces pombe
in sequential fermentation, have provided experimental wines with increased fruity esters, as well as producing wines with potential pigment compositions, even though there is an important reduction of total anthocyanins.
Full article
►

▼

Figures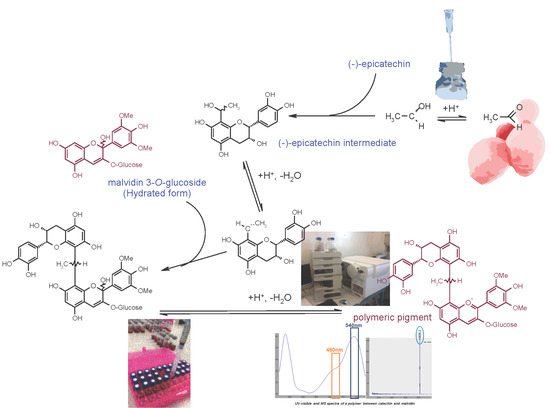 Graphical abstract