Insights into the Natural Defenses of a Coral Reef Fish Against Gill Ectoparasites: Integrated Metabolome and Microbiome Approach
Metabolites 2020, 10(6), 227; https://doi.org/10.3390/metabo10060227 (registering DOI) - 30 May 2020
Abstract
Understanding natural defense mechanisms against parasites can be a valuable tool for the development of innovative therapies. We have previously identified a butterflyfish species (
Chaetodon lunulatus
) that avoids gill monogenean parasites while living amongst closely related parasitized species. The metabolome and
[...] Read more.
Understanding natural defense mechanisms against parasites can be a valuable tool for the development of innovative therapies. We have previously identified a butterflyfish species (
Chaetodon lunulatus
) that avoids gill monogenean parasites while living amongst closely related parasitized species. The metabolome and microbiome of several sympatric butterflyfish species from the island of Moorea (French Polynesia) were previously described. In this study, we used the previously generated datasets in an attempt to identify metabolites and bacteria potentially involved in parasite defense mechanisms. We investigated the interplay between the gill mucus metabolome and microbiome of the non-susceptible
C. lunulatus
versus sympatric butterflyfish species that were always found parasitized in the Central and Eastern Indo-Pacific. After observing significant differences between the metabolome and bacteria of susceptible versus non-susceptible fish, we obtained the discriminant metabolites and operational taxonomic units (OTUs) using a supervised analysis. Some of the most important discriminant metabolites were identified as peptides, and three new peptides derived from β-subunit hemoglobin from
C. lunulatus
(CLHbβ-1, CLHbβ-2, and CLHbβ-3) were purified, characterized and synthesized to confirm their structures. We also identified specific bacterial families and OTUs typical from low-oxygen habitats in
C. lunulatus
gill mucus. By using a correlation network between the two datasets, we found a
Fusobacteriaceae
strain exclusively present in
C. lunulatus
and highly correlated to the peptides. Finally, we discuss the possible involvement of these peptides and
Fusobacteriaceae
in monogenean avoidance by this fish species.
Full article
►

▼

Show Figures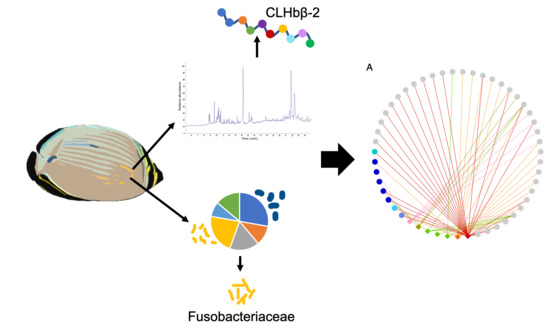 Graphical abstract