FTO Alleviates CdCl2-Induced Apoptosis and Oxidative Stress via the AKT/Nrf2 Pathway in Bovine Granulosa Cells
Viewed by 262
Abstract
Cadmium (Cd) is a common environmental heavy metal contaminant of reproduction toxicity. Cd accumulation in animals leads to the damage of granulosa cells. However, its mechanism needs to be elucidated. This research found that treating granulosa cells with Cd resulted in reduced cell
[...] Read more.
Cadmium (Cd) is a common environmental heavy metal contaminant of reproduction toxicity. Cd accumulation in animals leads to the damage of granulosa cells. However, its mechanism needs to be elucidated. This research found that treating granulosa cells with Cd resulted in reduced cell viability. The flow cytometry results showed that Cd increased the degree of apoptosis and level of superoxide anion (O
2
−
) in granulosa cells. Further analysis showed that Cd treatment resulted in reduced expression levels of nuclear factor erythroid 2-related factor-2 (Nrf2), superoxide dismutase (SOD), catalase (CAT) and NAD(P)H: quinone oxidoreductase 1 (NQO1), and an increased expression level of malondialdehyde (MDA); the expression levels of Bcl-2 associated X (Bax) and caspase-3 increased, whereas that of B-cell lymphoma 2 (Bcl-2) decreased. Changes in m
6
A methylation-related enzymes were noted with Cd-induced damage to granulosa cells. The results of transcriptome and MeRIP sequencing revealed that the AKT pathway participated in Cd-induced damage in granulosa cells, and the MAX network transcriptional repressor (
MNT
) may be a potential target gene of fat mass and obesity-associated protein (FTO). FTO and YTH domain family member 2 (YTHDF2) regulated
MNT
expression through m
6
A modification. FTO overexpression alleviated Cd-induced apoptosis and oxidative stress through the activation of the AKT/Nrf2 pathway; this process could be reversed using siMNT. Overall, these findings associated m
6
A with Cd-induced damage to granulosa cells and provided insights into Cd-induced granulosa cell cytotoxicity from a new perspective centered on m
6
A modification.
Full article
►

▼

Show Figures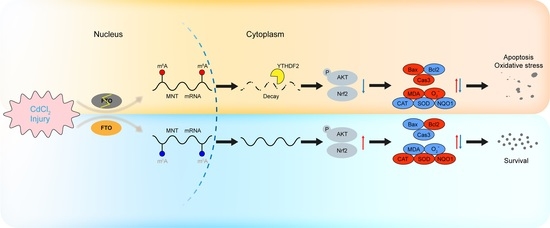 Graphical abstract