Preparation of A Spaceflight: Apoptosis Search in Sutured Wound Healing Models
1
Department of Biomedicine, Aarhus University, 8000 Aarhus C, Denmark
2
University Clinic for Plastic, Aesthetic and Hand Surgery, Otto-von-Guericke-University, 39120 Magdeburg, Germany
3
ASA Campus Joint Laboratory, ASA Research Division, Department. of Experimental and Clinical Biomedical Sciences, University of Florence, 50121 Florence, Italy
4
Department of Clinical Genetics, Aarhus University Hospital, 8000 Aarhus C, Denmark
5
Department of Clinical Medicine, Aarhus University, 8000 Aarhus C, Denmark
6
Institute for Pathology, University of Regensburg, 95053 Regensburg, Germany
7
Department of Critical Medicine and Surgery, University of Florence, 50134 Florence, Italy
8
Department of Ophthalmology, Aarhus University Hospital, 8000 Aarhus C, Denmark
9
Max-Planck-Institute for Biochemistry Martinsried, 82152 Planegg, Germany
*
Author to whom correspondence should be addressed.
†
The authors contributed equally to this work.
Received: 20 October 2017 / Revised: 23 November 2017 / Accepted: 1 December 2017 / Published: 3 December 2017
Abstract
To prepare the ESA (European Space Agency) spaceflight project "Wound healing and Sutures in Unloading Conditions", we studied mechanisms of apoptosis in wound healing models based on ex vivo skin tissue cultures, kept for 10 days alive in serum-free DMEM/F12 medium supplemented with bovine serum albumin, hydrocortisone, insulin, ascorbic acid and antibiotics at 32 °C. The overall goal is to test: (i) the viability of tissue specimens; (ii) the gene expression of activators and inhibitors of apoptosis and extracellular matrix components in wound and suture models; and (iii) to design analytical protocols for future tissue specimens after post-spaceflight download. Hematoxylin-Eosin and Elastica-van-Gieson staining showed a normal skin histology with no signs of necrosis in controls and showed a normal wound suture. TdT-mediated dUTP-biotin nick end labeling for detecting DNA fragmentation revealed no significant apoptosis. No activation of caspase-3 protein was detectable.
FASL
,
FADD
,
CASP3
,
CASP8
,
CASP10
,
BAX
,
BCL2
,
CYC1
,
APAF1
,
LAMA3
and
SPP1
mRNAs were not altered in epidermis and dermis samples with and without a wound compared to 0 day samples (specimens investigated directly post-surgery).
BIRC5
,
CASP9
, and
FN1
mRNAs were downregulated in epidermis/dermis samples with and/or without a wound compared to 0 day samples.
BIRC2
,
BIRC3
were upregulated in 10 day wound samples compared to 0 day samples in epidermis/dermis.
RELA/FAS
mRNAs were elevated in 10 day wound and no wound samples compared to 0 day samples in dermis. In conclusion, we demonstrate that it is possible to maintain live skin tissue cultures for 10 days. The viability analysis showed no significant signs of cell death in wound and suture models. The gene expression analysis demonstrated the interplay of activators and inhibitors of apoptosis and extracellular matrix components, thereby describing important features in ex vivo sutured wound healing models. Collectively, the performed methods defining analytical protocols proved to be applicable for post-flight analyzes of tissue specimens after sample return.
View Full-Text
►

▼

Figures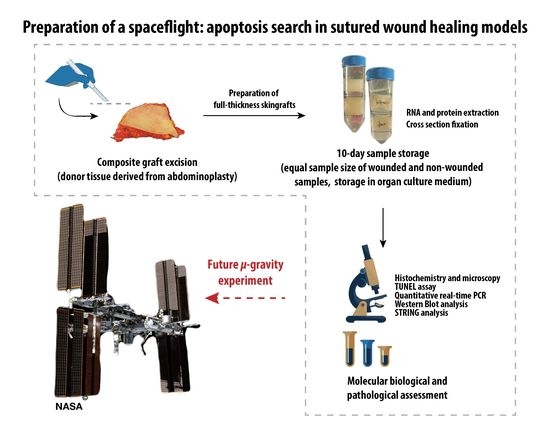 Graphical abstract
This is an open access article distributed under the
Creative Commons Attribution License
which permits unrestricted use, distribution, and reproduction in any medium, provided the original work is properly cited (CC BY 4.0).

Share & Cite This Article
MDPI and ACS Style
Riwaldt, S.; Monici, M.; Graver Petersen, A.; Birk Jensen, U.; Evert, K.; Pantalone, D.; Utpatel, K.; Evert, M.; Wehland, M.; Krüger, M.; Kopp, S.; Frandsen, S.; Corydon, T.; Sahana, J.; Bauer, J.; Lützenberg, R.; Infanger, M.; Grimm, D. Preparation of A Spaceflight: Apoptosis Search in Sutured Wound Healing Models. Int. J. Mol. Sci. 2017, 18, 2604.
Note that from the first issue of 2016, MDPI journals use article numbers instead of page numbers. See further details here.
Related Articles
Comments
[Return to top]