Transducer of ERBB2.1 (TOB1) as a Tumor Suppressor: A Mechanistic Perspective
1
Research Institute of Pharmaceutical Science, Department of Pharmacy, College of Pharmacy, Seoul National University, Seoul 08826, Korea
2
Tumor Microenvironment Global Core Research Center, Seoul National University, Seoul 08826, Korea
3
The Center for Anti-cancer Companion Diagnostics, School of Biological Science, Institutes of Entrepreneurial BioConvergence, Seoul National University, Seoul 08826, Korea
*
Author to whom correspondence should be addressed.
†
These authors contributed equally to this work.
Academic Editor: Anthony Lemarié
Received: 10 September 2015 / Revised: 22 November 2015 / Accepted: 8 December 2015 / Published: 15 December 2015
Abstract
Transducer of ERBB2.1 (TOB1) is a tumor-suppressor protein, which functions as a negative regulator of the receptor tyrosine-kinase ERBB2. As most of the other tumor suppressor proteins, TOB1 is inactivated in many human cancers. Homozygous deletion of
TOB1
in mice is reported to be responsible for cancer development in the lung, liver, and lymph node, whereas the ectopic overexpression of TOB1 shows anti-proliferation, and a decrease in the migration and invasion abilities on cancer cells. Biochemical studies revealed that the anti-proliferative activity of TOB1 involves mRNA deadenylation and is associated with the reduction of both cyclin D1 and cyclin-dependent kinase (CDK) expressions and the induction of CDK inhibitors. Moreover, TOB1 interacts with an oncogenic signaling mediator, β-catenin, and inhibits β-catenin-regulated gene transcription. TOB1 antagonizes the v-akt murine thymoma viral oncogene (AKT) signaling and induces cancer cell apoptosis by activating BCL2-associated X (BAX) protein and inhibiting the BCL-2 and BCL-XL expressions. The tumor-specific overexpression of TOB1 results in the activation of other tumor suppressor proteins, such as mothers against decapentaplegic homolog 4 (SMAD4) and phosphatase and tensin homolog-10 (PTEN), and blocks tumor progression. TOB1-overexpressing cancer cells have limited potential of growing as xenograft tumors in nude mice upon subcutaneous implantation. This review addresses the molecular basis of TOB1 tumor suppressor function with special emphasis on its regulation of intracellular signaling pathways.
View Full-Text
►

▼

Figures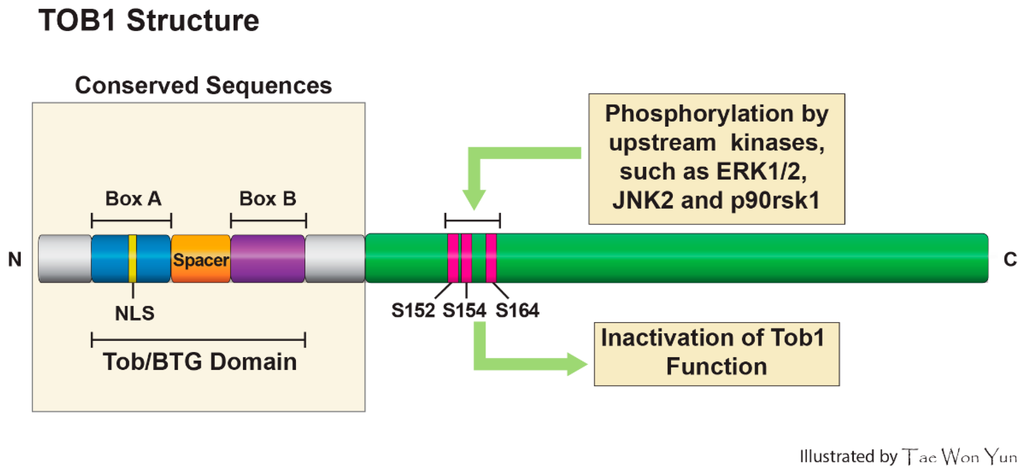 Figure 1
This is an open access article distributed under the
Creative Commons Attribution License
which permits unrestricted use, distribution, and reproduction in any medium, provided the original work is properly cited (CC BY 4.0).

Share & Cite This Article
MDPI and ACS Style
Lee, H.S.; Kundu, J.; Kim, R.N.; Shin, Y.K. Transducer of ERBB2.1 (TOB1) as a Tumor Suppressor: A Mechanistic Perspective. Int. J. Mol. Sci. 2015, 16, 29815-29828.
Related Articles
Comments
[Return to top]