Long-Term Total Neoadjuvant Therapy Leads to Impressive Response Rates in Rectal Cancer: Results of a German Single-Center Cohort
Curr. Oncol. 2023, 30(6), 5366-5378; https://doi.org/10.3390/curroncol30060407 (registering DOI) - 31 May 2023
Abstract
Intensified preoperative chemotherapy after (chemo)radiotherapy, (Total Neoadjuvant Therapy–TNT), increases pathological complete response (pCR) rates and local control. In cases of clinically complete response (cCR) and close follow-up, non-operative management (NOM) is feasible. We report early outcomes and toxicities of a long-term TNT regime
[...] Read more.
Intensified preoperative chemotherapy after (chemo)radiotherapy, (Total Neoadjuvant Therapy–TNT), increases pathological complete response (pCR) rates and local control. In cases of clinically complete response (cCR) and close follow-up, non-operative management (NOM) is feasible. We report early outcomes and toxicities of a long-term TNT regime in a single-center cohort. Fifteen consecutive patients with distal or middle-third locally advanced rectal cancer (UICC stage II–III) were investigated, who received neoadjuvant chemoradiotherapy (total adsorbed dose: 50.4 Gy in 28 fractions and two concomitant courses 5-fluorouracil (250 mg/m
2
/d)/oxaliplatin (50 mg/m
2
), followed by consolidating chemotherapy (nine courses of FOLFOX4). NOM was offered if staging revealed cCR 2 months after TNT, with resection performed otherwise. The primary endpoint was complete response (pCR + cCR). Treatment-related side effects were quantified for up two years after TNT. Ten patients achieved cCR, of whom five opted for NOM. Ten patients (five cCR and five non-cCR) underwent surgery, with pCR confirmed in the five patients with cCR. The main toxicities comprised leukocytopenia (13/15), fatigue (12/15) and polyneuropathy (11/15). The most relevant CTC °III + IV events were leukocytopenia (4/15), neutropenia (2/15) and diarrhea (1/15). The long-term TNT regime resulted in promising response rates that are higher than the response rates of short TNT regimes. Overall tolerability and toxicity were comparable with the results of prospective trials.
Full article
►

▼

Show Figures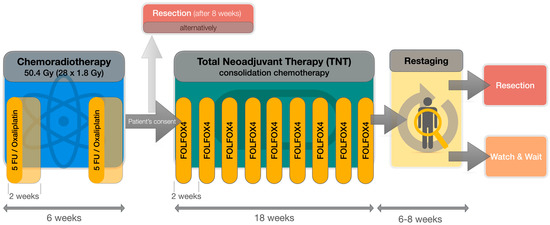 Figure 1