Conferences
Upcoming MDPI Conferences (1)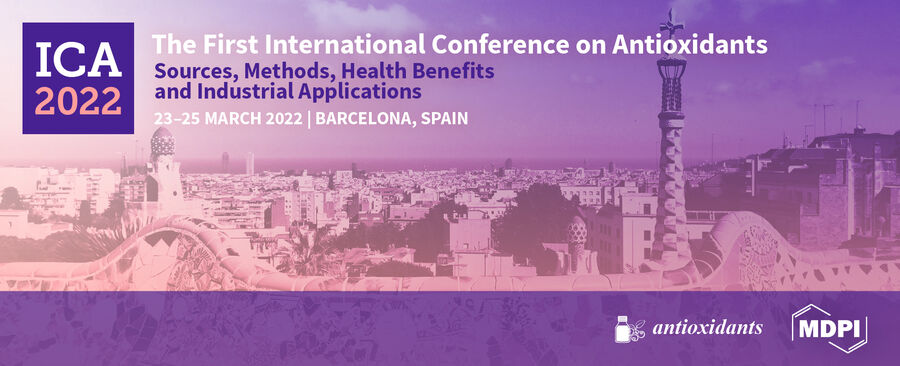 23–25 March 2022
The first International Conference on Antioxidants: Sources, Methods, Health Benefits, and Industrial Applications—ICA 2022
Barcelona, Spain
Dear Colleagues,
We are pleased to announce the first International Conference on Antioxidants: Sources, Methods, Health Benefits, and Industrial Applications.
The conference is organized by the MDPI open access journal Antioxidants (Impact Factor 5.014) and will be held as a three-day event in Barcelona, Spain, 23–25 March 2022.
Antioxidants represent a huge area of investigation for researchers from many disciplines, and their importance in a variety of fields from health to food to innovative materials is increasingly appreciated.
Despite the enormous amount of research work related to this issue, our knowledge needs to be improved on the mechanism of action, the bioaccesibility and bioavailability of dietary antioxidants, oxidative stress and antioxidant defence systems, antioxidant-based therapeutic strategies, antioxidant functional food, and the design of biomaterials with antioxidant properties for use in biomedical applications or functional packaging. We have to continue pursuing the search for new natural sources of antioxidants while shifting toward sustainable methodologies for their extraction, and, finally, we need to standardize and validate the methods for their analysis and for evaluating and ranking the antioxidant power.
The main topics and sessions of the conference will cover:
Health Outcomes of Antioxidants and Oxidative Stress with special emphasis on: cancer, cardiovascular diseases, microbiome and gut health, metabolic disorders, neurodegenerative pathologies, cognitive function and sports
Antioxidant Enzyme Systems with special emphasis on: ROS, RNS, and RSS; mitochondria; redox signaling; photooxidative stress
Natural and Synthetic Antioxidants with special emphasis on: occurrence, preparation methods, mechanisms of action, evaluation/measurement methodologies, green extraction procedures
Industrial Applications with special emphasis on: biomaterials, functional packaging, biomedical devices
The conference will host a number of internationally renowned speakers and invites submissions for oral presentations and posters. We wish the meeting may offer a unique opportunity for direct communication between scholars, favoring personal contacts between younger and experienced researchers on advanced research topics and technological issues.
We look forward to seeing you at this exciting meeting in Barcelona.
Antioxidants announces selected third-party conferences. In case you would like to announce your own event on the Antioxidants website, please fill out the following form to apply for the announcement of a conference or other academic event (seminar, workshop).
Upcoming Partner Conferences (3)

12 July 2020–17 July 2029
2020 Thiol-Based Redox Regulation and Signaling Conference GRC
Castelldefels, Spain
The conference will consist of nine sessions, on the topics listed below.
• Methionine Oxidation and Selenoproteins
• Glutathione in Regulation and Detoxification
• Keynote Session: Nitrosylation: The Prototypic Redox Modification and Therapeutic Target
• Quantitative Measures of Redox Signaling
• Redox Metabolism in Health and Disease
• Mechanisms of H2O2 Signaling: Direct Oxidation
• Mechanisms of H2O2 Signaling: One- and Two-Component Relays
• Reactive Sulfur Species in Metabolism and Signaling
• Advances in Redox Medicine
https://www.grc.org/thiol-based-redox-regulation-and-signaling-conference/2020/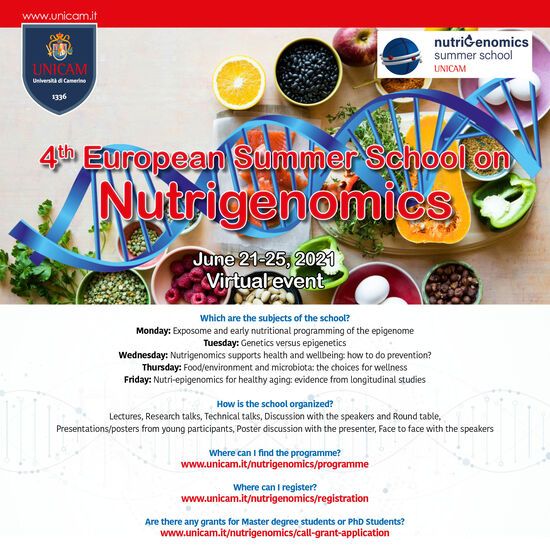 21–25 June 2021
The 4th European Summer School on Nutrigenomics
Virtual Conference
The 4th European Summer School on Nutrigenomics will focus on the latest insights on the role of the exposome in programming health and wellbeing through healthy food.
The school will also highlight the interplay between genetics and epigenetics and the strategies to prevent the development of complex diseases through nutrigenomics and nutri-epigenetics.
Participants can acquire 6CFU/ECTS (Requested daily presence and final test)

21–24 June 2022
3rd International Conference on Food Bioactives & Health
Parma, Italy
Dear Friends and Colleagues,
It is our great pleasure to invite you to participate in the 3rd International Conference on Food Bioactives & Health, that will be held on June 21-24, 2022 in the amazing city of Parma, Italy. This third conference in the series comes after the great success of the previous meetings, held in Norwich in 2016 and in Lisbon in 2018. Both events were very well organized and were a great success. We are, therefore, committed to match these standards and are preparing what we are sure will be a unique event. The topics addressed by FBHC2020 have been broadened to cover a wide range of topics on food bioactives and health, including (poly)phenols, carotenoids, glucosinolates & other organosulfur compounds, fatty acids & sterols, polysaccharides, and peptides & protein. In addition, a session will be devoted to toxic compounds, an often overlooked topic that is important from a holistic perspective in the role of food bioactives and their impact on human health. Particular attention will be paid on transversal topics such as personalised nutrition, gut microbiota, dietary intake, and nutritional policy. The Conference aims to offer plenty of networking opportunities, providing the chance to interact with renowned scientists and to stimulate creative exchange among researchers. Young scientists will have a lot of opportunities to showcase their work and obtain feedback from experienced international scientist. June is a perfect time to visit Parma, a lively and cultural city, located in Northern Italy, that is surrounded by parks, vineyards, lakes and medieval castles. Most importantly, Parma is a "food city". It has been recognised as UNESCO Creative City of Gastronomy and hosts the European Food Safety Authority (EFSA) headquarters. The congress year, 2020, will be a great time to visit Parma as it will be the Italian Capital of Culture and full of numerous special attractions. In addition, we are planning a "family friendly conference", with organized activities for the children of delegates during the sessions, including "learning through playing" games focusing on healthy nutrition and lifestyle. We hope you will participate in what will be a memorable conference in the beautiful city of Parma!
With best wishes,
The Organizing Committee.