Conferences
Upcoming MDPI Conferences (2)

22 July 2022
Antioxidants Webinar | The Role of Peroxiredoxins in Antioxidant Defense and Redox Signaling
Online
Peroxiredoxins are key players in antioxidant protection and redox signalling. Recent research has highlighted their roles in a wide range of physiological and pathological processes as diverse as tumor progression and resistance, metabolic rhythmicity, mitosis, spindle assembly, and DNA replication fidelity. However, numerous questions about their mechanisms of action and how these relate to structural features remain open. The webminars in this session, delivered by two leading researchers, will address novel exciting developments in two complementary areas of research on Peroxiredoxins: structural studies that yield insight on Peroxiredoxins' kinetics and mode of action, and cellular studies that illuminate Peroxiredoxin's functional roles in vivo.
The following experts will be present and talk:
Dr. Armindo José Alves da Silva Salvador, Center for Neuroscience and Cell Biology, University of Coimbra, Coimbra, Portugal
Prof. Dr. Bruce Morgan, Institute for Biochemistry, Saarland University, Saarbrücken, Germany
Dr. Sophie Rahuel-Clermont, IMoPA, Université de Lorraine, CNRS, Biopole, Campus Biologie Sante′, Nancy, France, UMS2008 IBSLor, Biophysics and Structural Biology Core Facility, Université de Lorraine, CNRS, INSERM, Biopole, Campus Biologie Sante′, Nancy, France
When? 22 July 2022 at 10:00 am CEST | 4:00 am EDT | 4:00 pm CST Asia
Register now for free!
Interested in contributing to the topic? You can find the Special Issue(s) linked to this topic and open for submission by clicking here.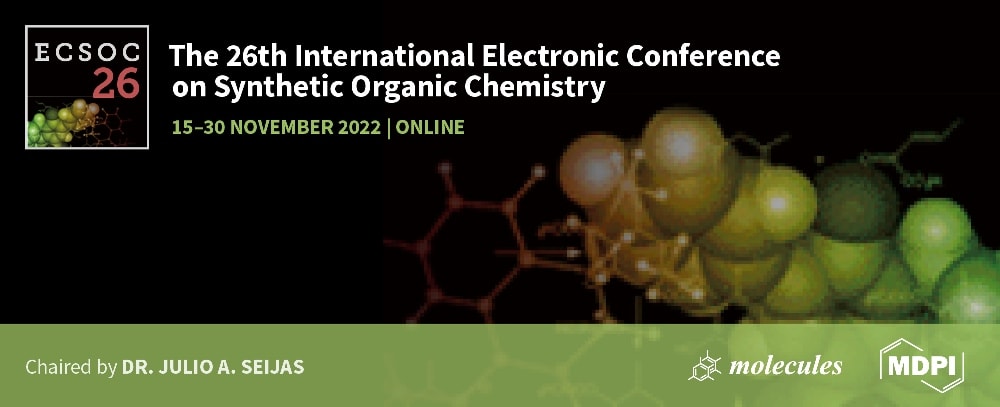 15–30 November 2022
The 26th International Electronic Conference on Synthetic Organic Chemistry
Online
Dear Colleagues,
The Electronic Conferences on Synthetic Organic Chemistry (ECSOC) are a series of conferences that have been held online since 1997. Originally, it was an initiative of MDPI, and was later amalgamated with the University of Santiago de Compostela (Spain). It now constitutes the longest running electronic conference in the world. It maintains free participation and registration in the true spirit of open access on the World Wide Web. This year, the conference will cover a wide range of aspects involved in synthetic organic chemistry. A non-exhaustive list of topics that will be considered comprises:
General Organic Synthesis;
Bioorganic, Medicinal and Natural Products Chemistry;
Microwave-Assisted Synthesis;
Polymer and Supramolecular Chemistry;
Computational Chemistry.
ECSOC-26 offers you the opportunity to participate in this international, scholarly conference without the need to travel. It will be completely free of charge—both to attend, and for scholars to upload and present their latest work on the conference platform. There will be a possibility to submit selected papers to the journal Molecules (ISSN 1420-3049, Impact Factor: 4.412 (2020); 5-Year Impact Factor: 4.588 (2020)).
Abstracts (in English) should be submitted by 30 September 2022 at https://ecsoc-26.sciforum.net. Once this has been accepted, the author is requested to send the full manuscript, and optionally, a PowerPoint presentation (PDF only) and/or video of their work, before 23 October 2022, to ensure there is time for a final check.
The conference proceedings papers and presentations will be available on https://ecsoc-26.sciforum.net for discussion and will be published in the Journal Chemistry Proceedings for free. Once the conference is over, a CD-ROM (ISBN 978-3-0365-3286-8) will be published with the contents of the conference, which will be available on request ([email protected]) for 75 EUR each.
Participants of this conference are cordially invited to contribute a full manuscript to our Special Issue of Molecules (submission to the journal is independent from the conference proceedings and will follow the usual process of the journal, including peer-review, APC, etc.). Papers presented at the conference will be granted a 20% discount for submisison to the Special Issue.
We are pleased to announce the availability of awards for researchers who plan to attend the ECSOC-26 conference. Applications and nominations will be assessed by the Scientific Committee. Winners will be announced online after the conference.
Best Contribution Award (CHF 500)
The Best Contribution Award is given for the proceedings judged to make the most significant contribution to the conference.
Best Presentation Award (CHF 500)
The Best Presentation Award is given for the posters/slide presentations and oral online presentations/video presentations judged to make the most significant contribution to the conference.
The 26th International Electronic Conference on Synthetic Organic Chemistry is organized and sponsored by MDPI, an open access publisher based in Switzerland. We hope you will be able to join this exciting event and support us in making it a success.
We look forward to receiving your research papers and welcoming you to this edition of the e-conference.
Please contact us if you have any questions ([email protected]).
Kind regards,
Dr. Julio A. Seijas Vázquez
Chair of the 26th Electronic Conference on Synthetic Organic Chemistry (ECSOC-26)
Antioxidants announces selected third-party conferences. In case you would like to announce your own event on the Antioxidants website, please fill out the following form to apply for the announcement of a conference or other academic event (seminar, workshop).
Upcoming Partner Conferences (3)

12 July 2020–17 July 2029
2020 Thiol-Based Redox Regulation and Signaling Conference GRC
Castelldefels, Spain
The conference will consist of nine sessions, on the topics listed below.
• Methionine Oxidation and Selenoproteins
• Glutathione in Regulation and Detoxification
• Keynote Session: Nitrosylation: The Prototypic Redox Modification and Therapeutic Target
• Quantitative Measures of Redox Signaling
• Redox Metabolism in Health and Disease
• Mechanisms of H2O2 Signaling: Direct Oxidation
• Mechanisms of H2O2 Signaling: One- and Two-Component Relays
• Reactive Sulfur Species in Metabolism and Signaling
• Advances in Redox Medicine
https://www.grc.org/thiol-based-redox-regulation-and-signaling-conference/2020/

14–16 September 2022
XVI Meeting of Plant Molecular Biology
Seville, Spain
It is a great pleasure to invite you to the XVI Meeting of Plant Molecular Biology, which will be organized in Sevilla, Spain, on 14–16 September 2022.
The Meeting of Plant Molecular Biology (RBMP) is the most important biennial event with the greatest impact on plant research, open to international scientists from academia and industry.
We strongly encourage young researchers to take an active role in their participation. We guarantee an excellent scientific level and invited researchers of international prestige for plenary sessions.
| | |
| --- | --- |
| | Prof. Diane Bassham from Iowa State University (ISU), Iowa, USA. |
| | Dr. Ana I. Caño-Delgado from Centre de Recerca en Agrigenòmica (CRAG), Barcelona (Spain). |
| | Prof. Wolf B. Frommer from Alexander von Humboldt Professor, Heinrich Heine University, Düsseldorf, Germany, and Institute for transformative Biomolecules (ITbM), Nagoya University, Japan. |
Please visit our website and register. We look forward to meeting you at the XVI Meeting of Plant Molecular Biology in Seville, Spain.
https://www.bcongresos.com/congresos/rbmp2022/en/Presentation/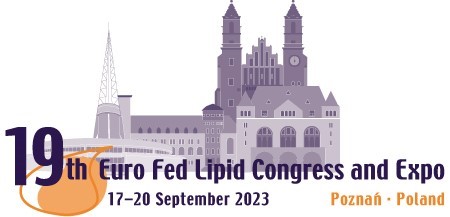 17–20 September 2023
19th Euro Fed Lipid Congress and Expo
Poznań, Poland
Euro Fed Lipid is a federation that consists of 11 scientific associations concerned with lipids, fats and oils. The federation comprises 2000 individuals and companies.
Its mission is to advance lipid science and technology, as well as to increase the cooperation and exchange of ideas between scientists and technologists at the European level.
The activities of Euro Fed Lipid include organizing international congresses at various venues and publishing the European Journal of Lipid Science and Technology.
More information on Euro Fed Lipid can be found on the following website: