Preliminary Evaluation of Potential Impacts Associated with Small Cetacean Remote Biopsy Sampling by Controlled Testing on Stranded Common Bottlenose Dolphins (Tursiops truncatus)
Abstract
To explore the potential macroscopic tissue effects of select remote biopsy tools to common bottlenose dolphins (
Tursiops truncatus
), carcasses were darted and their traumatic effects on the anatomy in target and non-target areas of the body were described. In total, 87
[...] Read more.
To explore the potential macroscopic tissue effects of select remote biopsy tools to common bottlenose dolphins (
Tursiops truncatus
), carcasses were darted and their traumatic effects on the anatomy in target and non-target areas of the body were described. In total, 87 samples were collected (target area,
n
= 19; non-target area,
n
= 68) within standardized grid partitions from five carcasses of sub-adult to adult age classes with a range of body condition scores. We broadly classified impacts penetrating completely through the blubber into muscle or deeper internal tissues as over-penetrations (
n
= 51/87, 59%). For samples collected in the defined target area, there was a low number of over-penetrations (
n
= 5/51; 10%). However, for samples collected in the defined, non-target areas, a much higher number of over-penetrations occurred (
n
= 45/51 88%). A visual examination of some samples indicated that sample length and appearance may not be reliable guides to assess the penetration depth of the wounds. These preliminary results suggest samples collected in non-targeted areas could pose much higher risk to the individual. We encourage other researchers considering the use of remote biopsy tools to conduct similar assessments prior to field sampling to better understand the potential consequences of misplaced samples with a view towards continually improving remote biopsy tools and techniques for the benefit of cetacean welfare.
Full article
►

▼

Show Figures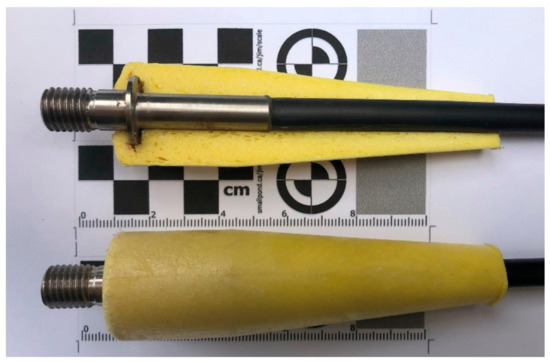 Figure 1