Salmoneus chelocrassus sp. nov., a New Morphologically Distinctive Species of the Genus Salmoneus Holthuis, 1955 (Decapoda: Caridea: Alpheidae) from Taiwan
Arthropoda 2023, 1(4), 365-373; https://doi.org/10.3390/arthropoda1040014 (registering DOI) - 30 Sep 2023
Abstract
During a faunal investigation using SCUBA in Taiwan in 2014, a single ovigerous specimen of an alpheid shrimp belonging to the genus
Salmoneus
Holthuis, 1955, was collected. Notably, the specimen stood out due to its extremely robust major cheliped compared to other species
[...] Read more.
During a faunal investigation using SCUBA in Taiwan in 2014, a single ovigerous specimen of an alpheid shrimp belonging to the genus
Salmoneus
Holthuis, 1955, was collected. Notably, the specimen stood out due to its extremely robust major cheliped compared to other species within the genus. Detailed examination of the specimen unveiled its morphological distinctiveness from all known
Salmoneus
species, confirming its novelty to science. Apart from the remarkably inflated major cheliped devoid of depressions along the ventral margin, the characteristics of
S. chelocrassus
sp. nov., include the markedly reduced arthrobranch on the third maxilliped and the absence of microserrulate setae on the propodus of the fifth pereiopod.
Full article
►

▼

Show Figures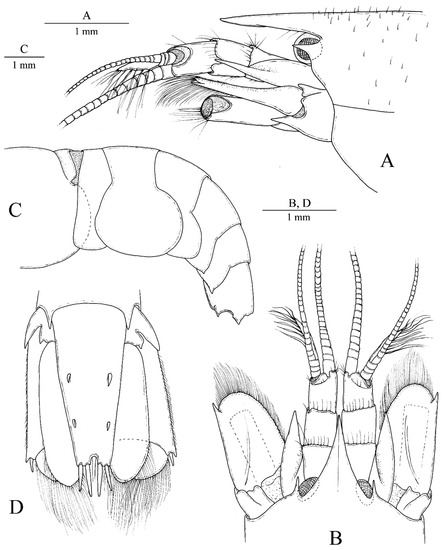 Figure 1