Scarabaeoidea (Coleoptera) Fauna of the Republic of Mordovia (Russia)
Diversity 2023, 15(6), 745; https://doi.org/10.3390/d15060745 (registering DOI) - 06 Jun 2023
Abstract
(1) Background: Beetles in the superfamily Scarabaeoidea are one of the most important groups of Coleoptera. They are found in various ecosystems all over the world and belong to coprophagous, necrophagous, saproxylophagous, phyllophagous and rhizophagous types. The aim of the study is to
[...] Read more.
(1) Background: Beetles in the superfamily Scarabaeoidea are one of the most important groups of Coleoptera. They are found in various ecosystems all over the world and belong to coprophagous, necrophagous, saproxylophagous, phyllophagous and rhizophagous types. The aim of the study is to describe the fauna and distribution of Scarabaeoidea in the Republic of Mordovia (central part of European Russia); (2) Methods: The study was conducted from 2003 to 2023. Collection material (specimens from 1972 and 1986) was also used. Specimens were collected using traditional Coleoptera collecting methods (manual collecting, light trap, collection of rotten remains and pitfall traps). For each observation, the coordinates, number of specimens and dates were recorded; (3) Results: The dataset contains 3198 occurrences. We examined 11,011 specimens of Scarabaeoidea. The dataset contains information on 88 species of Scarabaeoidea. Of these, five species (
Aphodius pedellus, Nobius serotinus, Phaeaphodius rectus, Planolinus fasciatus and Onthophagus medius
) are listed for the region for the first time. Another seven species are additionally known from others taken from the literature (but were not found during the present field survey); (4) Conclusions: Species diversity of Scarabaeoidea of Mordovia accounts for 95 species from 4 families (Geotrupidae, Trogidae, Lucanidae and Scarabaeidae). Ten species (
Protaetia marmorata, Anoplotrupes stercorosus, Cetonia aurata, Protaetia cuprea volhyniensis, Oxythyrea funesta, Platycerus caraboides, Serica brunnea, Melolontha hippocastani, Trichius fasciatus and Protaetia fieberi
) constitute the main population of Scarabaeoidea fauna given in the dataset. The species diversity of Scarabaeoidea of the Republic of Mordovia is roughly similar in number of species to that of neighboring or more northern regions.
Full article
►

▼

Show Figures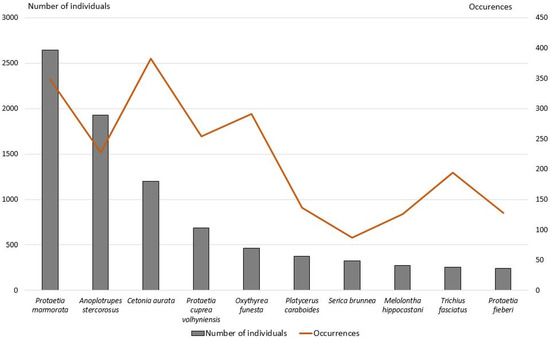 Figure 1