Experimental Evaluation of δ2H, δ13C and δ15N Variability in Blood and Feathers of Wild and Captive Birds: Implications for Interspecific Food Web Studies
Cited by 1
| Viewed by 956
Abstract
Stable-hydrogen (
δ
2
H), nitrogen (
δ
15
N), and carbon (
δ
13
C) isotopes are used to decipher broad movement patterns and trophic relationships among diverse species, and an improved understanding of factors controlling natural variation in tissue-isotope measurements will
[...] Read more.
Stable-hydrogen (
δ
2
H), nitrogen (
δ
15
N), and carbon (
δ
13
C) isotopes are used to decipher broad movement patterns and trophic relationships among diverse species, and an improved understanding of factors controlling natural variation in tissue-isotope measurements will enhance these applications. To evaluate the rearing environment and family-related effects on the isotopic composition of tissues, we cross-fostered nestling tree swallows (
Tachycineta bicolor
, Vieillot 1808) and American kestrels (
Falco sparverius
, Linnaeus 1758) by swapping recently hatched birds (<4 days old) among nest boxes and collecting blood and feathers prior to fledging. To assess developmental effects, we measured
δ
2
H in blood and feathers of captive mallard (
Anas platyrhynchos
, Linnaeus 1758) ducklings challenged energetically during growth. Stable isotope composition was not strongly related to nest box type or natal nest (i.e., family of origin) effects in swallows and kestrels; tissue-isotope composition was related to rearing environment, indicative of differences in nest and parental quality or parental provisioning tactics. Blood and feather
δ
2
H values in swallows were positively related to antecedent maximum ambient temperature, and unrelated to elevated energy expenditure in mallards. The average differences between
δ
2
H in blood and feathers were similar for nestling swallows (27‰, 32‰; two sites) and mallards (26‰, 30‰; two age groups), and lower than in nestling kestrels (50‰). Strong species-specific patterns in blood-feather differences were not observed for
δ
15
N and
δ
13
C in swallows or kestrels; divergent
δ
2
H results may be related to differences in nest ambient conditions, diet composition, or physiological processes affecting hydrogen assimilation during growth and feather synthesis. In swallows, tissue-isotope values reflected parental prey selection from spatially distinct food webs during nestling development with little effect(s) of family of origin, egg composition, or early growth.
Full article
►

▼

Show Figures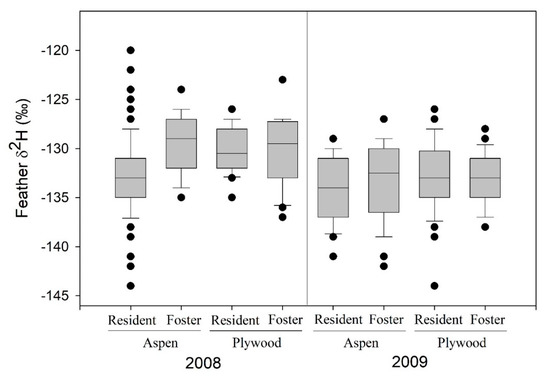 Figure 1