Conferences
Upcoming MDPI Conferences (0)
No conferences found for the selection.
Diversity announces selected third-party conferences. In case you would like to announce your own event on the Diversity website, please fill out the following form to apply for the announcement of a conference or other academic event (seminar, workshop).
Upcoming Partner Conferences (2)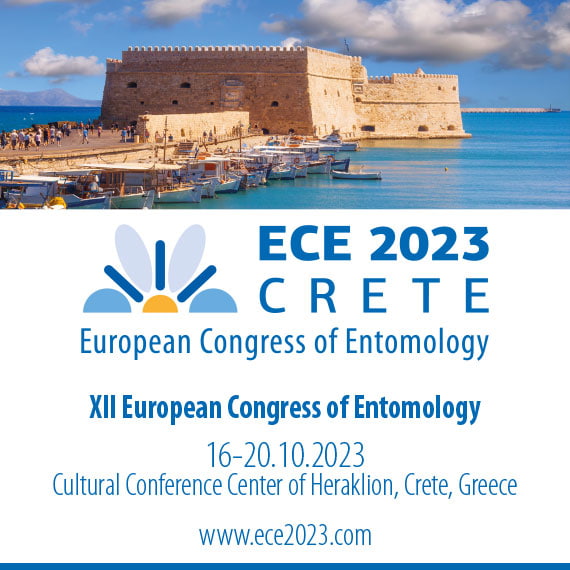 16–20 October 2023
XII European Congress of Entomology
Crete, Greece
On behalf of the Organizing Committee of the ECE 2023 and the Hellenic Entomological Society, we are delighted to invite entomologists from around the globe to the XII European Congress of Entomology (ECE 2023), which will be held in Heraklion, Crete, on 16–20 October 2023.
Plenary Speakers:
Prof. George Dimopoulos
Professor, PhD MBA
Dept. Molecular Microbiology and Immunology
Johns Hopkins Malaria Research Institute
Bloomberg School of Public Health
Johns Hopkins University, Baltimore, Maryland, USA
Director (JHMRI Parasite Core), Deputy Director (JHMRI)
ERA Chair, Institute of Molecular Biology and Biotechnology (IMBB), FORTH – Hellas
Prof. Dr. Consuelo De Moraes
Professor, Department of Environmental Systems Science
Biocommunication & Ecology
Director of the Entomological Collection,
ETH Zürich, Switzerland
Prof. Dr. Norbert Perrimon
Professor of Genetics, Harvard Medical School
Investigator, Howard Hughes Medical Institute, USA
Prof. Dr. Theodora Petanidou
Professor, University of the Aegean
Prof. dr. ir. Thomas Van Leeuwen
Professor, Faculty of Bioscience Engineering
Department of Plants and Crops
University of Ghent, Belgium
Prof. Robert M. Waterhouse
Swiss National Science Foundation Professeur Boursier
Group Leader, SIB Swiss Institute of Bioinformatics, Department of Ecology and Evolution
University of Lausanne, Switzerland
All information is available at https://ece2023.com/.
Register now for the ECE2023 Congress, to share knowledge and network with world-class researchers and academics from a diverse range of entomology-related fields, as well as policymakers, field agronomists, crop protection experts, medical practitioners, engineers, social scientists, and artists in one of the most important events.
Join the conversation on social media using #ece2023. Follow us:
We look forward to welcoming you all to the XII European Congress of Entomology in 2023 in Heraklion!

18–21 October 2023
The 7th International Eurasian Ornithology Congress
Izmir, Turkey
We will be very pleased to organize our congress in Izmir on 18–21 October 2023 and to see you there. The 7th International Eurasian Ornithology Congress aims to bring together ornithologists and bird lovers in general, to create a platform for knowledge exchange and to discuss problems and their solutions. This congress welcomes all humanitarians who care about nature, particularly avifauna. All subjects related to birds will be dealt with in the congress sessions; there will be no other restrictions on the topics of presentations.
We would be delighted if you could attend the congress. The website https://ornithologylab.com/ieoc2023izmir contains the information.
If you have any questions, please do not hesitate to get in touch with the congress secretary Tamer Albayrak ([email protected]).
Plenaries
Dr. Michale Wink: Galapagos Islands: Following the footsteps of Charles Darwin
Dr. Jan-Åke Nilsson: Thermoregulatory strategies during breeding