Design, Synthesis and Biological Evaluation of Biscarbamates as Potential Selective Butyrylcholinesterase Inhibitors for the Treatment of Alzheimer's Disese
Pharmaceuticals 2022, 15(10), 1220; https://doi.org/10.3390/ph15101220 (registering DOI) - 30 Sep 2022
Abstract
As butyrylcholinesterase (BChE) plays a role in the progression of symptoms and pathophysiology of Alzheimer's disease (AD), selective inhibition of BChE over acetylcholinesterase (AChE) can represent a promising pathway in treating AD. The carbamate group was chosen as a pharmacophore because the carbamates
[...] Read more.
As butyrylcholinesterase (BChE) plays a role in the progression of symptoms and pathophysiology of Alzheimer's disease (AD), selective inhibition of BChE over acetylcholinesterase (AChE) can represent a promising pathway in treating AD. The carbamate group was chosen as a pharmacophore because the carbamates currently or previously in use for the treatment of AD displayed significant positive effects on cognitive symptoms. Eighteen biscarbamates with different substituents at the carbamoyl and hydroxyaminoethyl chain were synthesized, and their inhibitory potential toward both cholinesterases and inhibition selectivity were determined. The ability of carbamates to cross the blood–brain barrier (BBB) by passive transport, their cytotoxic profile and their ability to chelate biometals were also evaluated. All biscarbamates displayed a time-dependent inhibition with inhibition rate constants within 10
−3
–10
−6
M
−1
min
−1
range for both cholinesterases, with generally higher preference to BChE. For two biscarbamates, it was determined that they should be able to pass the BBB by passive transport, while for five biscarbamates, this ability was slightly limited. Fourteen biscarbamates did not exhibit a cytotoxic effect toward liver, kidney and neuronal cells. In conclusion, considering their high BChE selectivity, non-toxicity, ability to chelate biometals and pass the BBB, compounds
2
and
16
were pointed out as the most promising compounds for the treatment of middle and late stages of AD.
Full article
►

▼

Show Figures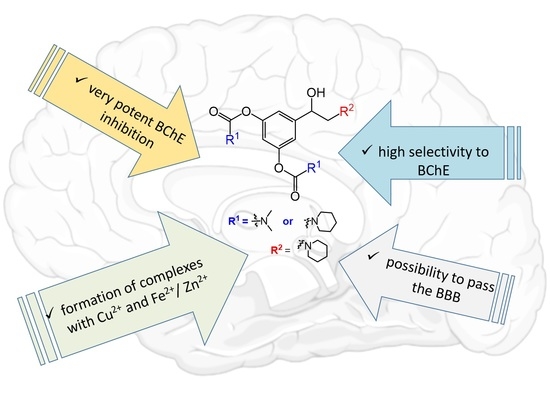 Graphical abstract