Conferences
Upcoming MDPI Conferences (3)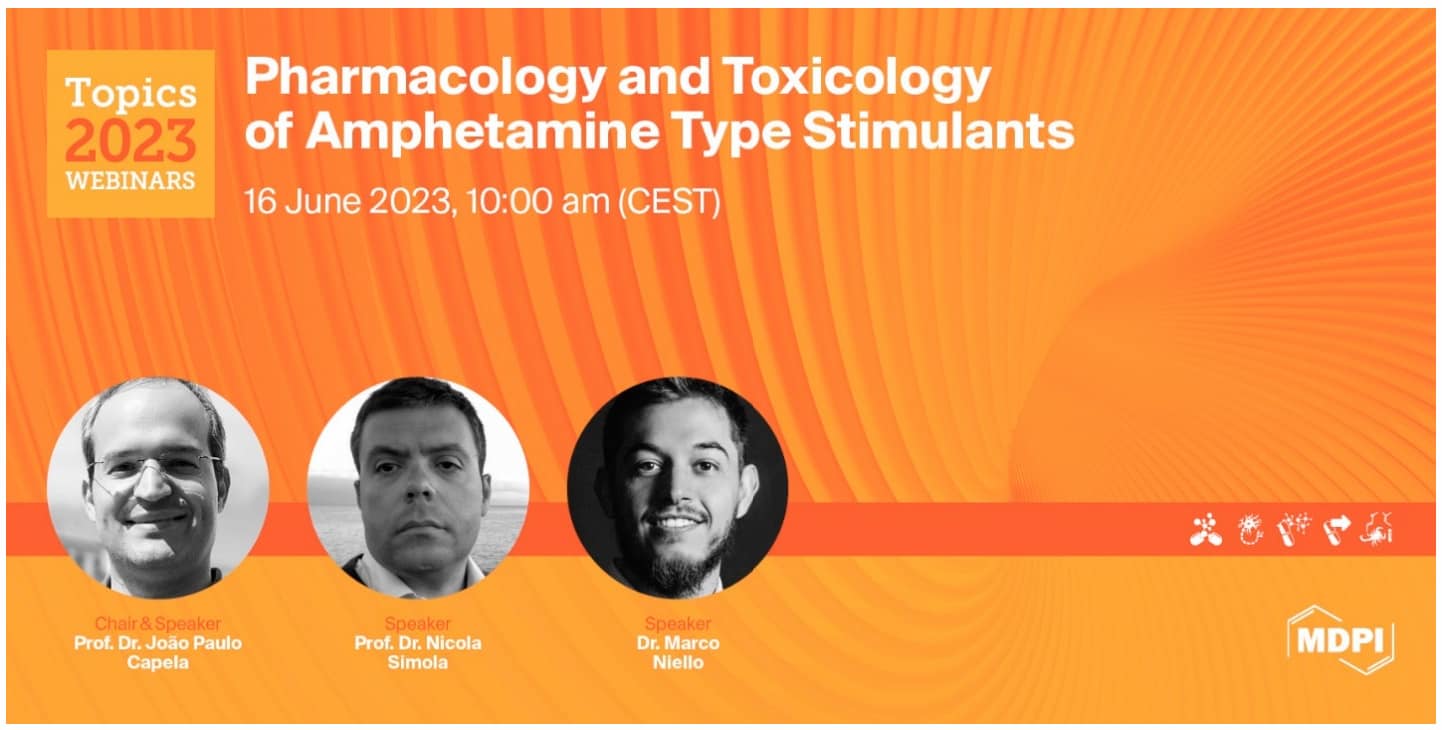 16 June 2023
Topics Webinar | Pharmacology and Toxicology of Amphetamine Type Stimulants, 16 June 2023
online
Amphetamine-type stimulants are worldwide-known drugs of abuse. According to the United Nations World Drug Report of 2021, there were an estimated 27 million past-year users of amphetamines in 2019, including amphetamine (AMPH) and methamphetamine (METH), corresponding to 0.5 percent of the global population aged 15–64. Additionally, nearly 20 million people globally are estimated to have used "ecstasy" (3,4-methylenodiaximethamphetamine or MDMA) in the past year, corresponding to 0.4 per cent of the global population aged 15–64.
These drugs target the brain to stimulate the release of monoamine neurotransmitters, promoting the central effects quested by drug users. Simultaneously, these drugs have been associated with neurotoxicity and cardiovascular toxicity, as well as and hepatic and renal toxicity, either acutely or chronically.
Notwithstanding, amphetamines have been and are still used therapeutically, and nowadays, new drug repurposing is being attempted for several brain disorders. D-amphetamine (AMPH) and D, L-threo-methylphenidate (MPH) psychostimulants are first-line pharmacotherapies for attention-deficit/hyperactivity disorder (ADHD). Additionally, MDMA-assisted psychotherapy is being studied for the treatment of post-traumatic stress disorder (PTSD).
In this webinar, we will be covering the mechanism of action of amphetamines, in particular the ability to promote serotonin release. In addition, the neurotoxicity of amphetamines will be detailed by showing that "ecstasy" is neurotoxic in laboratory animals. Finally, laboratory studies conducted in neuronal cells and animals on "ecstasy", amphetamine, and methylphenidate, which are used therapeutically, will be approached to highlight the importance of preclinical studies.
Date: 10 a.m. CEST | 4:00 a.m. EDT | 3:00 a.m. CDT Asia
Webinar ID: 841 0760 9082
Register now for free!
Speaker/Presentation

Time in CEST

Time in EDT

Prof. Dr. João Paulo Capela
Chair Introduction

10:00–10:10 a.m.

4:00–4:10 a.m.

Prof. Dr. Nicola Simola
Influence of the Administration Setting, Age and Sex on the Neuroinflammatory and Neurotoxic Effects of MDMA

10:10–10:40 a.m.

4:10–4:40 a.m.

Q&A Session

10:40–10:50 a.m.

4:40–4:50 a.m.

Dr. Marco Niello
SERT Releasing Agents: Making Use of Enantioselective Pharmacology

10:50–11:20 a.m.

4:50–5:20 a.m.

Q&A Session

11:20–11:30 a.m.

5:20–5:30 a.m.

Prof. Dr. João Paulo Capela
Cell culture and Animal Studies regarding "Ecstasy", Amphetamine and Methylphenidate Toxicity

11:30 a.m.–12:00 p.m.

5:30– 6:00 a.m.

Q&A Session

12:00–12:10 p.m.

6:00–6:10 a.m.

Prof. Dr. João Paulo Capela
Closing of Webinar

12:10–12:15 p.m.

6:10–6:15 a.m.
After registering, you will receive a confirmation email containing information on how to join the webinar. Registrations with academic institutional email addresses will be prioritized.
Unable to attend? Register anyway and we'll let you know when the recording is available to watch.
Webinar Chair and Keynote Speakers:
Dr. João Paulo Capela, Faculty of Health Sciences, University Fernando Pessoa, Porto, Portugal;
Dr. Nicola Simola, University of Cagliari, Monserrato, Italy;
Marco Niello, Institute of Pharmacology, Center for Physiology and Pharmacology, Medical University of Vienna, Vienna, Austria.
Relevant Topic:
"Pharmacology and Toxicology of Amphetamine Type Stimulants"
https://us02web.zoom.us/webinar/register/2816838629540/WN_jxFSCV0BQdeT2qkLqD1OcQ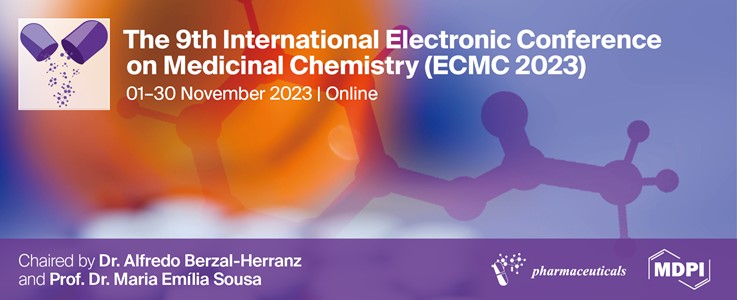 1–30 November 2023
ECMC 2023: The 9th International Electronic Conference on Medicinal Chemistry
Online
The members of the Scientific Committee are pleased to announce this Call for Participation for the 9th International Electronic Conference on Medicinal Chemistry and to invite each researcher working in the exciting fields of medicinal chemistry and drug-related sciences to share their recent results with their colleagues all over the world.
The conference will cover a wide range of aspects involved in drug discovery and development. Topics that will be considered include, but are not limited to:
Small molecules as drug candidates
Biomolecules, natural products, phages, and cells as therapeutic tools
Biological targets and biomarkers
Radiopharmaceutical sciences, radiochemistry, (hybrid) imaging, and nuclear medicine
Pharmacokinetics and pharmacodynamics
Pharmaceutical preparations and drug delivery
Participation in the 9th International Electronic Conference on Medicinal Chemistry is free of charge for contributors and visitors. Researchers should submit a short abstract (250 words maximum without figures and without references) online at https://sciforum.net/, from now until 24 September 2023. A maximum of three submissions by each research group (any session combined) will be considered. Acceptance will be notified about a week of submission of the abstract. The author(s) will be asked to present their work (in English) in the form of a poster, slideshow, or video using the templates provided by the conference (see Instructions for Authors). All accepted submissions will be displayed online, at https://ecmc2023.sciforum.net/, on 1–30 November 2023.
Authors will be invited to publish their work as a review or a research article at a discounted price in a Special Issue of the journal Pharmaceuticals.
The Scientific Committee looks forward to receiving contributions in response to this call and will be glad to provide any further information to interested parties. Questions may be addressed to the Pharmaceuticals Editorial Office at [email protected].
We thank you in advance for your attendance of this conference and look forward to a stimulating exchange.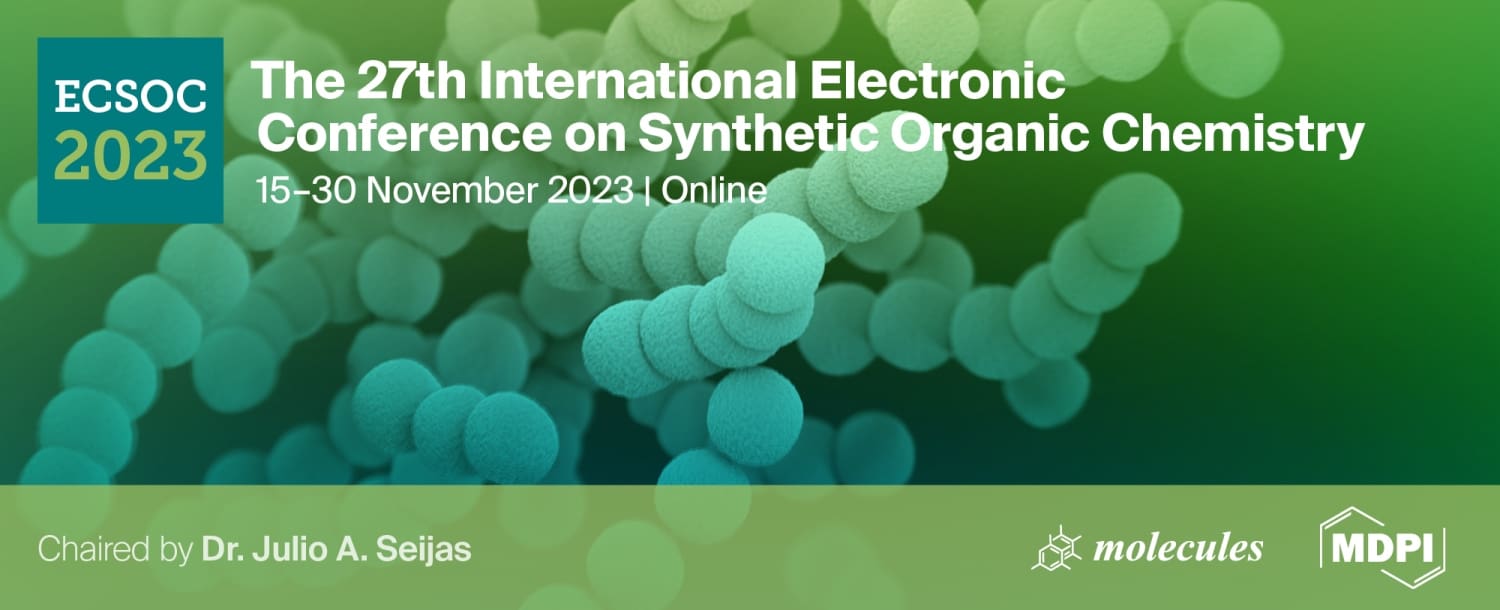 15–30 November 2023
The 27th International Electronic Conference on Synthetic Organic Chemistry
Online
We are pleased to announce that the 27th International Electronic Conference on Synthetic Organic Chemistry (ECSOC-27), chaired by Dr. Julio A. Seijas, will be held online from 15 to 30 November 2023 at ecsoc-27.sciforum.net/.
ECSOC-27 aims to provide leading scientists working in selected fields with a robust common platform on which to share and discuss the latest research and promote the advancement of exciting and rapidly changing research. This online conference will make your presentation accessible to hundreds of researchers worldwide, with active engagement of the audience in question-and-answer sessions and discussion groups that will take place online.
The conference has been divided into five themes. Please submit your articles as soon as possible, indicating which theme best fits your submission.
S1. General Organic Synthesis
S2. Bioorganic, Medicinal and Natural Products Chemistry
S3. Microwave Assisted Synthesis
S4. Polymer and Supramolecular Chemistry
S5. Computational Chemistry
During the conference, you can upload papers, posters, and presentations (including videos), comment on other presentations, and engage with fellow scholars in real-time. In this way, the conference offers a novel opportunity to exchange opinions and views within the scholarly community and to discuss the papers and latest research in a discussion forum.
We hope you will be able to join this exciting event, which is organized and sponsored by MDPI, a scholarly open access publisher (https://www.mdpi.com/), and the journal Molecules (ISSN: 1420-3049, Impact Factor 4.927 (2021)).
Paper Submission Guidelines:
All accepted proceedings papers will be published in one dedicated volume in the MDPI Proceedings journal Chemistry Proceedings (ISSN 2673-4591). The publication of proceedings papers is free of charge.
For more information about the procedure for submission, peer review, revision, and acceptance of conference proceedings papers, please refer to the section "Instructions for Authors" at https://ecsoc-27.sciforum.net/#instructions
Timeline:
Abstract Submission Deadline: 15th September 2023
Abstract Notification Deadline: 20th September 2023
Full Paper Submission Deadline: 30th September 2023
Conference Time: from 15th to 30th November 2023
We look forward to receiving your research papers and welcoming you to the 27th edition of the e-conference.
Pharmaceuticals announces selected third-party conferences. In case you would like to announce your own event on the Pharmaceuticals website, please fill out the following form to apply for the announcement of a conference or other academic event (seminar, workshop).
Upcoming Partner Conferences (2)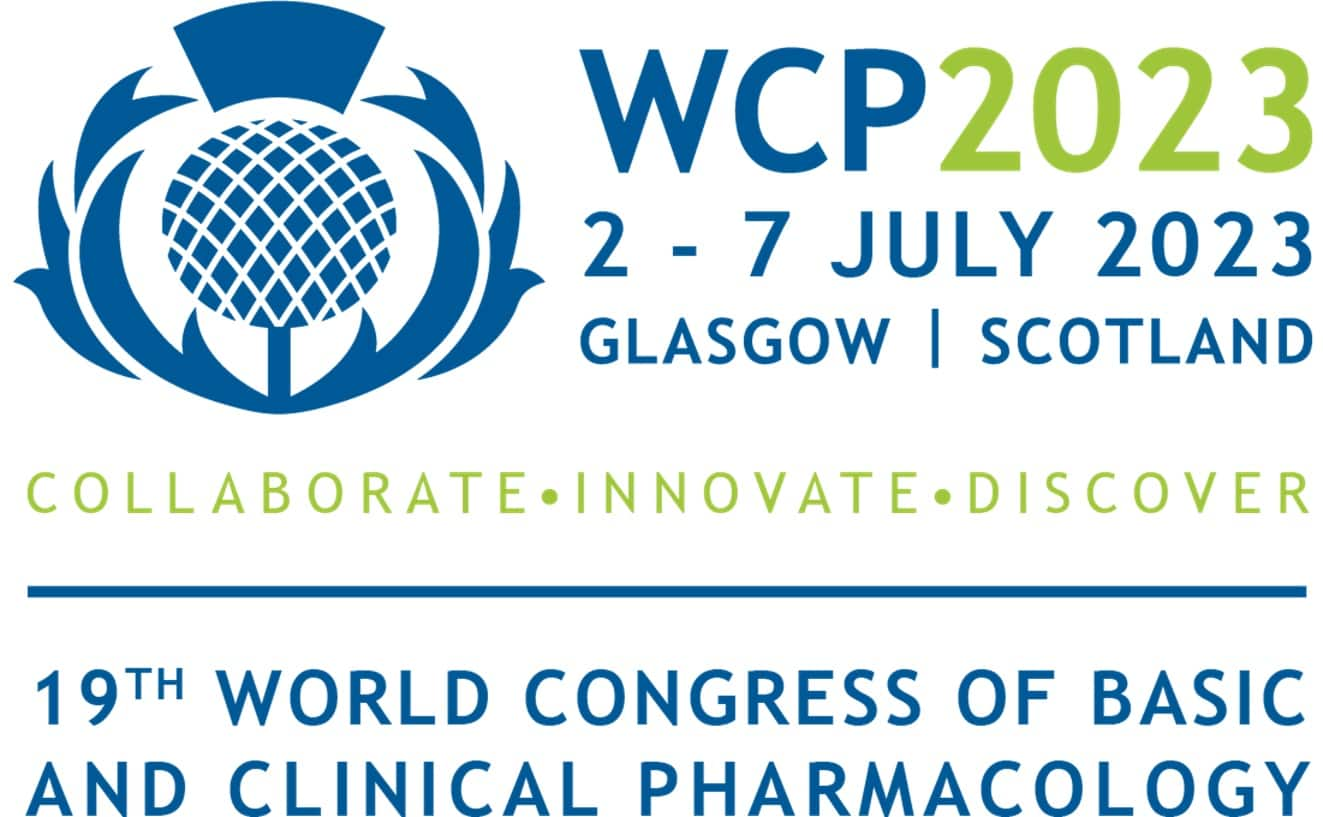 2–7 July 2023
19th World Congress of Basic & Clinical Pharmacology (WCP2023)
Glasgow, UK
The British Pharmacological Society and International Union of Basic and Clinical Pharmacologists (IUPHAR) invite you to WCP2023!
From 2 to 7 July 2023, the global pharmacology and therapeutics community will unite in Glasgow, Scotland for six days of cutting-edge science and unmissable career opportunities. View our extensive programme and register now.
Picking up the baton from Kyoto in 2018, we look forward to welcoming you to Glasgow, one of the most vibrant and welcoming cities on Earth, and Scotland, which is steeped in culture, history and outstanding nature.
If you work or study in drug discovery, research and development, WCP2023 is an essential destination to…
Collaborate – We bring you face to face with a diverse community, from student pharmacologists to the world's leading authorities;
Innovate – With a dedicated exhibition space, sessions and interactive workshops, there is no better way to introduce the newest methods, ideas and teaching tools to a global audience;
Discover – Whether it's uncovering ground-breaking research, finding the next step in your career or living your very own Scottish adventure in a city full of culture and character, you will make lasting connections and memories at WCP2023.
Be a part of it: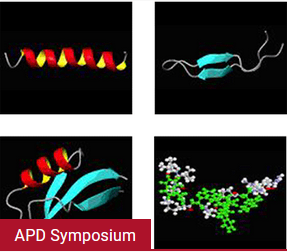 6 October 2023
Antimicrobial Peptides: Yesterday, Today and Tomorrow
Department of Pathology and Microbiology, University of Nebraska Medical Center, Omaha, Nebraska, USA
This virtual meeting will celebrate the 20th anniversary of the Antimicrobial Peptide Database (APD). The APD was created by Dr. Gus Wang's lab in 2003 and has become the best-cited resource in the antimicrobial peptide field with over 24 million web hits.
Location: Department of Pathology and Microbiology, University of Nebraska Medical Center, Omaha, Nebraska, USA
Chairs:
Charles Bevins, PhD, Professor (University of California Davis School of Medicine, USA);
Monique van Hoek, PhD, Professor (George Mason University, USA);
Guangshun Wang, PhD, Professor (University of Nebraska Medical Center, USA).
Tentative Program
Session 1: Database, peptide design and prediction
Gajendra Raghava (Indraprastha Institute of Information Technology, India);
Guangshun Wang (University of Nebraska Medical Center, USA);
Jun Wang (Chinese Academy of Sciences, China);
Short talks (to be announced).
Session 2: Antimicrobial peptide leads
Kim Lewis (Northeastern University, USA);
Berthony Deslouches (University of Pittsburgh, USA);
Short talks (to be announced).
Session 3: Sunlight, vitamin D, antimicrobial peptides and antiviral link
Yunlong Huang (University of Nebraska Medical Center, USA);
John White (McGill University, Canada);
Jingwei Xie (University of Nebraska Medical Center, USA);
Short talks (to be announced).
Session 4: Antimicrobial peptides, microbiota and novel therapeutic strategies
Nita Salzman (Medical College of Wisconsin, USA);
Bart P. H. J. Thomma (University of Cologne, Germany);
Short talks (to be announced).
More information will become available through this year.
https://www.unmc.edu/pathology-research/resources/symposium/symposiums.html