Conferences
Upcoming MDPI Conferences (1)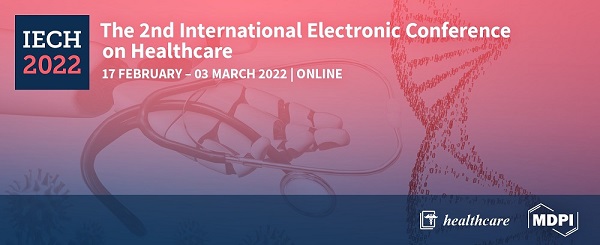 17 February–3 March 2022
2nd International Electronic Conference on Healthcare (IECH2022)
Online
You are cordially invited to participate in the 2nd International Electronic Conference on Healthcare (IECH2022), which will be held from 17 February to 3 March 2022. This online event will bring researchers from all over the world together with no concerns of travel or other related expenditures.
Healthcare is the maintenance or improvement of health. An efficient healthcare system can contribute to a significant part of a country's economy, development, and industrialization. This conference will provide leading scientists working in the healthcare field with an online platform to share their latest research and engage in exciting discussions. The main topics and sessions of the conference are:
Artificial Intelligence
COVID-19 Update
Regenerative Medicine
Sport Performance
Student Session
The conference will be completely free of charge to attend, as well as for scholars to upload and present their latest work on the conference platform.
The accepted proceedings papers from the conference will most likely be published in a dedicated issue of the MDPI journal Medical Sciences Forum. Please note that before publication, Proceedings Series Journals will review accepted papers using the powerful text comparison tool iThenticate. This procedure aims to prevent scholarly and professional plagiarism. Articles with a high repetition rate and lack of novelty will not be published in the conference proceedings. In addition, all participants will be encouraged to submit an extended full manuscript to one dedicated Special Issue in Healthcare with a 20% discount on the article processing charge (APC).
Important Dates:
Abstract Submission Deadline: 03 December 2021 13 January 2022
Notification of Acceptance: 14 January 2022 24 January 2022
Full File Submission Deadline: 27 January 2022 8 February 2022
Conference Open: 17 February-03 March 2022
Healthcare is indexed in Scopus, SCIE (IF = 2.645), SSCI (Web of Science), PubMed, PMC, and many other databases. Please visit the following website for more information: https://www.mdpi.com/journal/healthcare.
Event Awards
In order to encourage high-quality work among young researchers, we are launching the IECH Best Student Award.
Terms and Conditions:
This award is for the IECH-2 online student competition. The prize will be 500 Swiss francs, and one winner will be selected.
Eligibility Requirements:
The student themselves should be the corresponding author;
A scanned copy or photograph of a valid student ID card must be submitted together with the extended abstract;
Presentation materials must be submitted.
If you would like to join this competition, please submit your work to the Student Session.
For more information on IECH, please visit the conference website (https://sciforum.net/event/IECH2022) or contact us by email ([email protected]).
Please do not hesitate to contact us if you have questions.
We look forward to welcoming you to this exciting online meeting.
Conference Secretariat
Vaccines announces selected third-party conferences. In case you would like to announce your own event on the Vaccines website, please fill out the following form to apply for the announcement of a conference or other academic event (seminar, workshop).
Upcoming Partner Conferences (1)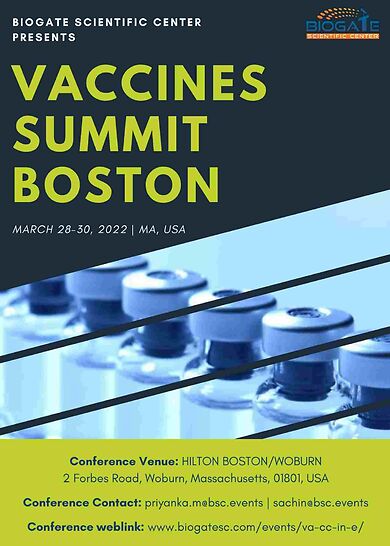 28–30 March 2022
Vaccines Summit Boston 2022
Boston, MA, USA
Following the tremendous response for Vaccines Summit Ohio 2021, Biogate Scientific Center brings to you the 2nd edition Vaccines Summit Boston 2022(VSBOSTON22) scheduled for March 28–30 2022 in Boston, MA. #VSBOSTON22 provides an iconic platform where science and business converge. It brings together leading biotech and pharmaceutical industry experts, academicians and decision makers who are passionate about addressing major global issues by turning ideas into solutions.
Why Attend?
Featuring world‑class plenary speakers, cross‑cutting educational talks, poster presentations by budding researchers, in addition to valuable networking and business development opportunities through exhibitions, partnering, branding, and B2B meetings. #VSBOSTON22 is a must‑attend event for the industry's prominent and most promising companies.
Target Audience: C-level executives, scientists, presidents, VPs and SVPs, drug developers, academicians, manufacturers, researchers and developers, directors, healthcare professionals, regulatory specialists, and consultants.
Here are a few talks lined up for the 2022 meeting that share valuable first-hand insights into the realities of progressing viable vaccines:
Accelerate the supply of vaccines to all populations worldwide by Mic McGoldrick, Associate Director Global CMC Policy, Merck
Designing a Universal SARS-CoV-2 Vaccine Against Evolving Variants by Mark J. Newman, Chief Scientific Officer, GeoVax
Pandemic to Endemic: COVID-19 and the Future for Global Health Vaccines by Jerome Kim, International Vaccine Institute
Therapeutic combinations of immunotherapeutic vaccines for treatment of solid tumor by Joost Oppenheim, Head of Cellular Immunology, National Cancer Institute, NIH
Recent advances in vaccine adjuvants by Derek O'Hagan, Senior Advisor Vaccines R&D, GSK
Precision Vaccines by Ofer Levy, Director of Precision Vaccines Program, Boston Children's Hospital
Next Generation Adjuvants for Improved Vaccines by Tyler Martin, Adjuvance Technologies
Vaccine design exploiting immunity by Leonard Moise, Director of Vaccine Research, EpiVax
Maternal Immunization for Protection of Neonates by Trudy Morrison, Professor, University of Massachusetts Medical School
Why we miss: engineering universal vaccines targeting broadly neutralizing epitopes on polymorphic pathogens by Jacob Glanville, Founder, CEO & President, Centivax
High Efficacy Malaria Vaccine by Adrian Hill, Director of the Jenner Institute, University of Oxford
COVID-19 Vaccine and Autoimmune Diseases by Yehuda Shoenfeld, President, ARIEL University
Vaccine Dosage Form Development via Spray Drying for Global Distribution by Reinhard Vehring, George Ford Chair in Materials Engineering, University of Alberta
Protein-based vaccine against COVID-19 by Farshad Guirakhoo, Chief Scientific Officer, Vaxxinity
Computational Approaches for Targeted Vaccine Design by Nikolay V. Dokholyan, Director of The Center for Translational Systems Research, Penn State College of Medicine
and more………
Register at https://biogatesc.com/events/va-cc-in-e/#tickets-section
Conference Dates: March 28-30, 2022
Conference Venue: Hilton Boston/Woburn 2 Forbes Road, Woburn, Massachusetts, 01801, USA
Conference Contact: [email protected] / [email protected]