Synthesis and Structure–Activity Relationship of Palmatine Derivatives as a Novel Class of Antibacterial Agents against Helicobacter pylori
Abstract
Taking palmatine (PMT) as the lead, 20 new PMT derivatives were synthesized and examined for their antibacterial activities against six tested metronidazole (MTZ)-resistant
Helicobacter pylori
(
H. pylori
) strains. The structure–activity relationship (SAR) indicated that the introduction of a suitable secondary amine
[...] Read more.
Taking palmatine (PMT) as the lead, 20 new PMT derivatives were synthesized and examined for their antibacterial activities against six tested metronidazole (MTZ)-resistant
Helicobacter pylori
(
H. pylori
) strains. The structure–activity relationship (SAR) indicated that the introduction of a suitable secondary amine substituent at the 9-position might be beneficial for potency. Among them, compound
1c
exhibited the most potent activities against MTZ-resistant strains, with minimum inhibitory concentration (MIC) values of 4–16 μg/mL, better than that of the lead. It also exhibited a good safety profile with a half-lethal dose (LD
50
) of over 1000 mg/kg. Meanwhile,
1c
might exert its antimicrobial activity through targeting
H. pylori
urease. These results suggested that PMT derivatives might be a new family of anti-
H. pylori
components.
Full article
►

▼

Show Figures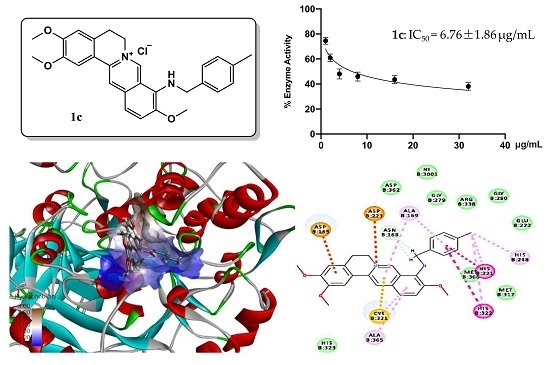 Graphical abstract