Open Access
Article
Selenocompounds as Novel Antibacterial Agents and Bacterial Efflux Pump Inhibitors
Received: 12 March 2019 / Revised: 2 April 2019 / Accepted: 13 April 2019 / Published: 16 April 2019
PDF Full-text (1502 KB) | HTML Full-text | XML Full-text
Abstract
Bacterial multidrug resistance is becoming a growing problem for public health, due to the development and spreading of bacterial strains resistant to antimicrobials. In this study, the antibacterial and multidrug resistance reversing activity of a series of seleno-carbonyl compounds has been evaluated. The
[...] Read more.
Bacterial multidrug resistance is becoming a growing problem for public health, due to the development and spreading of bacterial strains resistant to antimicrobials. In this study, the antibacterial and multidrug resistance reversing activity of a series of seleno-carbonyl compounds has been evaluated. The effects of eleven selenocompounds on bacterial growth were evaluated in
Staphylococcus aureus
, methicillin resistant
S. aureus
(MRSA),
Enterococcus faecalis, Escherichia coli
, and
Chlamydia trachomatis
D. The combination effect of compounds with antibiotics was examined by the minimum inhibitory concentration reduction assay. Their efflux pump (EP) inhibitory properties were assessed using real-time fluorimetry. Relative expressions of EP and quorum-sensing genes were studied by quantitative PCR. Results showed that a methylketone selenoester had remarkable antibacterial activity against Gram-positive bacteria and potentiated the activity of oxacillin in MRSA. Most of the selenocompounds showed significant anti-chlamydial effects. The selenoanhydride and the diselenodiester were active inhibitors of the AcrAB-TolC system. Based on these results it can be concluded that this group of selenocompounds can be attractive potential antibacterials and EP inhibitors. The discovery of new derivatives with a significant antibacterial activity as novel selenocompounds, is of high impact in the fight against resistant pathogens.
Full article
►

▼

Figures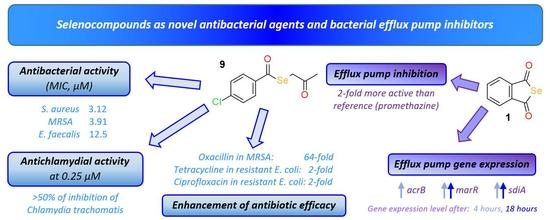 Graphical abstract