Open Access
Article
Induction of Different Sensitization Patterns of MRSA to Antibiotics Using Electroporation
Received: 25 June 2018 / Revised: 18 July 2018 / Accepted: 20 July 2018 / Published: 20 July 2018
PDF Full-text (2345 KB) | HTML Full-text | XML Full-text
Abstract
Treatment of bacteria-associated infections is complicated and antibiotic treatment alone is often inadequate to overcome biofilm infections. Physical methods allow overcoming this problem and propose solutions that are non-dependent on drug resistance. In this work, we investigated the feasibility of pulsed electric fields
[...] Read more.
Treatment of bacteria-associated infections is complicated and antibiotic treatment alone is often inadequate to overcome biofilm infections. Physical methods allow overcoming this problem and propose solutions that are non-dependent on drug resistance. In this work, we investigated the feasibility of pulsed electric fields for sensitization of MRSA to common antibiotics. We analyzed the efficacy of inactivation of methicillin-resistant
Staphylococcus aureus
in 5–20 kV/cm electric field separately and in combination with gentamicin, doxycycline, ciprofloxacin, sulfamethoxazole, and vancomycin. Combined treatment allowed using up to 1000-fold smaller concentrations of antibiotics to induce the same inactivation of
S. aureus
.
Full article
►

▼

Figures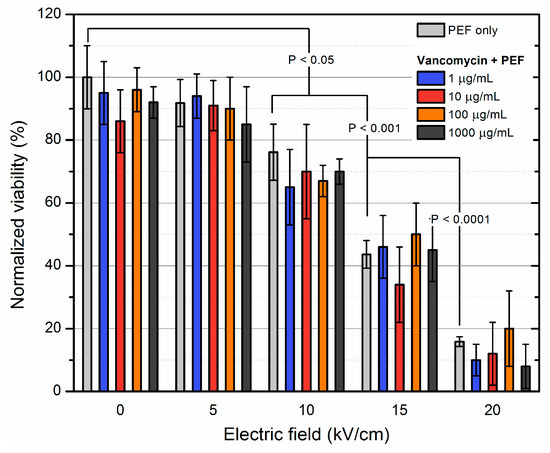 Figure 1