Large Scale Screening of Ethnomedicinal Plants for Identification of Potential Antibacterial Compounds
1
Department of Zoology, North Orissa University, Baripada, Odisha 757003, India
2
Department of Botany, North Orissa University, Baripada, Odisha 757003, India
3
School of Biotechnology, Yeungnam University, Gyeongsan 712749, Korea
4
Free Major of Natural Sciences, College of Basic Studies, Yeungnam University, Gyeongsan 712749, Korea
*
Authors to whom correspondence should be addressed.
Academic Editors: Peter J. Rutledge, Derek J. McPhee and Jean-Marc Sabatier
Received: 18 January 2016 / Accepted: 25 February 2016 / Published: 14 March 2016
Abstract
The global burden of bacterial infections is very high and has been exacerbated by increasing resistance to multiple antibiotics. Antibiotic resistance leads to failed treatment of infections, which can ultimately lead to death. To overcome antibiotic resistance, it is necessary to identify new antibacterial agents. In this study, a total of 662 plant extracts (diverse parts) from 222 plant species (82 families, 177 genera) were screened for antibacterial activity using the agar cup plate method. The aqueous and methanolic extracts were prepared from diverse plant parts and screened against eight bacterial (two Gram-positive and six Gram-negative) species, most of which are involved in common infections with multiple antibiotic resistance. The methanolic extracts of several plants were shown to have zones of inhibition ≥ 12 mm against both Gram-positive and Gram-negative bacteria. The minimum inhibitory concentration was calculated only with methanolic extracts of selected plants, those showed zone of inhibition ≥ 12 mm against both Gram-positive and Gram-negative bacteria. Several extracts had minimum inhibitory concentration ≤ 1 mg/mL. Specifically
Adhatoda vasica
,
Ageratum conyzoides
,
Alangium salvifolium
,
Alpinia galanga
,
Andrographis paniculata
,
Anogeissus latifolia
,
Annona squamosa
,
A. reticulate
,
Azadirachta indica, Buchanania lanzan, Cassia fistula, Celastrus paniculatus, Centella asiatica
,
Clausena excavate
,
Cleome viscosa
,
Cleistanthus collinus
,
Clerodendrum indicum
,
Croton roxburghii
,
Diospyros melanoxylon
,
Eleutherine bulbosa
,
Erycibe paniculata
,
Eryngium foetidum
,
Garcinia cowa
,
Helicteres isora, Hemidesmus indicus, Holarrhena antidysenterica, Lannea coromandelica, Millettia extensa
,
Mimusops elengi, Nyctanthes arbor-tristis
,
Oroxylum indicum
,
Paederia foetida
,
Pterospermum acerifolium
,
Punica granatum
,
Semecarpus anacardium
,
Spondias pinnata
,
Terminalia alata
and
Vitex negundo
were shown to have significant antimicrobial activity. The species listed here were shown to have anti-infective activity against both Gram-positive and Gram-negative bacteria. These results may serve as a guide for selecting plant species that could yield the highest probability of finding promising compounds responsible for the antibacterial activities against a broad spectrum of bacterial species. Further investigation of the phytochemicals from these plants will help to identify the lead compounds for drug discovery.
View Full-Text
►

▼

Figures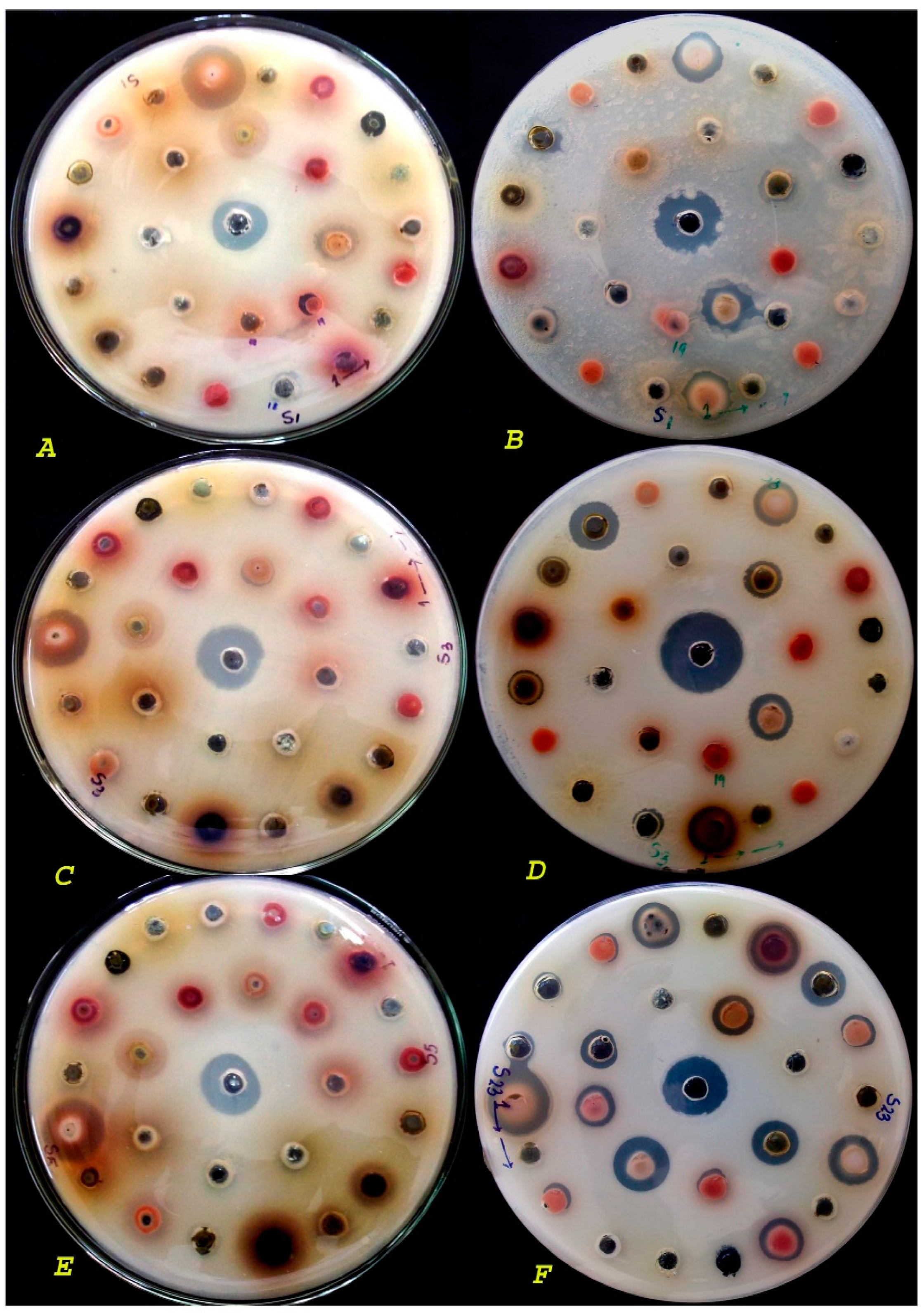 Figure 1
This is an open access article distributed under the
Creative Commons Attribution License
which permits unrestricted use, distribution, and reproduction in any medium, provided the original work is properly cited (CC BY 4.0).

Share & Cite This Article
MDPI and ACS Style
Panda, S.K.; Mohanta, Y.K.; Padhi, L.; Park, Y.-H.; Mohanta, T.K.; Bae, H. Large Scale Screening of Ethnomedicinal Plants for Identification of Potential Antibacterial Compounds. Molecules 2016, 21, 293.
Note that from the first issue of 2016, MDPI journals use article numbers instead of page numbers. See further details here.
Related Articles
Comments
[Return to top]