6,6′-Di-(8″-quinoline)-2,2′-bipyridine Cobalt(II) Complex
Molbank 2023, 2023(2), M1615; https://doi.org/10.3390/M1615 (registering DOI) - 31 Mar 2023
Abstract
This short note describes the synthesis of a novel compound, 6,6′-di-(8″-quinoline)-2,2′-bypyridine (
2
), that bears a bipyridyl backbone and quinoline donors. Compound
2
coordinates with a cobalt(II) ion in a tetradentate manner and affords the complex [Co
II
(
2
)(TfO)
2
[...] Read more.
This short note describes the synthesis of a novel compound, 6,6′-di-(8″-quinoline)-2,2′-bypyridine (
2
), that bears a bipyridyl backbone and quinoline donors. Compound
2
coordinates with a cobalt(II) ion in a tetradentate manner and affords the complex [Co
II
(
2
)(TfO)
2
], whose molecular structure has been identified by single crystal X-ray diffraction crystallographic analysis. The coordination features of
2
were compared with those of 2,2′:6′,2″:6″,2‴-quaterpyridine (qtpy,
1
), a well-studied tetradentate polypyridine ligand. Compound
2
presents a new example of tetradentate chelators for 3
d
metal ions.
Full article
►

▼

Show Figures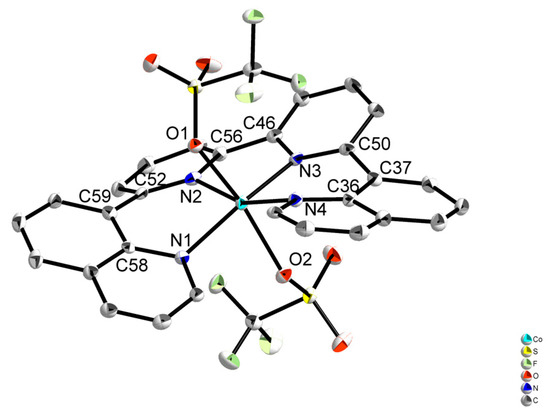 Figure 1