Conferences
Upcoming MDPI Conferences (2)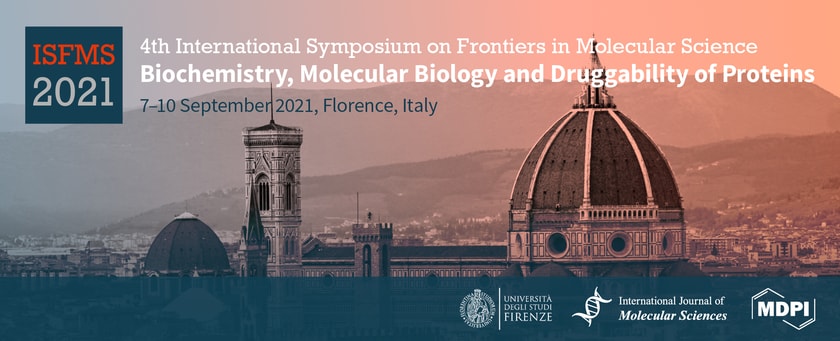 7–10 September 2021
The 4th ISFMS: Biochemistry, Molecular Biology and Druggability of Proteins
Florence, Italy
We would like to invite you to The 4th ISFMS: Biochemistry, Molecular Biology and Druggability of Proteins, which will be held in the wonderful city of Florence, Italy, in the period September 7-10, 2021. The conference will be hosted at the University of Florence, in the biomedical campus nearby the main city hospital, which is easily accessible from the airport, train station or city center. Apart the high quality science which will be presented during the event, our fantastic location will afford the possibility to visit the city in which Leonardo da Vinci, Michelangelo and Galileo Galilei (to mention just a few personalities) lived and created some of their unique artistic and scientific masterpieces. The friendly and peaceful atmosphere of our city will surely favor nice scientific interactions and the possibility to establish interesting contacts with scientists from all over the world in a collaborative manner.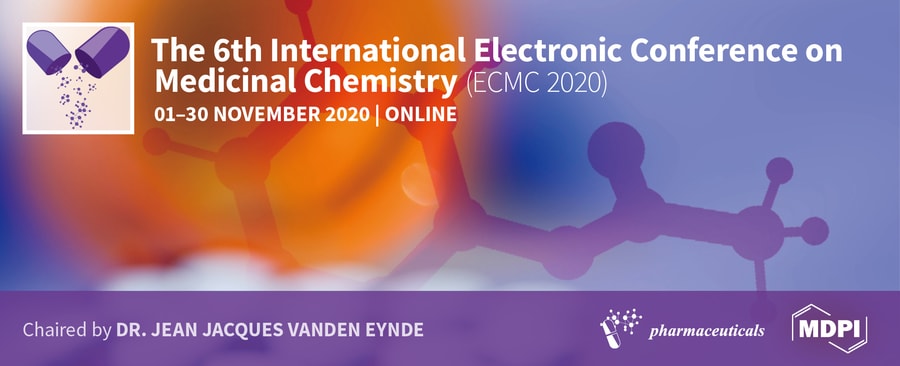 1–30 November 2020
The 6th International Electronic Conference on Medicinal Chemistry (ECMC 2020)
Online
The 6th International Electronic Conference on Medicinal Chemistry will take place in November 2020. Registration and submission of abstracts are now open via the website of the conference where you will find all necessary instructions.
This year, as the conference sponsor, Pharmaceuticals will be giving an award for the Grant as elected by the scientific committee which consists of 500 Swiss Francs. We hope you will be able to join this exciting event and enjoy stimulating exchange with your peers around the world.
Life announces selected third-party conferences. In case you would like to announce your own event on the Life website, please fill out the following form to apply for the announcement of a conference or other academic event (seminar, workshop).
Upcoming Partner Conferences (2)

19–20 November 2020
I International Congress on Application of Infrared Thermography in Sport Science
Valencia, Spain
The Reseach Group in Sport Biomechanics (GIBD), research group of the Faculty of Physical Activity and Sports Science of the University of Valencia, and life, an Open Access Journal by MDPI, are delighted to invite you to the I International Congress on Application of Infrared Thermography in Sport Science scheduled to take place in Valencia, Spain at 19-20 November 2020.
Infrared thermography is a noninvasive and safety method that has become a popular technique to measure the skin temperature of athletes. It has been shown great utility in detecting thermal asymmetries related to injuries and in determining the thermal response to exercise. All in the purpose of injuries prevention and treatment, as for improvement of sports performance. Each day a new application for this technique has been discovered, and that motivates us to promote this event.
The scientific programme will cover cutting edge topics in infrared thermography daily practice and scientific research, both in oral and poster presentation sessions. Thus, we encourage you to submit your latest research for a high level discussion.
http://esdeveniments.uv.es/46102/sponsors/i-international-congress-on-application-of-infrared-thermography-in-sport-science.html

10–12 March 2021
The 8th NovAliX Conference: Biophysics in Drug Discovery 2021
Boston, MA, USA
The 8th NovAliX Conference again intends to bring together biophysicists and medicinal chemists, as the synergy between their disciplines is essential for delivering better drugs on a shorter timeline.
The Scientific Program will include the following sessions:
Induced-Proximity Drug Discovery: Selective Protein Degraders, PPI Stabilizers, etc.
Covalent Modifications for Drug Discovery
Integrative Structural Biology & Biophysics—including Computational Methods and Hybrid Methods
Advances in Biophysical Techniques: Single-Molecule Techniques, Label-Free Technologies, Surface-Immobilized Techniques beyond SPR
Hot Topics
Cryo-EM in Drug Discovery—Accelerating Drug Design of Challenging Targets, a full-day session organized by Thermo Fisher Scientific, Platinum Sponsor of the NovAliX Conference.
The conference will be hosted at the Joseph B. Martin Conference Center in Boston, MA. The program will start at 10 a.m. on Wednesday, March 10 and finish early afternoon on Friday, March 12. The session on Cryo-EM will take place on Thursday, March 11.