The In Silico Characterization of Monocotyledonous α-

l

-Arabinofuranosidases on the Example of Maize
Viewed by 816
Abstract
Plant α-
l
-arabinofuranosidases remove terminal arabinose from arabinose-containing substrates such as plant cell wall polysaccharides, including arabinoxylans, arabinogalactans, and arabinans. In plants, de-arabinosylation of cell wall polysaccharides accompanies different physiological processes such as fruit ripening and elongation growth. In this report, we
[...] Read more.
Plant α-
l
-arabinofuranosidases remove terminal arabinose from arabinose-containing substrates such as plant cell wall polysaccharides, including arabinoxylans, arabinogalactans, and arabinans. In plants, de-arabinosylation of cell wall polysaccharides accompanies different physiological processes such as fruit ripening and elongation growth. In this report, we address the diversity of plant α-
l
-arabinofuranosidases of the glycoside hydrolase (GH) family 51 through their phylogenetic analysis as well as their structural features. The CBM4-like domain at N-terminus was found to exist only in GH51 family proteins and was detected in almost 90% of plant sequences. This domain is similar to bacterial CBM4, but due to substitutions of key amino acid residues, it does not appear to be able to bind carbohydrates. Despite isoenzymes of GH51 being abundant, in particular in cereals, almost half of the GH51 proteins in
Poales
have a mutation of the acid/base residue in the catalytic site, making them potentially inactive. Open-source data on the transcription and translation of GH51 isoforms in maize were analyzed to discuss possible functions of individual isoenzymes. The results of homology modeling and molecular docking showed that the substrate binding site can accurately accommodate terminal arabinofuranose and that arabinoxylan is a more favorable ligand for all maize GH51 enzymes than arabinan.
Full article
►

▼

Show Figures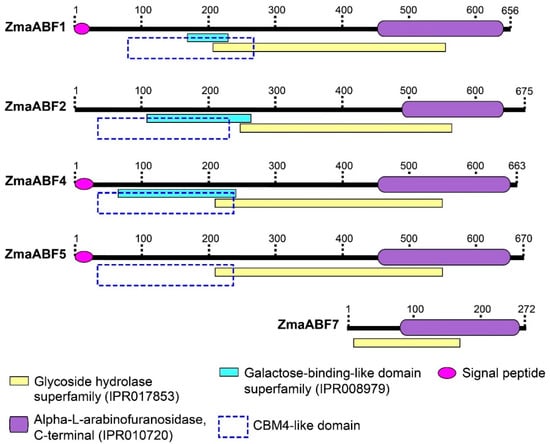 Figure 1