Conferences
Upcoming MDPI Conferences (0)
No conferences found for the selection.
Buildings announces selected third-party conferences. In case you would like to announce your own event on the Buildings website, please fill out the following form to apply for the announcement of a conference or other academic event (seminar, workshop).
Upcoming Partner Conferences (3)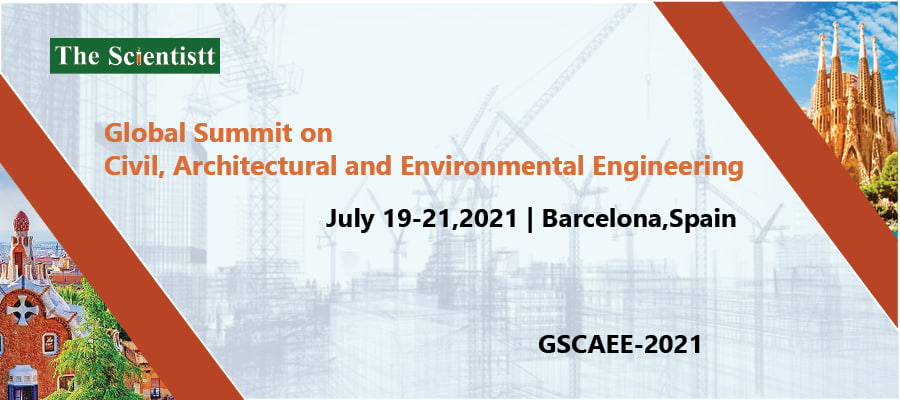 19–21 July 2021
Global Summit on Civil, Architectural and Environmental Engineering (GSCAEE-2021)
Barcelona, Spain
Dear Colleagues,
As the Chairperson of the Conference Committee, I am honored to greet and welcome all of you to the Global Summit on Civil, Architectural and Environmental Engineering-2021. We are opening the conference in the charming city of Barcelona, and we hope that our conference here will be held with great success.
The program committee did its utmost to prepare a serious and rich program. An important defining characteristic of our conference is it is multidisciplinary, as it includes engineers from various fields. All of this provides a unique platform for communication and cooperation with colleagues from various professions, traditional schools and regions of the world.
We are confident that over the two days you will get theoretical grounding, practical knowledge, and personal contacts that will help you build long-term, profitable and sustainable communications among researchers and practitioners in a wide variety of scientific areas with a common interest in Civil, Architectural and Environmental Engineering.
I would like to sincerely thank our international team who are responsible for the preparation of the conference, and who devoted a lot of their time to make this conference a success. And finally, I would like to thank all of you, dear participants for bringing your ideas, knowledge and expertise to this interesting sphere with the noble goal of making the world better for future generations. I wish all of you new interesting contacts, fruitful work and promising joint initiatives!
Hope you enjoy the conference, the hospitality, and the beautiful and charming environment of Barcelona!
Welcome to GSCAEE-2021 Spain Conference!
Sincerely,
Prof. Venkatesh Kodur
Conference Chair
GSCAEE-2021
Michigan State University, USA
https://www.thescientistt.com/civil-structural-environmental-engineering/

24–26 September 2021
2021 The 5th International Conference on Building Materials and Materials Engineering (ICBMM 2021)
Barcelona, Spain
Rapid development of modern technology needs the support of new material. New material together with information and energy are known as the three pillars of modern science and technology. The birth of new materials will lead rapid development of related industries and technologies. Architecture is one of the examples. The appearance of new building materials not only enhanced the original performance of the materials, such as durability, mechanical properties but also the performance of strength, energy conservation, insulation, waterproof, and appearance. Construction materials is developing towards the pursuit of functional diversity, life-cycle economy and recycling. With the change of living concepts and the demand of the multifarious building function, as the very basic elements of construction, building materials will face plenty of challenges.
Topics of interest for submission include, but are not limited to:
Metallic Alloys, Tool Materials
Superplastic Materials
Ceramics and Glasses
Bridge Engineering; Building Structure and Bridge Engineering;
Building Technology; Cartography and Geographic Information System;
Coastal Engineering; Computational Mechanics;
Construction and Control; Detection and Transformation
Ductility, Crack Resistance, Fatigue, Creep-resistance
Fracture Mechanics, Mechanical Properties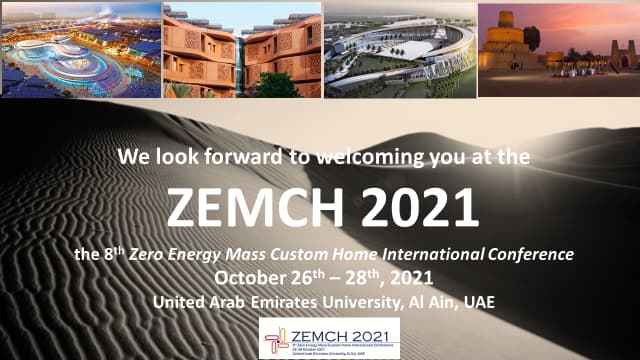 26–28 October 2021
8th Zero Energy Mass Custom Home International Conference (ZEMCH 2021)
Al Ain, United Arab Emirates
ZEMCH stands for "Zero Energy Mass Custom Home". ZEMCH encourages participation of researchers, scholars, manufacturers, policy makers, graduate students and general stakeholders tackling issues arising in the delivery of socially, economically, environmentally and humanly sustainable built environments, which accommodate people with different socio-economic backgrounds in developed and developing countries.
ZEMCH pursues its objectives through international industry-academia collaborative study tours, international conferences and workshops supported by a solid network of over 900 global partners from academia, industry and government, based in over 45 countries. Since 2012, ZEMCH has organized conferences and events across the globe. Past conferences have taken place in Europe, the United States, South America, Asia and Australia. It is the first time that the ZEMCH conference comes to the Middle East, a region of fast growth and urbanization under extreme climate making it an intriguing and urgent journey for a sustainable built environment and climate resilience.
Hence, this exceptional networking conference with renowned expert speakers, academicians, researchers, industrial representatives, policy-makers and general stakeholders, aims to foster discussions in a diverse range of topics including social, environmental and economic sustainability, mass customization and personalization, renewable energy and technology, housing and prefabrication, building performance evaluation and simulation, users behavior and human centered design, green economy and policies. It also hoped to inspire participants from a wide array of themes and interest to initiate collaborations within and across disciplines in the pursuit of a sustainable and healthy living.
The conference takes place in the state-of-the-art campus of the United Arab Emirates University, in the heart of the oasis city of Al Ain, Emirate of Abu Dhabi. The Emirate is also privileged to house the first world zero-carbon city in the desert, Masdar City. Another great opportunity is that ZEMCH 2021 also coincides with the World Expo 2021 in Dubai. These opportunities and others are part of the technical and social tours scheduled during ZEMCH 2021 conference to complement your scientific event.
Prospective authors are invited to submit abstracts and short or full papers in electronic format using our conference submission system.
For more information, please visit our conference web site: