Skin Barrier Enhancing Alternative Preservation Strategy of O/W Emulsions by Water Activity Reduction with Natural Multifunctional Ingredients
Abstract
Water activity (a
w
) as an important parameter for self-preservation can help to control microbial growth in cosmetic formulations. However, high amounts of water-binding substances are required to lower the a
w
enough to affect microbial growth. Since consequences for the skin
[...] Read more.
Water activity (a
w
) as an important parameter for self-preservation can help to control microbial growth in cosmetic formulations. However, high amounts of water-binding substances are required to lower the a
w
enough to affect microbial growth. Since consequences for the skin barrier have been poorly studied so far, we investigated the effect of a
w
-lowering agents on both the antimicrobial properties of o/w emulsions and skin physiological parameters. A combination of selected natural humectants (Sodium lactate, Propanediol, Erythritol, Betaine and Sodium PCA) with a total concentration of 28 wt% in an o/w emulsion was able to reduce its a
w
from 0.980 ± 0.003 to 0.865 ± 0.005. The challenge test results of the a
w
-lowered emulsion showed a convincing microbial count reduction in potentially pathogenic microorganisms. The addition of as little as 0.5% of the antimicrobial multifunctionals Glyceryl Caprylate and Magnolia Officinalis Bark Extract further enhanced the antimicrobial effect, resulting in adequate antimicrobial protection. Moreover, twice-daily application of the a
w
-lowered emulsion for a period of four weeks led to a skin barrier-enhancing effect: TEWL significantly decreased, and SC hydration significantly increased. Thus, we present an opportunity to replace conventional preservatives with a natural alternative preservation strategy that has been shown to offer benefits for the skin.
Full article
►

▼

Show Figures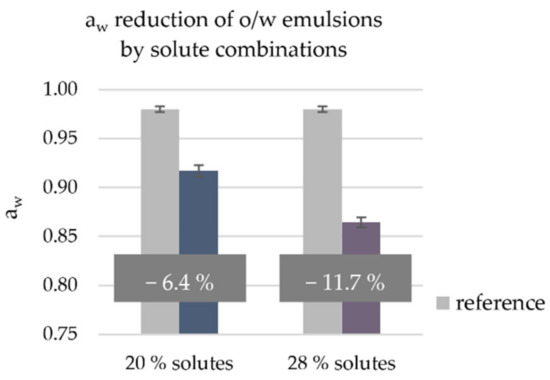 Figure 1