Ranolazine: An Old Drug with Emerging Potential; Lessons from Pre-Clinical and Clinical Investigations for Possible Repositioning
Cited by 2
| Viewed by 1269
Abstract
Ischemic heart disease is a significant public health problem with high mortality and morbidity. Extensive scientific investigations from basic sciences to clinics revealed multilevel alterations from metabolic imbalance, altered electrophysiology, and defective Ca
2+
/Na
+
homeostasis leading to lethal arrhythmias. Despite the
[...] Read more.
Ischemic heart disease is a significant public health problem with high mortality and morbidity. Extensive scientific investigations from basic sciences to clinics revealed multilevel alterations from metabolic imbalance, altered electrophysiology, and defective Ca
2+
/Na
+
homeostasis leading to lethal arrhythmias. Despite the recent identification of numerous molecular targets with potential therapeutic interest, a pragmatic observation on the current pharmacological R&D output confirms the lack of new therapeutic offers to patients. By contrast, from recent trials, molecules initially developed for other fields of application have shown cardiovascular benefits, as illustrated with some anti-diabetic agents, regardless of the presence or absence of diabetes, emphasizing the clear advantage of "old" drug repositioning. Ranolazine is approved as an antianginal agent and has a favorable overall safety profile. This drug, developed initially as a metabolic modulator, was also identified as an inhibitor of the cardiac late Na
+
current, although it also blocks other ionic currents, including the hERG/Ikr K
+
current. The latter actions have been involved in this drug's antiarrhythmic effects, both on supraventricular and ventricular arrhythmias (VA). However, despite initial enthusiasm and promising development in the cardiovascular field, ranolazine is only authorized as a second-line treatment in patients with chronic angina pectoris, notwithstanding its antiarrhythmic properties. A plausible reason for this is the apparent difficulty in linking the clinical benefits to the multiple molecular actions of this drug. Here, we review ranolazine's experimental and clinical knowledge on cardiac metabolism and arrhythmias. We also highlight advances in understanding novel effects on neurons, the vascular system, skeletal muscles, blood sugar control, and cancer, which may open the way to reposition this "old" drug alone or in combination with other medications.
Full article
►

▼

Show Figures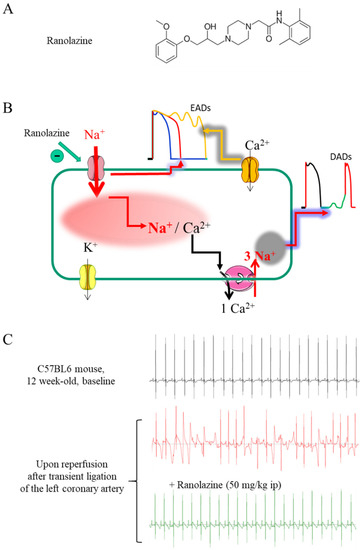 Figure 1