New Glycosalen–Manganese(III) Complexes and RCA120 Hybrid Systems as Superoxide Dismutase/Catalase Mimetics
Biomimetics 2023, 8(5), 447; https://doi.org/10.3390/biomimetics8050447 (registering DOI) - 21 Sep 2023
Abstract
Reactive oxygen species are implicated in several human diseases, including neurodegenerative disorders, cardiovascular dysfunction, inflammation, hereditary diseases, and ageing. Mn
III
–salen complexes are superoxide dismutase (SOD) and catalase (CAT) mimetics, which have shown beneficial effects in various models for oxidative stress. These
[...] Read more.
Reactive oxygen species are implicated in several human diseases, including neurodegenerative disorders, cardiovascular dysfunction, inflammation, hereditary diseases, and ageing. Mn
III
–salen complexes are superoxide dismutase (SOD) and catalase (CAT) mimetics, which have shown beneficial effects in various models for oxidative stress. These properties make them well-suited as potential therapeutic agents for oxidative stress diseases. Here, we report the synthesis of the novel glycoconjugates of salen complex, EUK-108, with glucose and galactose. We found that the complexes showed a SOD-like activity higher than EUK-108, as well as peroxidase and catalase activities. We also investigated the conjugate activities in the presence of Ricinus communis agglutinin (RCA
120
) lectin. The hybrid protein–galactose–EUK-108 system showed an increased SOD-like activity similar to the native SOD1.
Full article
►

▼

Show Figures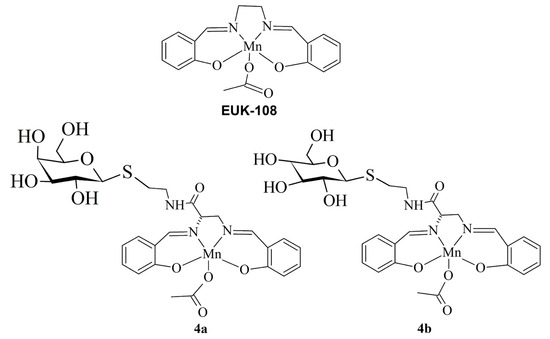 Figure 1