Open Access
Review
Saponins from Quillaja saponaria and Quillaja brasiliensis: Particular Chemical Characteristics and Biological Activities
Received: 25 October 2018 / Revised: 13 December 2018 / Accepted: 28 December 2018 / Published: 4 January 2019
PDF Full-text (1158 KB) | HTML Full-text | XML Full-text
Abstract
Quillaja saponaria Molina represents the main source of saponins for industrial applications. Q. saponaria triterpenoids have been studied for more than four decades and their relevance is due to their biological activities, especially as a vaccine adjuvant and immunostimulant, which have led to
[...] Read more.
Quillaja saponaria
Molina represents the main source of saponins for industrial applications.
Q. saponaria
triterpenoids have been studied for more than four decades and their relevance is due to their biological activities, especially as a vaccine adjuvant and immunostimulant, which have led to important research in the field of vaccine development. These saponins, alone or incorporated into immunostimulating complexes (ISCOMs), are able to modulate immunity by increasing antigen uptake, stimulating cytotoxic T lymphocyte production (Th1) and cytokines (Th2) in response to different antigens. Furthermore, antiviral, antifungal, antibacterial, antiparasitic, and antitumor activities are also reported as important biological properties of
Quillaja
triterpenoids. Recently, other saponins from
Q. brasiliensis
(A. St.-Hill. & Tul.) Mart. were successfully tested and showed similar chemical and biological properties to those of
Q. saponaria
barks. The aim of this manuscript is to summarize the current advances in phytochemical and pharmacological knowledge of saponins from
Quillaja
plants, including the particular chemical characteristics of these triterpenoids. The potential applications of
Quillaja
saponins to stimulate further drug discovery research will be provided.
Full article
►

▼

Figures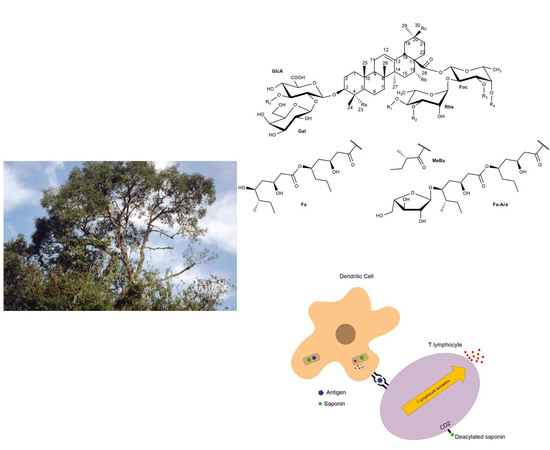 Graphical abstract