ATR–FTIR Spectral Analysis and Soluble Components of PM10 And PM2.5 Particulate Matter over the Urban Area of Palermo (Italy) during Normal Days and Saharan Events
Received: 7 May 2019 / Revised: 17 June 2019 / Accepted: 26 June 2019 / Published: 13 July 2019
PDF Full-text (2567 KB) | HTML Full-text | XML Full-text
Abstract
Several epidemiological studies have shown a close relationship between the mass of particulate matter (PM) and its effects on human health. This study reports the identification of inorganic and organic components by attenuated total reflectance-Fourier-transform infrared spectroscopy (ATR-FTIR) analysis in PM
10
and
[...] Read more.
Several epidemiological studies have shown a close relationship between the mass of particulate matter (PM) and its effects on human health. This study reports the identification of inorganic and organic components by attenuated total reflectance-Fourier-transform infrared spectroscopy (ATR-FTIR) analysis in PM
10
and PM
2.5
filters collected from three air quality monitoring stations in the city of Palermo (Sicily, Italy) during non-Saharan dust events and Saharan events. It also provides information on the abundance and types of water-soluble species. ATR-FTIR analysis identified sulfate, ammonium, nitrate, and carbonate matter characterized by vibrational frequencies at 603, 615, 670, and 1100 cm
–1
(SO
4
2–
); at 1414 cm
–1
(NH
4
+
); at 825 and 1356 cm
–1
(NO
3
–
); and at 713, 730, and 877 cm
–1
(CO
3
2–
) in PM
10
and PM
2.5
filters. Moreover, aliphatic hydrocarbons were identified in the collected spectra. Stretching frequencies at 2950 cm
–1
were assigned to CH
3
aliphatic carbon stretching absorptions, while frequencies at 2924 and 2850 cm
–1
indicated CH
2
bonds. In filters collected during Saharan dust events, the analysis also showed the presence of absorbance peaks typical of clay minerals. The measurement of soluble components confirmed the presence of a geogenic component (marine spray and local rocks) and secondary particles ((NH
4
)
2
SO
4
, NH
4
NO
3
) in the PM filters. ATR-FTIR characterization of solid surfaces is a powerful analytical technique for identifying inorganic and organic compounds in samples of particulate matter.
Full article
►

▼

Figures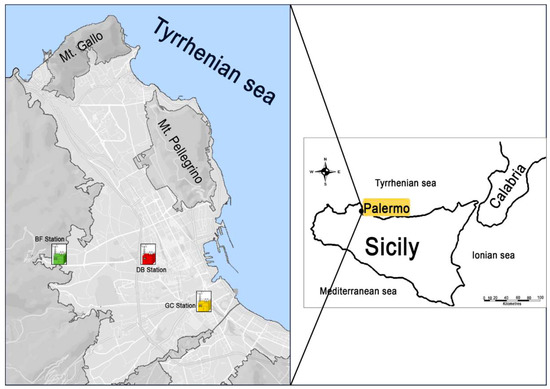 Figure 1