Environmental Risk Assessment Strategy for Nanomaterials
1
Department of Bioscience, Aarhus University, Vejlsøvej 25, P.O. Box 314, 8600 Silkeborg, Denmark
2
National Institute for Public Health and the Environment (RIVM), P.O. Box 1, 3720 BA Bilthoven, The Netherlands
3
Centre for Environmental Sciences, University Leiden, P.O. Box 9518, 2300 RA Leiden, The Netherlands
4
Department of Environmental Sciences, Informatics and Statistics, University Ca' Foscari of Venice, VEGApark, Via delle Industrie 21/8, 30175 Marghera (VE), Italy
5
Swiss Federal Laboratories for Material Science and Technology, EMPA, 8600 Dübendorf, Switzerland
6
The REACH Centre, Gordon Manley Building, Lancaster Environment Centre, Lancaster University, Lancaster LA1 4YQ, UK
7
Greendecision Srl., Via delle Industrie 21/8, 30175 Marghera (VE), Italy
8
Experimental Toxicology and Ecology, BASF SE, RB/TB‐Z470, 67056 Ludwigshafen, Germany
9
Institute of Occupational Medicine, Centre for Human Exposure Science (CHES), Research Avenue North, Riccarton, Edinburgh EH14 4AP, UK
10
Fraunhofer Institute for Molecular Biology and Applied Ecology, Auf dem Aberg 1, 57392 Schmallenberg, Germany
*
Author to whom correspondence should be addressed.
Received: 29 August 2017 / Revised: 1 October 2017 / Accepted: 9 October 2017 / Published: 19 October 2017
Abstract
An Environmental Risk Assessment (ERA) for nanomaterials (NMs) is outlined in this paper. Contrary to other recent papers on the subject, the main data requirements, models and advancement within each of the four risk assessment domains are described, i.e., in the: (i) materials, (ii) release, fate and exposure, (iii) hazard and (iv) risk characterisation domains. The material, which is obviously the foundation for any risk assessment, should be described according to the legislatively required characterisation data. Characterisation data will also be used at various levels within the ERA, e.g., exposure modelling. The release, fate and exposure data and models cover the input for environmental distribution models in order to identify the potential (PES) and relevant exposure scenarios (RES) and, subsequently, the possible release routes, both with regard to which compartment(s) NMs are distributed in line with the factors determining the fate within environmental compartment. The initial outcome in the risk characterisation will be a generic Predicted Environmental Concentration (PEC), but a refined PEC can be obtained by applying specific exposure models for relevant media. The hazard information covers a variety of representative, relevant and reliable organisms and/or functions, relevant for the RES and enabling a hazard characterisation. The initial outcome will be hazard characterisation in test systems allowing estimating a Predicted No-Effect concentration (PNEC), either based on uncertainty factors or on a NM adapted version of the Species Sensitivity Distributions approach. The risk characterisation will either be based on a deterministic risk ratio approach (i.e., PEC/PNEC) or an overlay of probability distributions, i.e., exposure and hazard distributions, using the nano relevant models.
View Full-Text
►

▼

Figures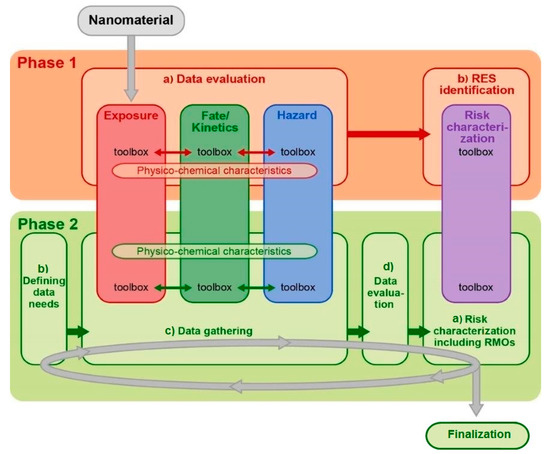 Figure 1
This is an open access article distributed under the
Creative Commons Attribution License
which permits unrestricted use, distribution, and reproduction in any medium, provided the original work is properly cited (CC BY 4.0).

Share & Cite This Article
MDPI and ACS Style
Scott‐Fordsmand, J.J.; Peijnenburg, W.J.G.M.; Semenzin, E.; Nowack, B.; Hunt, N.; Hristozov, D.; Marcomini, A.; Irfan, M.; Jiménez, A.S.; Landsiedel, R.; Tran, L.; Oomen, A.G.; Bos, P.M.J.; Hund‐Rinke, K. Environmental Risk Assessment Strategy for Nanomaterials. Int. J. Environ. Res. Public Health 2017, 14, 1251.
Note that from the first issue of 2016, MDPI journals use article numbers instead of page numbers. See further details here.
Related Articles
Comments
[Return to top]