Conferences
Upcoming MDPI Conferences (1)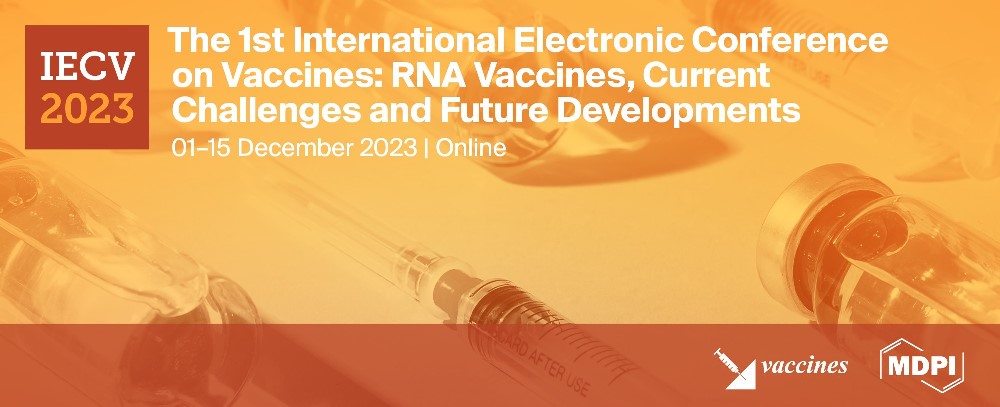 1–15 December 2023
The 1st International Electronic Conference on Vaccines: RNA Vaccines, Current Challenges and Future Developments (IECV 2023)
Online
Dear scientists, researchers, and authors,
We are pleased to announce that the 1st International Electronic Conference on Vaccines: RNA Vaccines, Current Challenges and Future Developments (IECV 2023), chaired by Prof. Dr. François Meurens and Dr. Fanny Renois, will be held from 1 to 15 December 2023.
This year, the sessions of interest for this event include, but are not limited to, the following:
S1. COVID-19 Vaccines and Vaccination.
S2. Vaccines against Infectious Diseases.
S3. Vaccines and Society.
We proudly invite you to join IECV 2023 to present your latest vaccine research and developments as well as share novel ideas on related topics.
You can participate in IECV 2023 free of charge in the following two ways:
- Submit Abstracts and Proceedings/Supplementary Files
Submit an abstract before 11th July 2023. After acceptance, you will be asked to submit a short proceedings paper (three–six pages), a poster, a slide presentation (in PDF form), and/or a short video presentation (max. three–five minutes) before 13th September 2023. Detailed information: Instructions for Authors.
- Attend Live Sessions
During the duration of the conference a number of live online sessions will be programmed. We are pleased to invite you to subscribe to IECV 2023 at https://iecv2023.sciforum.net/ so that you can receive email notifications when the live session program is online and open online discussion.
For more information about the procedures for the submission, peer review, revision, and acceptance of conference proceedings papers, please refer to the "Instructions for Authors" section at https://iecv2023.sciforum.net/#instructions.
- Conference Awards
Best Paper Award (CHF 500) and Best Presentation Award (CHF 500). For details, please refer to https://iecv2023.sciforum.net/#awards.
We will provide Accepted Submission Certificates to authors whose abstracts and conference proceedings or presentation files have been accepted and published. We also provide Participation Certificates to authors who attend live sessions.
Timeline
Abstract submission deadline: 11th July 2023.
Notification of acceptance deadline: 25th July 2023.
Proceedings paper submission deadline: 13th September 2023.
Conference: 1–15 December 2023.
We look forward to receiving your research papers and welcoming you to this e-conference.
Please do not hesitate to contact us if you have any questions.
Email: [email protected].
IJERPH announces selected third-party conferences. In case you would like to announce your own event on the IJERPH website, please fill out the following form to apply for the announcement of a conference or other academic event (seminar, workshop).
Upcoming Partner Conferences (1)

20–21 July 2023
SHO2023 International Symposium on Occupational Safety and Hygiene
Hybrid Format
This year, the Portuguese Society of Occupational Safety and Hygiene* (SPOSHO) promotes the 20th edition of the International Symposium on Occupational Safety and Hygiene on the 20th and 21st of July 2023. The event will be in a hybrid format, but all participants are welcome in Porto, Portugal.
The main topics include Ergonomics, Industrial Hygiene, Management, Economic Approaches, Psychosocial Issues, Occupational Health, Occupational Risk and Accidents, Occupational Safety and Health, Risk and Emergency, Traffic and Driving, Training, Work and Environment, and New Trends.
The submitted works can apply to the following categories:
Book Chapter
Proceedings Article
Abstract
Once accepted, Book Chapters will be published in book format by Springer and indexed in the following databases: Scopus, DBLP, WTI Frankfurt eG, zbMATH, and SCImago. Both Proceedings Articles and Abstracts will be published in book format by SPOSHO, with DOI and ISBN. With special cooperation between SPOSHO and IJERPH, the authors with the best papers will be invited to publish an extended version of their work in several Special Issues, namely:
All submissions are made electronically through the event platform and undergo a double-blind peer review. Once accepted, participants will be invited to present their work. The event also offers the possibility of participating in several occupational safety, health and hygiene workshops and attending the plenary sessions with prestigious international guests.
All submission deadlines and registration information are on the website (SHO 2023 – EN | SPOSHO).
*Sociedade Portuguesa de Segurança e Higiene Ocupacionais