Effects of Pb(II) and Cr(VI) Stress on Phosphate-Solubilizing Bacteria (
Bacillus

sp. Strain MRP-3): Oxidative Stress and Bioaccumulation Potential

College of Environmental Science and Engineering, Beijing Forestry University, Beijing 100083, China

*

Author to whom correspondence should be addressed.

Received: 24 May 2019 / Revised: 18 June 2019 / Accepted: 18 June 2019 / Published: 19 June 2019
Abstract
The aim of this work was to ascertain the effects of Pb(II) and Cr(VI) on bacterial growth, generation of reactive oxygen species (ROS), activities of superoxide dismutase (SOD), and catalase (CAT), as well as the localization of bioaccumulated heavy metals in a phosphate-solubilizing bacterium. The results showed that the ROS increased from 1.4-fold to 1.8-fold of control under Pb(II) stress and decreased from 1.6-fold to 1.1-fold of control under Cr(VI) stress corresponding to metal concentrations (0.5–5 mmol·L
−1
). The SOD activities were ROS dependent; however, the CAT activities increased under both Pb(II) and Cr(VI) stress, from 11.4 to 21.8 U·mg
−1
and 11.4 to 32.9 U·mg
−1
, respectively. Intra/extracellular accumulation were investigated by scanning transmission electron microscopy with energy dispersive X-ray spectroscopy (STEM-EDS) and it was calculated that extracellular accumulated Pb accounted for 61.7–95.9% of the total accumulation, while extracellular accumulated Cr only accounted for up to 3.6% of the total accumulation. Attenuated total reflection/Fourier-transform infrared spectroscopy (ATR-FTIR) analysis confirmed that the functional groups involved in those extracellular accumulation were not located in the loosely bound extracellular polysaccharides substances.
View Full-Text
►

▼

Figures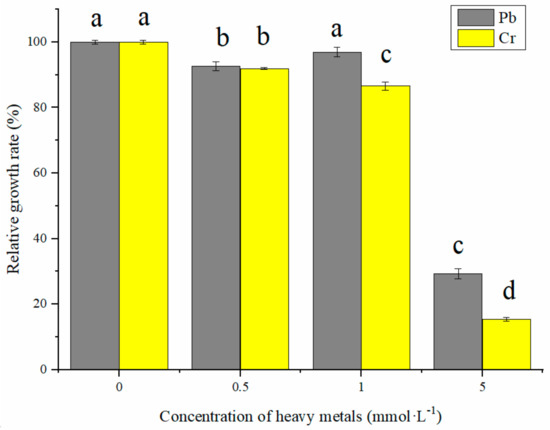 Figure 1
This is an open access article distributed under the
Creative Commons Attribution License
which permits unrestricted use, distribution, and reproduction in any medium, provided the original work is properly cited (CC BY 4.0).

Share & Cite This Article
MDPI and ACS Style
Shao, W.; Li, M.; Teng, Z.; Qiu, B.; Huo, Y.; Zhang, K. Effects of Pb(II) and Cr(VI) Stress on Phosphate-Solubilizing Bacteria (Bacillus sp. Strain MRP-3): Oxidative Stress and Bioaccumulation Potential. Int. J. Environ. Res. Public Health 2019, 16, 2172.
Note that from the first issue of 2016, MDPI journals use article numbers instead of page numbers. See further details here.
Related Articles
Comments
[Return to top]