Synthesis and Characterization of a Core-Shell Copolymer with Different Glass Transition Temperatures
Abstract
The aim of this study is to synthesize an organic core-shell co-polymer with a different glass transition temperature (
T
g
) between the core and the shell that can be used for several applications such as the selective debonding of coatings or
[...] Read more.
The aim of this study is to synthesize an organic core-shell co-polymer with a different glass transition temperature (
T
g
) between the core and the shell that can be used for several applications such as the selective debonding of coatings or the release of encapsulated materials. The co-polymer was synthesized using free radical polymerization and was characterized with respect to its morphology, composition and thermal behavior. The obtained results confirmed the successful synthesis of the co-polymer copolymer poly(methyl methacrylate)@poly(methacrylic acid-co-ethylene glycol dimethacrylate),
[email protected](MAA-co-EGDMA)
, which can be used along with water-based solvents. Furthermore, the
T
g
of the polymer's core
PMMA
was 104 °C, while the
T
g
of the shell
P(MAA-co-EGDMA)
was 228 °C, making it appropriate for a wide variety of applications. It is worth mentioning that by following this specific experimental procedure, methacrylic acid was copolymerized in water, as the shell of the copolymer, without forming a gel-like structure (hydrogel), as happens when a monomer is polymerized in aqueous media, such as in the case of super-absorbent polymers. Moreover, the addition and subsequent polymerization of the monomer methyl methacrylate (
MAA
) into the mixture of the already polymerized
PMMA
resulted in a material that was uniform in size, without any agglomerations or sediments.
Full article
►

▼

Show Figures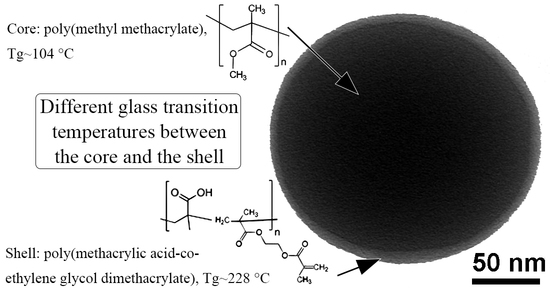 Graphical abstract