Pyroptosis of Macrophages Induced by Clostridium perfringens Beta-1 Toxin
Viewed by 834
Abstract
Clostridium perfringens
beta-1 toxin (CPB1) is responsible for necrotizing enteritis and enterotoxemia. However, whether the release of host inflammatory factors caused by CPB1 is related to pyroptosis, an inflammatory form of programmed cell death, has not been reported. A construct expressing recombinant
Clostridium
[...] Read more.
Clostridium perfringens
beta-1 toxin (CPB1) is responsible for necrotizing enteritis and enterotoxemia. However, whether the release of host inflammatory factors caused by CPB1 is related to pyroptosis, an inflammatory form of programmed cell death, has not been reported. A construct expressing recombinant
Clostridium perfringens
beta-1 toxin (rCPB1) was created, and the cytotoxic activity of the purified rCPB1 toxin was assessed via CCK-8 assay. The rCPB1-induced macrophage pyroptosis by assessing changes to the expression of pyroptosis-related signal molecules and the pyroptosis pathway of macrophages using quantitative real-time PCR, immunoblotting, ELISA, immunofluorescence, and electron microscopic assays. The results showed that the intact rCPB1 protein was purified from an
E. coli
expression system, which exhibited moderate cytotoxicity on mouse mononuclear macrophage leukemia cells (RAW264.7), normal colon mucosal epithelial cells (NCM460), and human umbilical vein endothelial cells (HUVEC). rCPB1 could induce pyroptosis in macrophages and HUVEC cells, in part through the Caspase-1-dependent pathway. The rCPB1-induced pyroptosis of RAW264.7 cells could be blocked by inflammasome inhibitor MCC950. These results demonstrated that rCPB1 treatment of macrophages promoted the assembly of NLRP3 inflammasomes and activated Caspase 1; the activated Caspase 1 caused gasdermin D to form plasma membrane pores, leading to the release of inflammatory factors IL-18 and IL-1β, resulting in macrophage pyroptosis. NLRP3 may be a potential therapeutic target for
Clostridium perfringes
disease. This study provided a novel insight into the pathogenesis of CPB1.
Full article
►

▼

Show Figures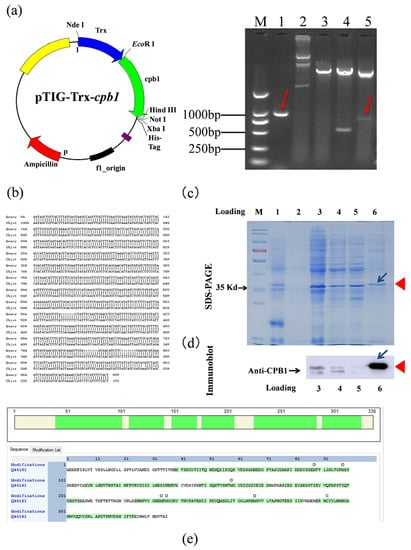 Figure 1