Nanostructured Diamond Composites for Multifunctional Sensing Applications
Viewed by 310
Abstract
We report studies of multifunctional, nanostructured diamond composites that were fabricated using chemical vapor deposition (CVD) techniques. Grain sizes from micrometer, to submicron, nano, and ultrananocrystalline diamond (UNCD) were controlled by varying CH
4
, hydrogen, and argon gas concentrations during the syntheses.
[...] Read more.
We report studies of multifunctional, nanostructured diamond composites that were fabricated using chemical vapor deposition (CVD) techniques. Grain sizes from micrometer, to submicron, nano, and ultrananocrystalline diamond (UNCD) were controlled by varying CH
4
, hydrogen, and argon gas concentrations during the syntheses. Scanning electron microscopy (SEM) and Raman scattering spectroscopy were used to investigate the morphologies, composites, and crystallinities of the films. Four multifunctional sensor prototypes were designed, fabricated, and tested, based on the four diamond materials of different grain sizes. The responses of the four prototypes to either pollution gas or UV light illumination were systematically investigated at different operating temperatures. Experimental data indicated the obtained UNCD composite from the low-cost simple CVD fabrication technique appeared to have very good sensitivities when exposed to low concentrations of H
2
or NH
3
gas with a decent response and fast recovery time. Furthermore, highly induced photocurrents from both microdiamond- and UNCD-based prototypes to deep UV illumination were also demonstrated, with responsivities up to 2750 mA/W and 550 mA/W at 250 nm wavelength, respectively. Overall, the fabricated UNCD prototypes displayed a good balance in performance for multifunctional sensor applications in terms of responsivity, stability, and repeatability.
Full article
►

▼

Show Figures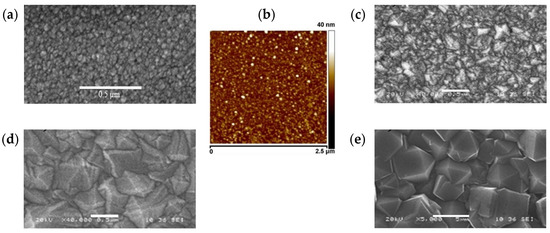 Figure 1