Conferences
Upcoming MDPI Conferences (2)

1–15 November 2021
8th International Electronic Conference on Sensors and Applications
Online
We are pleased to announce the 8th International Electronic Conference on Sensors and Applications. After the success of the seven editions from 2014 to 2020, this year edition will focus on four thematic areas where sensors are changing science:
There will be eight specific sessions:
and also a Poster session. Posters can be presented without an accompanying proceedings paper and will be available online on this website during and after the e-conference. However, they will not be added to the proceedings of the conference.
The 8th International Electronic Conference on Sensors and Applications is sponsored by MDPI and the scientific journal Sensors (ISSN 1424-8220, IF 3.275). The conference proceedings papers and presentations will be available on https://ecsa-8.sciforum.net/ for discussion during 1-15 November 2021 and will be published in the journal Engineering Proceedings.
We hope the community will share this enthusiasm and help making this 8th edition a success—for many to come in the future.
17–19 November 2021
8th International Symposium on Sensor Science - China
Nanjing, China
Dear Colleagues,
It is with great enthusiasm that we announce the 8th International Symposium on Sensor Science—China (I3S-CN 2021). The conference is organized by the MDPI open access journal Sensors (Impact Factor 3.275), and will be held in Nanjing, Jiangsu, China from 17 to 19 November 2021.
With the finding and artificial synthesis of new recognition elements, the significant advancement in the synthesis of nanomaterials and understanding of their properties, and the innovation of signal transduction principles, sensor science has become one of the most active research areas. This conference will provide leading scientists working in this field with a platform to share their latest research and engage in exciting discussions.
The main topics of the conference include:
Biosensors and Bioelectronics;
Chemical Sensors;
Internet of Things and Sensor Networks;
Intelligent Sensors and Smart Sensing;
Physical Sensors and MEMS;
Wearable Sensors;
Sensing and Imaging;
Optical Sensors;
Sensors and Actuators;
Fault Diagnosis Systems and Machines;
Vehicular Sensing.
There will also be two specific topics of Remote Sensing Science Workshop:
Remote Sensors, Data Acquisition and Processing
Remote Sensing Application
The symposium invites submissions for abstracts that will be reviewed by the conference committee. The authors of accepted contributions will be invited to submit a conference paper along with a slide or poster presentation of their works. All participants will have the opportunity to examine, explore, and critically engage with research during the symposium.
During the symposium, a number of renowned speakers will share their current state-of-the-art research, which will also include a Q&A session to allow audience participation.
After the conference, all accepted conference papers will be published in the proceedings of this Symposium within a dedicated issue of the MDPI journal Engineering Proceedings. In addition, all participants will be encouraged to submit an extended full manuscript to one dedicated Special Issue in Sensors with a 500 CHF discount on the Article Processing Charge (APC).
We hope that you will join this Symposium to exchange ideas, communicate fruitful collaborations, and make this eighth edition in China a success.
Kind regards,
Prof. Dr. Huangxian Ju
The Chair of the 8th International Symposium on Sensor Science—China
Chemosensors announces selected third-party conferences. In case you would like to announce your own event on the Chemosensors website, please fill out the following form to apply for the announcement of a conference or other academic event (seminar, workshop).
Upcoming Partner Conferences (3)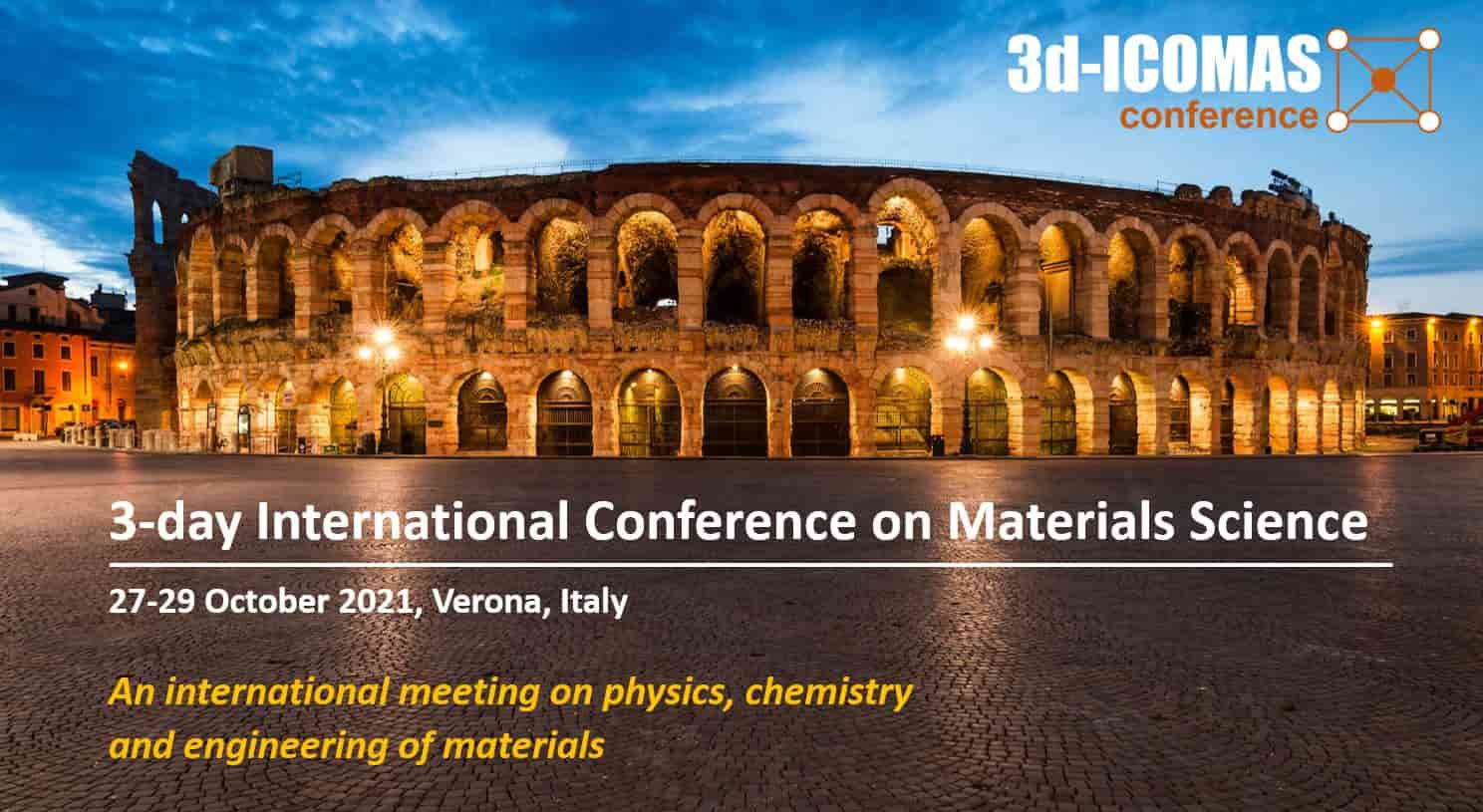 27–29 October 2021
3-day International Conference on Materials Science
Verona, Italy
The scope of the conference is to bring together scientists from different areas of Materials Science, physicists, chemists, engineers, with the opportunity to present the state-of-the-art of their research and discuss the latest trends in the field.
The conference's topics are related to all aspects of scientific research of advanced and functional materials, such as nanomaterials, electronic and photonic materials (semiconductors, dielectrics, liquid crystals, ionic solids), ferroelectric and piezoelectric materials, ferromagnetics, multiferroics, thin-films and coatings, metals/alloys and composites, glasses, catalytic materials, polymers, energy materials, bio- and organic materials, including both experimental and theoretical aspects.

29–31 October 2021
the 6th International Conference on Biomedical Imaging, Signal Processing (ICBSP 2021)
Xiamen, China
IN 2021, the 6th International Conference on Biomedical Imaging, Signal Processing (ICBSP 2021) will be held in Xiamen, China from October 29 to 31, 2021. The aim of ICBSP 2021 is to present the latest research and results of scientists related to Biomedical Imaging and Signal Processing topics. This conference provides opportunities for delegates to exchange new ideas and application experiences face to face, to establish business or research relations, as well as to find global partners for future collaboration.
Topics of interest for submission include, but are not limited to:
Bioimaging and Biomedical Signal Processing.
Biomedical Imaging and Image Processing.
Biomedical Imaging, Sensing and Genomic Signal Processing.
Biomedical Signal and Image Filtering.
Biomedical Signal and Image Measurement and Acquisition.
Biomedical Signal and Image Processing.
Medical Signal and Image Transmission.
Biometric Image Processing and Recognition.
Audio and Acoustic Signal Processing.
Bioinstrumentation and Biosensors.
Image Reconstruction and Enhancement.
Image, Video and Multidimensional Signal Processing.
Machine Learning for Signal and Image Processing.
Mobile and Wearable Computing in Biomedical Engineering.
Multimedia Signal Processing.
Multimodal Data Fusion and Analysis.
Neural Rehabilitation Engineering.
Pattern Recognition in Biomedical Applications.
Sensor Array and Multichannel Signal.
Signal Processing for Big Data.
Signal Processing for Communications and Networking.
Signal Processing for the Internet of Things.
Signal Processing Theory and Methods.
Speech Processing.
Spoken Language Processing.

12–15 November 2021
the 8th International Conference on Biomedical and Bioinformatics Engineering (ICBBE 2021)
Ritsumeikan University, Kyoto, Japan
In 2021, the 8th International Conference on Biomedical and Bioinformatics Engineering (ICBBE 2021) will be held on November 12 to 15 2021 at Ritsumeikan University, Kyoto, Japan. The ICBBE series, which is sponsored by the Biology and Bioinformatics Society (BBS), and organized by Ritsumeikan University, have been the hosts for seven years. The primary goal of the conference is to promote research and developmental activities in Biomedical and Bioinformatics Engineering. Another goal is to promote scientific information interchange between researchers, developers, engineers, students, and practitioners working in Japan and abroad.
Topics of interest for submission include, but are not limited to:
Biomedical Engineering:
Biomedical imaging, image processing and visualization.
Bioelectrical and neural engineering.
Biomechanics and bio-transport.
Methods and biology effects of NMR/CT/ECG technology.
Biomedical devices, sensors, and artificial organs.
Biochemical, cellular, molecular and tissue engineering.
Biomedical robotics and mechanics.
Rehabilitation engineering and clinical engineering.
Health monitoring systems and wearable system.
Bio-signal processing and analysis.
Biometric and bio-measurement.
Other topics related to biomedical engineering.
Bioinformatics and Computational Biology:
Protein structure, function and sequence analysis.
Protein interactions, docking and function.
Computational proteomics.
DNA and RNA structure, function and sequence analysis.
Gene regulation, expression, identification and network.
Structural, functional and comparative genomics.
Gene engineering and protein engineering.
Computational evolutionary biology.
Drug design and computer aided diagnosis.
Data acquisition, normalization, analysis and visualization.
Algorithms, models, software, and tools in Bioinformatics.
Any novel approaches to bioinformatics problems.
Other Related Topics:
Biostatics.
Biometric.
Biomeasurement.
Biomechanics.
Biophysics.
Biochemistry.
Biomathematics.
Bioengineering.
System biology.