The Antioxidant Properties of Salvia verbenaca Extract Contribute to Its Intestinal Antiinflammatory Effects in Experimental Colitis in Rats
Abstract
Inflammatory bowel disease (IBD) is a chronic gastrointestinal inflammation with unpredictable symptom fluctuations. While there is no effective cure for IBD, various treatments aim to manage symptoms and improve the quality of life for affected individuals. In recent years, there has been growing
[...] Read more.
Inflammatory bowel disease (IBD) is a chronic gastrointestinal inflammation with unpredictable symptom fluctuations. While there is no effective cure for IBD, various treatments aim to manage symptoms and improve the quality of life for affected individuals. In recent years, there has been growing interest in the potential benefits of certain natural plants and herbs in the management of IBD. In this regard, this study aimed to evaluate the immunomodulatory and anti-inflammatory effects of a well-characterized extract of
Salvia verbenaca
(
S. verbenaca
) in an experimental model of colitis in rats. Interestingly, the daily administration of
S. verbenaca
(10 and 25 mg/kg) effectively alleviated colitis symptoms, as evidenced by reduced weight/length ratio and colonic damage. Moreover, it reduced oxidative stress markers (MPO and GSH), decreased pro-inflammatory cytokine expression (
Il-6
,
Il-12a
,
Il-1β
,
Il-23
,
Icam-1
,
Mcp-1
,
Cinc-1
), and preserved the integrity of the intestinal barrier (
Villin
,
Muc-2
,
Muc-3
). These effects suggest
S. verbenaca
extract could represent a potential complementary candidate to treat gastrointestinal disorders. Its beneficial actions can be related to its antioxidant properties as well as the downregulation of the immune response, which can result in the improvement in the intestine epithelial barrier.
Full article
►

▼

Show Figures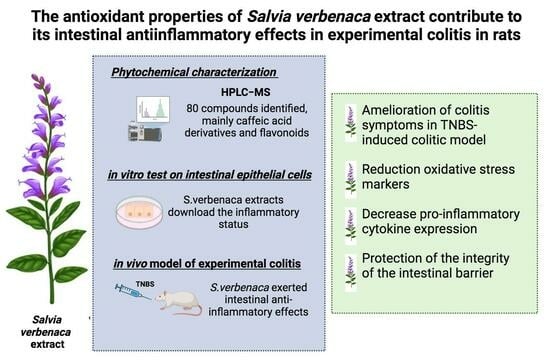 Graphical abstract